Only Karan Johar could have made Alia Bhatt and Deepika Padukone confess
Deepika and Alia made the opening episode of Koffee with Karan Season 6 fun by talking about love, marriage and exes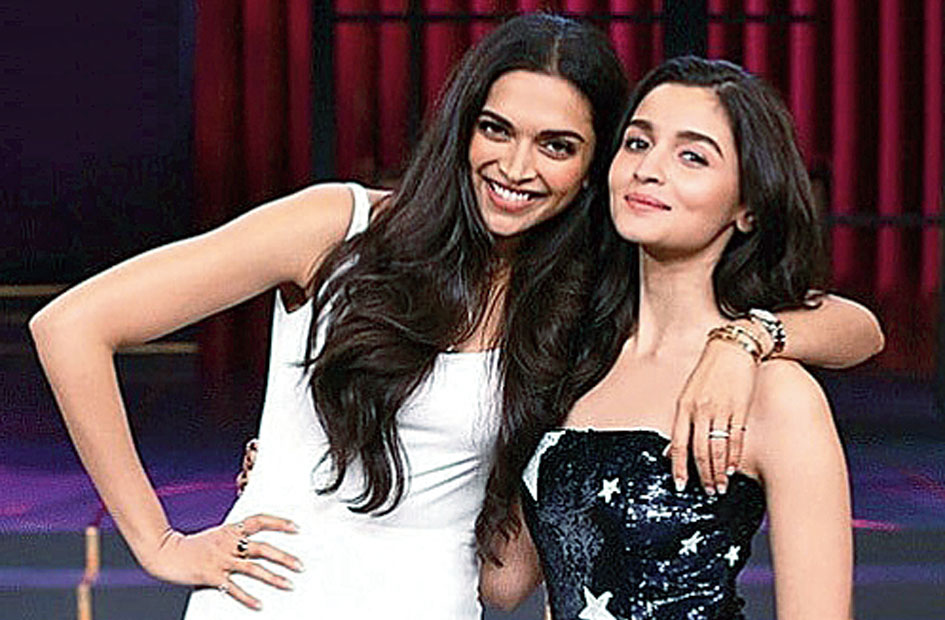 Deepika Padukone and Alia Bhatt on Koffee with Karan
(Agencies)
---
Published 22.10.18, 04:51 PM
|
---
Deepika Padukone and Ranveer Singh announced their November wedding date on Sunday afternoon. All the more reason for TV remotes across the country to tune in to STAR World for the premiere of Season 6 of Koffee with Karan — featuring Deepika and Alia Bhatt — on Sunday evening. Over an hour, the two actors —- both on a career high — chatted about love and relationships, friendship and marriage and, of course, a certain RK, who's DP's ex and Alia's current.
Host Karan Johar kicked things off with a fun introduction, talking about the highlights of Bollywood over the past year — small films churning out big box office to women-centric films finding favour with the audience. The bit that made us go LOL? KJo's admission that he's been suffering from "nepospasm" —"that's the pain I get in my neck every time I hear the word nepotism!'
The elephant in the room
Karan plunged into talking about "the elephant in the room" — the Deepika-Ranveer wedding right away (the episode was filmed before the Sunday announcement) saying he wanted to know about "the impending potential ceremony". We loved the way DP — looking stunning in a white figure-hugging sheath — skillfully sidestepped the topic. At one point, she asked Karan: "You mean the success of the film (Padmaavat's) ceremony?!"
Alia to Karan: Are we invited?
Karan: I don't think we are. It's a very private ceremony…
Deepika: Am I invited?!
Alia: It will be weird if you aren't… it's your ceremony!
Deepika on former flame Ranbir Kapoor
Deepika: I think it's just about accepting the past, the present and the future. I'm not someone who holds on to negativity. Understanding why two people cannot be together and the situation and letting go is very important. It only gets better (her equation with Ranbir). The relationship that we share is what I value the most. I don't think it could be in a better place.
Alia: We are all in a very happy and content place at the moment. There's no awkwardness between us at all!
AB and DP's equation
Alia: I've spent more time with Katrina (Kaif, Ranbir's ex- girlfriend) because we used to work out together. DP and I have hung out lesser. But whenever we hang out, it's a strange kind of immediate comfort. We don't talk every day and we aren't friends, but if I could sit and talk with DP for one whole night, I would probably tell her everything about my life.
Point perfect
In a new section called 'That's the Point', Karan threw a couple of questions at the girls, asking them to point either at oneself or the other depending on what scenario applied to them. A few fun — and some surprising ones — popped up.
Karan: Who's had friends with benefits?
Alia points to herself
Karan: Who's been dumped?
Deepika points to herself wryly.
Alia: I've never been dumped.
Deepika: Such a liar!
Karan: Who could have a rebound right after a break-up?
Both Deepika and Alia point towards Alia.
Karan: Who's a member of the mile-high club?
Deepika points to herself and smiles cheekily.
What we learnt...
Alia calls Ranveer Singh Tutu and he calls her Lulu!

Karan said that, contrary to Deepika's image, she's "a party girl!" "When she isn't working the next day, she will be the last one to leave a party," said KJo.

Alia and Deepika said that there could be a day when the two of them — with beaus Ranbir and Ranveer — could go on a holiday together. "I am bringing my babies and coming along! Let's go to the Maldives. I want to see the four of you in a pool," laughed KJo.

Karan said that he's sent some "down and dirty" messages to Ranveer. When Deepika said she's seen them, Karan went, "Why did you see my messages?!" DP's reply: "I didn't see them… I was shown them!"
Rapid-fire with Alia
What is Sidharth Malhotra's (who Alia was seeing not too long ago) relationship status?
Alia: I don't know (makes a face).
Alia also said that given a choice, she would pair Sidharth with Kiara Advani or Jacqueline Fernandez. (Pssst: Sidharth and Jacqueline were rumoured to have got "close" while he and Alia were still dating).
Describe Arjun Kapoor using a hashtag.
Alia: #Liability
Who's more likely to lie about being committed?
Alia: I think Shraddha (Kapoor).
Who's Instagram account are you obsessed with?
Alia: At one point, it was Ahaan Panday. My all-time (favourite) is Varun (Dhawan).
Rapid-fire with Deepika
What kind of husband would Ranveer make — henpecked, mama's boy or chauvinist?
Deepika: Mama's boy.
She also said that Ranveer is "the best kisser".
Who has the dreamiest eyes in Bollywood?
Deepika: Fawad (Khan).
Karan: I agree!
One thing you love, hate and tolerate about Ranveer Singh?
Deepika: I love him for his emotional capabilities… he's extremely expressive... he cries and all that. I hate him for his lifestyle patterns and I tolerate his fashion sense!
Babies or movies?
Deepika: Babies while doing movies!