One round planet
Unquestionable excess baggage seems to be a privilege only women enjoy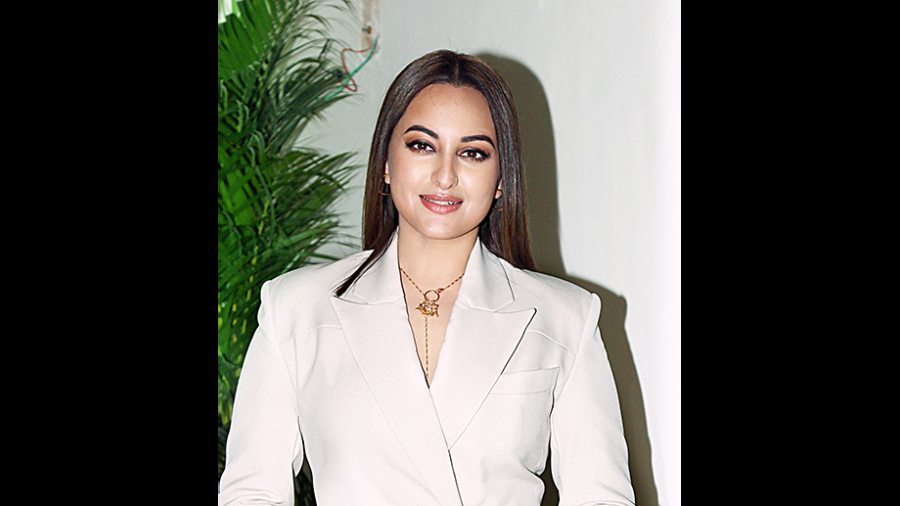 ---
Published 04.12.22, 06:32 AM
|
---
With Palki Sharma playing injured party over a boss telling her to get back in shape after she delivered her child, and Sonakshi Sinha-Huma Qureshi turning tubs of fat into grounds for playing victim in the film Double XL, women and their bodies have become a celebration of calories. It has become fashionable to flaunt extra kilos and if anybody were to whisper words like "health" or "diet", a missile called "body shaming" would be hurled at them.
And so, when you watch Richa Chaddha, too heavy as a policewoman to be chasing a criminal in OTT shows like The Great Indian Murder (Disney+Hotstar) and Candy (Voot Select), you've got to lump the lard in your review. Or you'll be ticked off for insensitivity like Maanvi Gagroo's mom was in Pritish Nandy's Four More Shots Please! Like most concerned mothers would, all she did was ask daughter Maanvi to stop stuffing her face and take care of her weight.
There was an era when fat was fun. Oliver Hardy couldn't be thin and Tun Tun's weight was her USP. But ever since Dum Laga Ke Haisha (2015) made a heavyweight biwi a perfectly acceptable household figure, and actresses of calibre like Vidya Balan emerged, the obsession with Size Zero perfection has become obsolete. And beware. If a lady's waist whittles her rating in the marriage market, women like Saira Khanna, the character played by Sonakshi in Double XL, will outrage with intended double entendre, "What if we started asking men about their size?"
Just by the way, men get pulled up too. Way back in 2000, when a well-fed Abhishek Bachchan made his entry into films alongside gym-trim heroes like Hrithik Roshan, he'd waived away my worry. "Acting is about this," Abhishek had declared, framing his face from hairline to jaw. He'd gone on to cite Marlon Brando and Sanjeev Kumar as artistes whose weight had never mattered. But when his films began to fail, Abhishek hit the gym in double quick time.
More recently, Arjun Kapoor, too heavy to have played a sportsman in movies like Half Girlfriend, had to put away the mutton curry and tuck into Malaika's carefully curated meals.
Even character artistes like Anupam Kher and Pankaj Tripathi or filmmakers like Kabir Khan, Rohit Shetty and Madhur Bhandarkar are gym enthusiasts. Roly-poly men like Zach Galifianakis in the Hangover trilogy are around only for laughs. So unquestionable excess baggage seems to be a privilege only women enjoy.
To revert to Sonakshi's Double XL, her offscreen relationship with hero Zaheer Iqbal has people wondering, will her conservative father accept it?
I once walked into Shatrughan's older brother Lakhan Sinha's apartment and wondered why he had a solo picture of Sonakshi in his drawing room. His wife Gita laughed and said, "That's not Sona, it's Preeta."
Google Preeta Sinha's "One Green Planet" and you'll think it's Sonakshi's picture that has popped up. As chubby kids, each was called "Chhoti Amma" because of their resemblance to Shatru's mother. And that should bust the unseemly whisper: "Why does Sonakshi resemble Shatru's once-upona-time girlfriend Reena Roy?" Perhaps the explanation is as simple as SS being drawn to women who have a fleeting resemblance to his mother.
New York-based Preeta, who has closely worked with Kamala Harris, married her Christian boyfriend Nilesh Zacharias. The two jetted off to the US, where they co-founded One Green Planet and had a long happy marriage before going different ways.
Preeta champions women's rights, pumps the air over single women being a huge percentage of voters, slams body shamers, posts stories on Greta Thunberg, roots for Aziz Ansari and Riz Ahmed against Trump, filibusters "Black Lives Matter", is an animal lover and runs the plant-based/allergy-friendly Food Monster App.
You get the picture. Strong, individualistic women and inter-faith marriages are not new in the Sinha parivar. Do we hear applause from Mamata didi?
Bharathi S. Pradhan is a senior journalist and author