Nutan's granddaughter Pranutan Bahl debuts with Notebook this Friday
I had it very clear in my head that I should be worthy of being in front of a camera, says Pranutan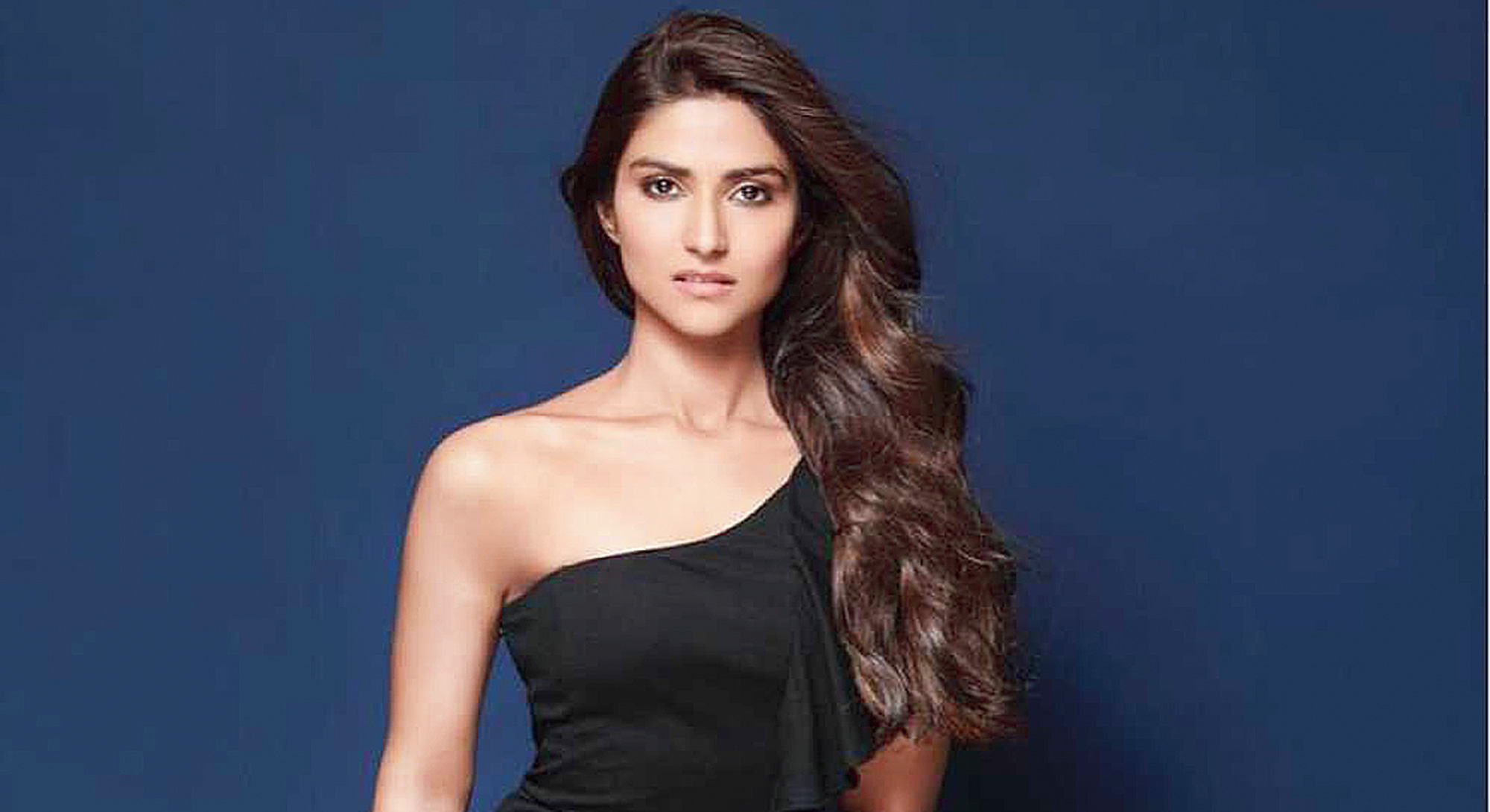 Pranutan Bahl
The Telegraph picture
---
Published 24.03.19, 03:02 PM
|
---
Pranutan Bahl is the newest star kid to make her way to the silver screen. The legendary actress Nutan is her grandmother and Mohnish Bahl, of Maine Pyar Kiya and Hum Aapke Hain Koun..! fame, her father. The 20-something law graduate's debut film is Nitin Kakkar's Notebook, which is being produced by her father's friend and co-star Salman Khan. Set in Kashmir, the Friday film has another Salman discovery — Zaheer Iqbal, opposite Pranutan. t2 caught up with the debutante actress at the end of a long day of promotions in the office of the film's co-producer Ashwin Varde in Andheri in Mumbai, to talk about her journey into films, the advice her father gave her about acting and her grandmother's passion for cinema.
When did you realise that you wanted to be an actor?
I've always wanted to be an actor, as far as I can look back. I think I must have been six or seven. I knew that this was what I would be doing one day. It wasn't any one particular thing that attracted me to it. It was just an innate need to do this.
Growing up, did you spend a lot of time on film sets?
Yeah, a lot. After school, there were countless times I was on dad's sets. I have so many memories. I used to love sitting on the trolley. It was so much fun as a child. I used to harass the DoP (director of photography) all the time during those trolley shots... he used to make me sit there and I would keep going up and down till the operators were fed up. There are so many stories about just being on set and playing around, with the co-actors and if there were kids on set, with them. I remember going for outdoors with my father. A lot of Astitva (2000) was shot in a bungalow in Lonavala and for Hum Saath Saath Hain going to Udaipur. It was all a lot of fun.
At what point did you tell your parents that you wanted to act?
I remember telling them that I wanted to be an actor before getting into law school. I got into law school, a premier institute in Bombay. I thought it was too early for me to start auditioning for films. I knew I could do it when I completed my education. When I was doing law, there wasn't a single month where I hadn't worked; I was interning throughout my five years. I've worked in corporate law, real estate, criminal, everything. I didn't want to be half-hearted about my education, and gave it everything. Eight months before I graduated, I told my father that I know I want to be an actor and he was like, 'Great but be ready for failure or success, and take everything with a pinch of salt because that's how the business is'.
So why study law when you knew you wanted to act?
Why not? Why should a pursuit in the creative field take away from our traditional education? I don't think that either should be at the cost of the other, and there is a time and place for everything. I'm not saying it's wrong to get into the movies at 16, but that's what I didn't want to do. I wanted to study for myself, and I'm glad because it's made me confident.
Did you ever think that your dad would launch you or help you get into the industry?
My life since 2016, when I finished my law course until Notebook happened, was a series of auditions at every single casting office there is. I've never in my life told my father or anyone in my family and friends circle to make a single call for me, to set up a meeting or audition. In fact, when I would go for auditions or casting calls, I'd never give my last name because I didn't want anyone to make a connection and shortlist me because I belonged to a film family.
I had it very clear in my head that I should be worthy of being in front of a camera. I've never understood this concept that I want to be a lawyer but don't want to give the CLAT because my dad is a barrister... I don't get it. Like why?! Thousands of people want to be actors and there is a due process.
I must say our casting offices today are so welcoming. They didn't know that I'm from a film family and would treat everyone with so much respect and so much kindness and patience. So, I don't know why people talk about privilege because I've not used mine ever and I'm glad for it.
Why was this so important to you?
I think if you want to do something, you want to do it. It should have nothing to do with the fact that your parents have done it and they've excelled at it. I am me, and I want to be an actor because I feel like I would thrive there, I want to flourish there. But that doesn't mean that 'XYZ' ought to give me an opportunity, that's not fair.
So how did Notebook happen?
Zaheer actually told me the back-story of how the producers 'found' me only once we started working. Ashwin (Varde) Sir, our co-producer, told Nitin Sir (Kakkar, director) that there's this girl called Pranutan and she's given a very good audition somewhere but that film is not happening. Just check her out for Firdaus, I think she'll really suit the part. Nitin Sir hadn't been able to find his Firdaus. So I was called in for an audition and it was a four-five-hour-long audition with Nitin Sir. And it was amazing, because he just doesn't let go till he gets it right and that's exhilarating for me. And about 18 days later, I got a call saying I was confirmed.
It's really interesting that Zaheer, who's not technically from the industry, gets offered a film because he's spotted by Salman Khan, while you got the film after having auditioned, even though you have such deep roots in the industry.
It's funny but it's all about luck. We both ended up exactly where we wanted to be. Also, I feel we've both had our share of wanting and longing and hope and faith. He's waited six years for this, which is no small feat in terms of mental and emotional energy; I've waited three. He was just lucky, and so was I.
There's a bunch of star kids making their debuts right now. Apart from talent, what do you think will it take to stand out of the pack?
I feel that every individual has something unique to their personality. That quality is difficult to explain and is intangible. What you bring to the table is very different from what I bring to the table. I just feel that when filmmakers want to cast me, they'll do it because I suit their particular vision of a particular character brief. You can't tell, for example, why Deepika (Padukone) fit Padmaavat as beautifully as she did. There are a lot of tall, beautiful girls, but it's Deepika, and she brings something unique to the table for that character. If a filmmaker wants to cast me for a particular role, he'll do it because of my unsaid unique qualities. And if he can cast just about anybody for that role, it's not worthy of doing.
Was there any specific advice your dad gave you, having been in the business as long as he has?
The only thing he's told me is to be honest, always. He says never to be dishonest in general, but specifically towards the craft and you'll become better on your fourth film set as opposed to your first. But honesty is something you should never lose through this process and take it for granted that you're standing on your mark... always value it.
Your grandmother Nutan passed away a few years before you were born. Are there stories that you've heard about her that have stuck with you?
I have always been told she was very punctual, and would never make her crew wait. She was a stickler for discipline, about her in-time and out-time, particular about sleeping on time. There was focus towards her work. Also one more story I have read is that she did this film called Saraswatichandra and the film was based on a novel that was divided into three volumes. However, the film was being shot based on only one volume, but she read all three volumes just to understand her character and I was like 'Wow'! It's just sheer passion and respect for what you do, and valuing it.