'No time to die' is the perfect send off to Daniel Craig
This is perhaps a rare Bond film with no real villain but with a conflict that arises from within Bond himself, and the choices that he makes, both in the past and the present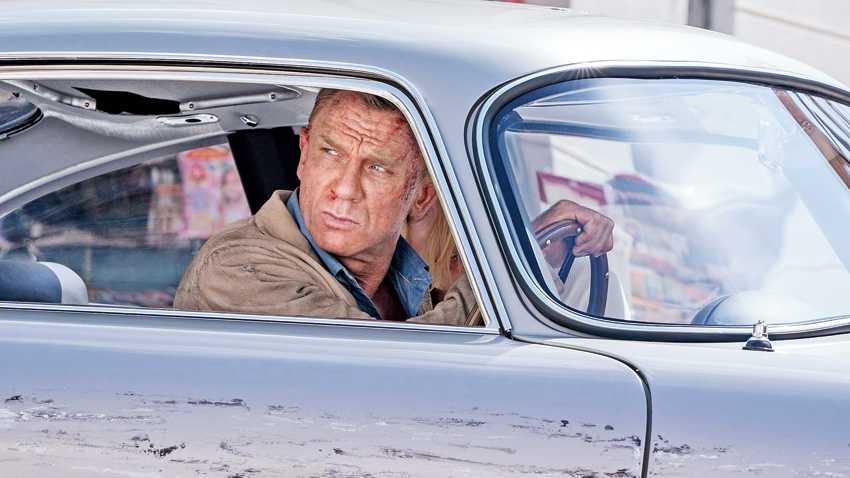 ---
Published 30.09.21, 11:26 PM
|
---
I walked into No Time To Die burdened by facts and statistics. Long delayed and much awaited, this is the 25th Bond film. It's Daniel Craig's fifth and final outing as 007, 15 years after shaking and stirring the franchise with Casino Royale. No Time To Die is the longest Bond film till date. It's the first James Bond movie to feature all the key characters of Q, Felix Leiter, Miss Moneypenny and M since 1989's License to Kill. Phoebe Waller-Bridge is only the second female screenwriter credited for writing on a James Bond film. It's been in writing for five years, on the floors for three and its release has been delayed multiple times because of both production issues and the pandemic.
But when I walked out, I remembered none of this. All I could feel was a certain heaviness in my heart, brought on by witnessing what is perhaps the most emotional and gut-wrenching finale of a Bond film in recent years.
And that isn't just because this is Craig's send-off. No Time To Die embraces all the genre conventions but tempers it with a touch of soul, which has now come to define Craig's 007. This is perhaps a rare Bond film with no real villain (not a spoiler, and something that we will come to later) but with a conflict that arises from within Bond himself, and the choices that he makes, both in the past and the present. A vulnerable, ageing, almost down-to-the-wire Bond who recognises that his time has perhaps come. A Bond who fights for love, a Bond almost poetic and definitely less pragmatic. A Bond who is guilty of constantly "looking over his shoulder", but wants to let go. When he does let go, he's sucked right back to where he belongs. But just as he looks over his shoulder, he finds a replacement breathing down his neck.
Much has been written and spoken about the next Bond. Will it be a woman? Will Bond be black? Lashana Lynch is both, and though her screen time is largely limited and she fittingly decides to walk two steps behind the original 007, No Time To Die could well be a nod towards where the franchise aspires to head.
But that's not to say that this isn't a typical Bond film, packed as it were with thrilling action set pieces, exotic locales, fan-pleasing moments and the Bond things we love — Q's cool gadgetry, Bond's demand for a 'shaken, not stirred' martini and, of course, the iconic "My name is Bond, James Bond" line that's uttered twice, the second in a totally different context.
Director Cary Joji Fukunaga — credited with Season One of True Detective and Netflix's Maniac — working out of a screenplay he's co-written with Neal Purvis, Robert Wade and Phoebe Waller-Bridge, stays faithful to the formula, and yet gives a modern spin to the franchise, hitting a home run in infusing No Time To Die with tangible emotional heft and an eventual punch to the gut, but also with a story that engages and enthralls in equal measure, with Hans Zimmer's rousing score doing its bit.
Which is commendable, given the kind of pressure #Bond 25 must have been under, not just to redeem itself after the train-wreck that was Spectre, but also because the franchise has now made the decision to go in for a serialised arc as opposed to telling standalone stories. No Time To Die's predilection for connectivity is a win for the most part, capped off by that powerful scene in which Bond and Blofeld (Christoph Waltz, waltzing in for a cameo) come face to face and the latter tells the former, "I didn't need to kill you; I had already broken you." Almost every scene in this film — even the action sequences — carry emotional weight, but Fukunaga ensures that he also makes 163 minutes count, with a thrillingly tense narrative, its pacing and energetic cutting and swift camera movements making No Time To Die a rollercoaster ride.
The film also scores in how it presents its women. Lea Seydoux's Madeleine Swann, transitioning here from Spectre, is the pivot around which Bond's emotional journey revolves. Ana de Armas, sharing screen space with Craig once more after Knives Out, has a negligible role, but her action and acting chops in just one sequence is enough to leave us wanting more. What's surprisingly disappointing is the short shrift given to Rami Malek as Safin, whose presence is almost obligatory, with only that conversation about relevance and redundancy between him and Bond remaining memorable.
No Time To Die has an all-pervading end-of-an-era feel about it, and when the curtains come down finally, you are bound to have a lump in the throat, in what is a perfect swansong for Craig. But I walked out a little conflicted about where I want 007 to be next. Do we still need a brooding Bond tied to a past and struggling to combat a present? Or a more fun and formulaic, almost quirky Bond, given the heavy times we are anyway living in? I am almost willing a Taika Waititi-kind to take over. Or will that end up with 007 shaken and stirred beyond recognition?