New Zee Bangla show Ichchhe Putul tells the story of love and sacrifice
The serial captures various sides of love and affection as well as the sacrifices associated with it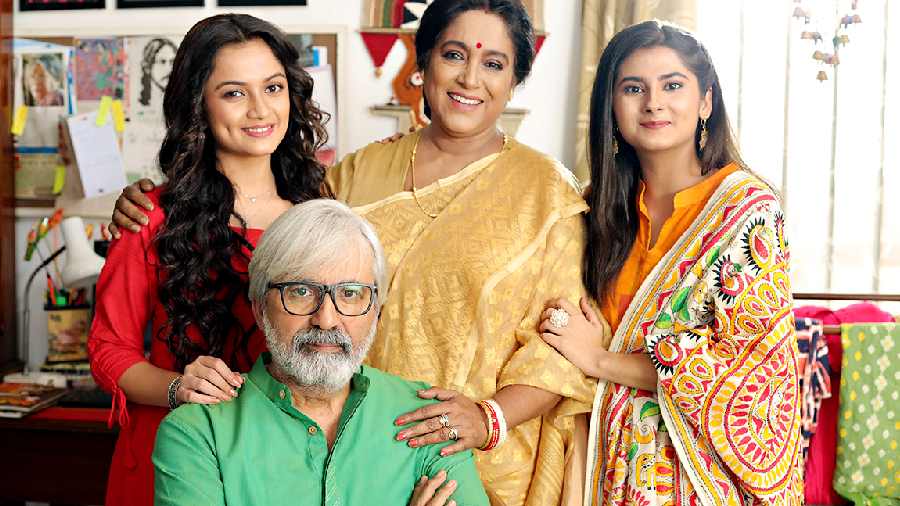 Titiksha Das, Krishnokishore Mukherjee, Soma Chakroborty and Sweta Mishra
---
Published 11.02.23, 07:32 PM
---
The new Zee Bangla show Ichchhe Putul, starring Mainak Banerjee, Sweta Mishra and Titiksha Das in the lead, captures the various sides of love and affection as well as the sacrifices associated with it. It reveals the actions of people in the name of love. The show revolves around two sisters who share a unique relationship and their shared love interest. Megh, the younger sister, was born to be the life support of Mayuri, the elder sister. The story takes an interesting turn when the question of sacrifice comes up in the name of love.
"Zee Bangla, as a leading Bengali entertainment channel, narrates varied stories which are very much relevant in today's society. In our new mega, Ichchhe Putul, we are focussing on a completely unique take on the story of love and sacrifice. Apart from the trials and tribulations in the love story, the remarkable bonding between the two sisters shown will stand out," said Samrat Ghosh, chief cluster officer, east, Zee Bangla.
"The story of Ichchhe Putul features characters with strong family ties which keeps a family close. The story depicts the relationship ties, duty and emotions of sacrifice. A sister who sacrifices everything for her elder sibling by risking her own life. It's a complex triangle that is intriguing and engaging," said Navnita Chakraborty, chief channel officer, Zee Bangla.
Mayuri (Sweta Mishra) was diagnosed with a rare disease in her childhood, which required a blood transfusion from a donor with the same gene, so their parents planned their second baby. Megh (Titiksha Das), the younger daughter, is a loving, bubbly and charming young girl who selflessly supports her sister through thick and thin, and she is ready to sacrifice all her worldly attachments and urges for her sister's well-being. She believes that her sacrifice is worthy as her sister can live longer. Further, Megh develops feelings for her college professor Souroneel (Mainak Banerjee) but eventually, Mayuri finds Souroneel interesting and falls in love. 
Other cast members of Ichchhe Putul are Krishnokishore Mukherjee, Soma Chakroborty, Soumya Sengupta, Saswati Guhathakurta, Kalyani Mondal, Avijit Deb Roy and Anindita Kapileshwari.
Watch Ichchhe Putul, directed by Subho and produced by Arka Ganguly, every Monday to Friday at 10pm only on Zee Bangla.