New Horizons
A.R. Rahman tells that writing a story is similar to composing a symphony, and how he has lived the life of a rock star over the past decade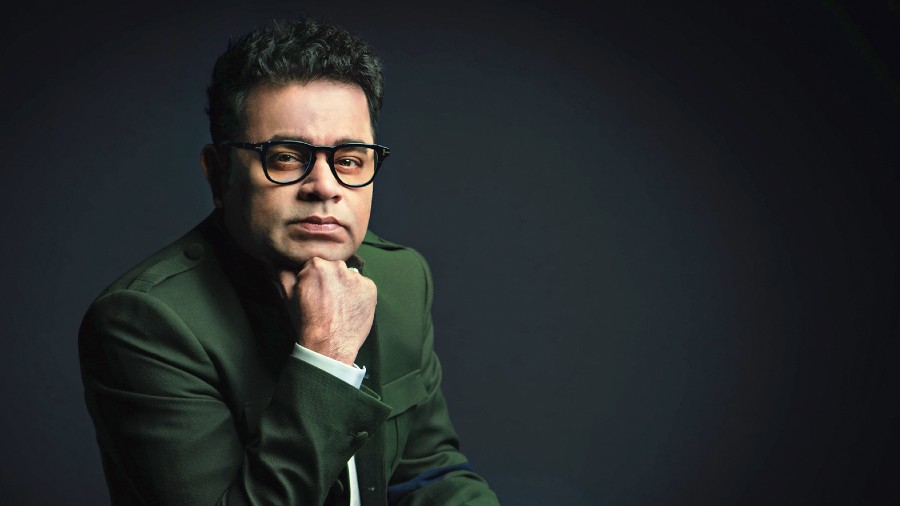 ---
---
The name spells excellence, integrity, class and someone who has done the country proud globally for decades now. After winning huge laurels both in India and on the international stage — including two Oscar statuettes for his score in Slumdog Millionaire almost a decade-and-a-half ago — the 54-year-old music maestro, known as 'The Mozart of Madras', has ventured into new territory.
Rahman has penned the story for 99 Songs, a musical romance that released in theatres on Friday, and with which he also makes his debut as producer. Starring debutant Ehan Bhat in the lead, 99 Songs tells the story of the soul and struggle of a musician, an idea that had started incubating in Rahman's mind a decade ago.
In a freewheeling chat with The Telegraph, Rahman speaks about his film, how the dual Oscar wins opened up global doors for him and what makes him constantly critique his work.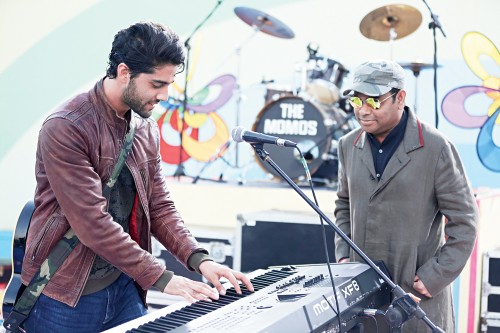 You started writing the story of 99 Songs back in 2011. Was there a trigger point for this story and what was it about this film that made you doggedly pursue it for a decade?
It's been a while since I have been doing music. Music, of course, is my first and primary passion. But I felt like I wanted to challenge myself and do more... but in music only. But for that, I needed to commission myself and create the challenges myself. The truth is that once you get an Oscar, what else to do after that? (Laughs) It's the pinnacle of the awards for everyone.
I kept thinking and then realised that storytelling is a beautiful, therapeutic art. I have travelled all over the world, and I felt I had certain stories within me that I wanted to tell. That led me to see a different world and tell a story in my own way.
So, 99 Songs basically started off with one question: what if a boy has to compose 100 songs to win over a girl? And then the whole process suddenly became very complex (smiles). I started doing scriptwriting workshops. I wanted to plunge deep into the world of
film-making and hence, I didn't want to be ignorant of the technicalities. I started learning about colour correction, lenses, camera... all those things. I had time in LA (Los Angeles) … I was living in LA for five-six years, and I learnt a lot of things.
And then I started searching for a director. Because directing this would mean three years of nothing else — specifically, no music — for me. It would stop everything for me, including my tours. So I felt that I should just write the story, and have a vision and give that vision to a director, and have the right team so that we could make a movie that I wanted to make, with my vision. So I called Vishwesh Krishnamoorthy. He is someone who has happened to do some of my favourite work over the years. Every time I would watch something or listen to something and ask, 'Who has done this?' it turned out be him... he's done most of the ads and music documentaries I have loved in recent times. We got him on board and then we went to Jio (Studios) who said it shouldn't only be in Hindi, it should also be in Tamil and Telugu, and it became a pan-India release.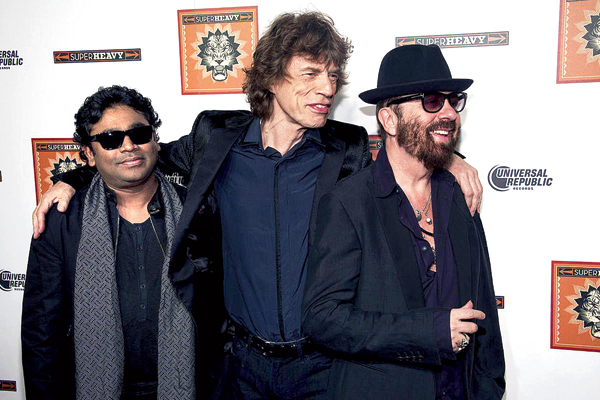 Given what the scenario is at present where theatres are shut in many states and movie-watching in a theatre is not a priority for people, are you not apprehensive of going in for a theatrical release, especially when this film is so special to you?
We can't be scared all the time, we can't be alarmists all the time. The whole world has now got accustomed to Covid-19. A lot of people have taken the vaccine. We are in a world where we have accepted that this is here to stay for a while and what we need to do is move forward.
I will be honest... it is a big risk for us, but we could also be the ones providing hope and inspiration to people to come and watch the film. It's a musical, and at the end of the movie, we hope they feel elevated. The story I have written is very experiential, and going to the theatres is very important because of the sound, the visuals and the storytelling. I know it's a big risk, but without risks, what's the point of creativity?
You have said that 99 Songs is 'a gift from India to the world'. Those who have worked with you talk about how global your outlook is, we have seen how your musical creations find fans beyond boundaries. Does universality and an eye on global appeal lie at the core of what you do?
It's something that I have believed in since my first film (Roja, 1992). When you are young, rock music is cool, jazz is cool, Hollywood movies are cool, European movies are cool.... When you grow up and evolve, you wonder, 'Why is the reverse not happening?' (Smiles) Then you search for reasons. Indian movies are now watched abroad more than ever, and not just by the diaspora. Because of the Netflixes and Amazon Prime Videos of the world, people are cross-connecting and watching.
For me, 99 Songs is a try, a hope that we will have even more of a universal audience. This movie is about jazz, about punk rock, pop music... but it also shows the life of a musician (played by debutant Ehan Bhat), and there is a certain commonality that the world will relate to in his struggle and in his suffering. Just the place where he is born is different, but the challenges are the same.
It actually came as an afterthought. I didn't start writing this by thinking, 'Oh, I want to make a movie for the whole world'. Vishwesh is a visionary... he told me, 'I want to make an A.R. Rahman movie, what I think should be an A.R. Rahman movie' (smiles). We have taken a different path with this film. The world is evolving, and I feel this movie could cater to a new vision and a new generation.
Was scoring music for this film liberating for you since you weren't following someone else's brief or adhering to the vision of another person?
Ya, absolutely. Over the years, there have been many ideas that I have wanted to execute and in this film, I have tried to do that. The music that I have scored in 99 Songs reflects the protagonist's emotional and intellectual growth. For example, when a flight first takes off, you see the houses below as very big, then they gradually become smaller, then the whole city becomes smaller and then suddenly, you are in the middle of the clouds, and everything becomes a dot. Even creativity is something like that.
There are innumerable stories of the process you employ to compose your music. One knows that you have generally composed almost all of your music between midnight and dawn, and continue to do so. Any quirks as far as your writing process is concerned?
It's actually a myth that I only compose at nights! (Laughs) I carry a vocal recorder and if I suddenly have an idea, then I hum into it, and then I go to my piano. I would like to clear the rumour that I only get great ideas at night (laughs). But yes, I prefer working at night because the world is sleeping, and I feel the silence helps me work.
The idea for this film actually came to me in 2010. By that time, I had been in Hollywood for two years. That year, in fact, was very tough for me... I was dodging a lot of bullets (pauses). I did some damage control and I felt lighter.
But feeling light is not a good idea in my opinion (smiles). I felt I needed to get on to the next challenge. Once I started writing, I didn't judge myself... I just let it flow. I told this idea to a couple of friends and they felt this is worth doing because it felt fresh. You know, that whole post-Oscar wave when people feel you can't do much wrong (laughs)….
Is writing as fulfilling as making music or does music tower above everything else?
Writing, in all honesty, is a branching out from music for me. In music, you also tell a story. If you are writing a symphony, you are writing a piece... it starts simple and then it becomes complex, and at the end of it, it lingers in your mind. What lingers in your mind is the impact that it has on your soul. Stories are also like that. The way a character smiles, or relates to other characters, the layers of the story... it was very fulfilling to write all of that, especially since my story is from a musician's point of view and that ultimately, music turns out to be his saviour.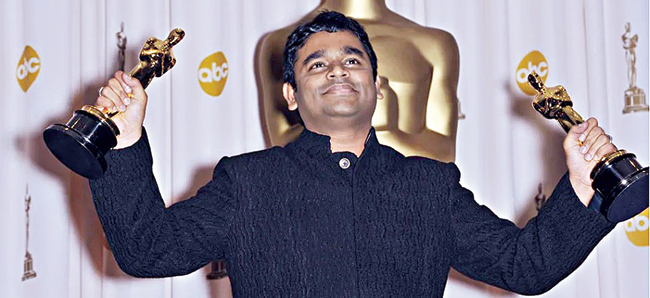 How do you think you have evolved musically in the last 12-15 years, especially after the dual Oscar win for Slumdog Millionaire?
Well, I had the freedom to do many things. I did quite a few Hollywood movies, I did a South American movie (Pele), then an Iranian movie (Majid Majidi's Muhammad: The Messenger of God), I did a symphony piece (The Flying Lotus) with Seattle Symphony... I did Harmony (a curated exploration of the past and future of Indian music through the eyes of Rahman, for Amazon Prime Video). I did a lot of things that I never thought I would have a chance to do... and I really enjoyed them all. I have done a lot of concerts.
The most important thing has been the experiences I have gathered, the exposure I have had.
I have met some amazing people. I have rubbed shoulders with the likes of Paul Allen and Quentin Tarantino. I have lived the life of a rock star (smiles). I did SuperHeavy with Mick Jagger ( a one-off supergroup project consisting of Mick Jagger, Joss Stone, Dave Stewart, Rahman and Damian Marley) which was a dream-come-true.
I have done a lot in the last one decade, but I felt that India was also changing. And I realised that I wanted to be a part of this changing India. It's very easy to go and settle somewhere else and keep commenting about India. But I felt it was very important to come back and be a part of the change... do movies here that have certain narratives and viewpoints of humanity. So that made me experience the joy of making 99 Songs... and also being terrified of being a producer!
Did the Oscar wins also burden you in terms of expectations?
You can take anything as a burden or a blessing (smiles). There's this saying which goes, 'There's no fame without blame'. Everything can change in one second. But then, you have to use what is given to you in a right way. For me, for anything in my life, the glass is always half full. I have always believed that even the most adverse thing has something to learn from, something good hidden in it. It's been really good, actually.
Do you go back to your work and critique it?
Always! I have done that right from the beginning of my career, and I feel that is what has helped me grow. I am someone who keeps working on something till I am happy with it... it's always a fight between the intellect and the heart for me (smiles). If something touches me or provokes me to get choked, I go with it. But I also am aware of the fact that in this world, people have so many choices... why should they listen to my music? So I constantly cross-question myself... 'What is going to engage them? What will compel them to listen to it?' I always ensure that I deliver a product that is complete and wholesome and thought provoking… what people think about it after it reaches them is not in my hands.
For us, every A.R. Rahman album is a work of art to be cherished for ages. I know you are very critical of your work, but is there anything that you have created that you feel is almost flawless?
I will pick 99 Songs. Because every part of this film has been watched 25-30 times by me and my team and reworked and relooked at. I have worn multiple hats here — writer, producer, composer and music composer. Some of the stuff had to be recorded abroad... Bupadest, Macedonia.... The bar was set high for us. The work we have done is sincere and honest and I hope people like the voice that this movie represents.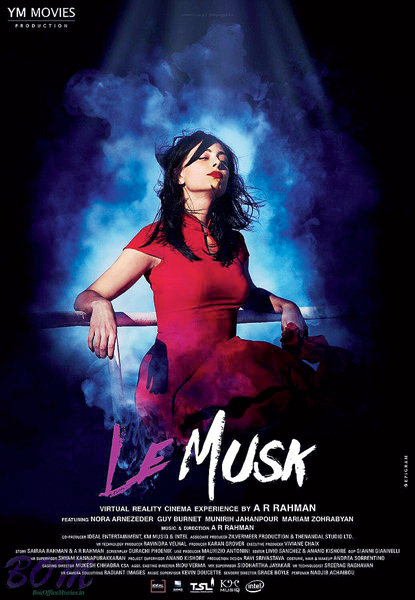 You didn't direct 99 Songs, but you have helmed a virtual reality film called Le Musk, which is another global endeavour from your stable. What was it like being on the directors' chair?
I loved it! It was supposed to be a short film, but it became a one-hour movie because of the medium... the medium is so beautiful. It makes people go, 'Wow' every time they see it, because the visuals present themselves beautifully. Some of the most established directors in Hollywood have watched it and so
have many Indian film-makers and those from the Middle East. I exhibited a six-minute version of it at Cannes XR a couple of years ago. There were 200 people lining up for an hour to watch it because there are only three chairs (smiles) … this is actually an installation.
Honestly, I only spent a couple of months creating it and shooting it. The post-production work was huge, and my assistants were there to help and most importantly, exercise quality control (smiles). And they would keep showing it to me whenever I had time. But doing a full-length feature film like 99 Songs requires undivided attention, you can't juggle around many things. I didn't have the space for that. I went to the set for some of the most important scenes just to reinforce my vision and to ease out any problems that the director may have.
How hands-on were you as a producer?
Oh, that's a book in itself. There were so many things I didn't know going in. The risks that I have taken in this movie... I didn't even know that they were risks when I started it. There is a famous Tamil proverb which says that the calf is more fearless than the cow (smiles). If I was experienced, I wouldn't have made many decisions that I ended up making for this movie. But then, it wouldn't have been the same movie... it would have been a very 'safe' film. Everywhere I go, people tell me, 'You've brought in a new director and a new hero. That requires a lot of guts'. And I am like, 'Oh really?!' That's when I realised that if you have an established hero, then he brings in the money and he helps in selling the movie. That part was quite challenging, till people saw the movie and said, 'Oh my god! This is worth it'.
What do you want A.R. Rahman's legacy to be?
I never see it like that. Life is so unpredictable, nobody knows how long people are going to live. For me, it's satisfying to share my creativity and enjoy life and spread the light (smiles).
Picture: Arun Titan