Neha Marda on playing an on-screen mom
The girl from Bali, unplugged on her new show - Kyun Rishton Mein Katti Batti and her 15-year journey in serials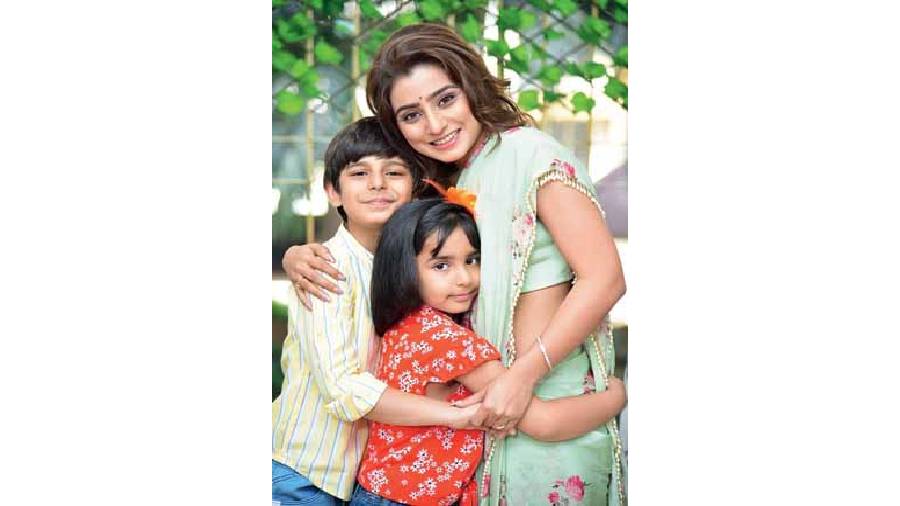 Neha Marda with her screen kids Roli and Rishi in Kyun Rishton Mein Katti Batti on Zee TV
Sourced by the correspondent
---
Published 22.02.21, 12:37 AM
|
---
Neha Marda, playing the female lead in Zee TV's new show Kyun Rishton Mein Katti Batti (airing Monday to Saturday, at 10pm), laughs on being reminded of being featured in The Telegraph on bagging her first show Saath Rahega Always in 2005. "My father collected all the articles that came out. So it is still with me," she says. Here's the girl from Bali, Howrah, unplugged on her new show and her 15-year journey in serials.
What is your role in Kyun Rishton Mein Katti Batti?
Subhra is a mother of two kids. She comes from a rich Maharashtrian Brahmin family who falls in love in college. But her parents don't approve of the average middle-class Punjabi boy. So they elope and marry. The story is after 10 years of marriage and revolves around the children who try hard to restore happiness when the parents fight. The show deals with the effect parental friction has on kids in a 2BHK apartment. Though the message is serious, it is delivered in a fun way through the kids and their antics.
You had quit Doli Armano Ki in 2015 after your character became a mother and then the story took a further leap. What made you agree to play a mother from the start now?
Time changes and one's perspective changes. I have no problems playing a mother now. But they had wanted to make my child a 25-year-old. Even today, I don't want to play a mother to a child who is more than 10-12 years old. I have to be convinced that I look that age. My children here are aged eight and nine.
You must have shot a lot?
Yes, for more than four months. We had started shooting in March as the show was supposed to go on air on March 31 but the lockdown happened.
How much has the shooting experience changed? 
Once you get in, you got to get your temperature and pulse oxymeter checks done, your bag sanitised… it takes so much time. The rehearsals that we used to do is now shot with the assistants and the video is sent to us. Earlier, we had the liberty to improvise our movements. Now we have to simply copy-paste what is in the video. But I am happy that at least we are working.
Did you get a chance to bond with the child actors?
The girl Mannat, who plays Roli, has shifted to the same building in Goregaon where I stay. She comes for a night over to my place three to four days a week. The boy Pratyaksh, who plays Rishi, is also very cute.
How did you spend lockdown?
I went back to Patna and had a lovely time with my husband.
You had opened an acting academy in Patna in 2018.
Yes. Earlier we had students only from Bihar. Now with online classes, we have students from across the nation. Though acting, dancing and singing are always better in person, now we can involve teachers from Mumbai. I too take classes when I have time.
You had a hard time on the sets in Doli Armano ki, having to spend nights on the sets. Are you up to such an ordeal again?
Life is not that hectic right now as we have a bank. But when you get into daily soaps you need to be mentally prepared for such  situations. People think it is a beautiful life, which it is. But if we need to labour we cannot back out as the show must go on.