Nawazuddin Siddiqui frontlines a paradigmatic noir tempered with elements of a social thriller
At its heart, Raat Akeli Hai unfolds like a detective story, with Jatil operating like a sleuth and a seeker of truth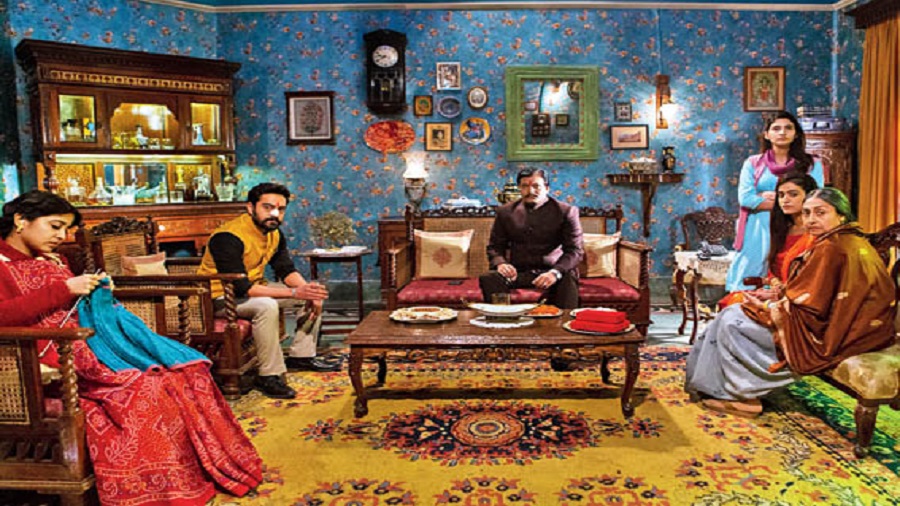 ---
---
The first shot of Raat Akeli Hai is a thing of beauty. The headlights of a car pierce through the blinding darkness of a highway, even as a pulsating background score hints that something is afoot. The scene, punctuated by silence followed by fearful sobs, doesn't end as beautifully. A throat is slit, a head is smashed in, the bodies are doused in acid and then buried. The first few moments set the tone for the rest of Raat Akeli Hai. Sex, lies, videotape. And a few more murders.
A paradigmatic noir tempered with elements of a social thriller, Raat Akeli Hai is a classic locked-room murder mystery that, however, (successfully) defies many genre conventions. Five years after the twin killings are passed off as a highway robbery, another murder takes place. Sixty-something Raghubeer Singh, the wealthy and well-placed patriarch of a Kanpur family, is found shot through the head on the night of his marriage, his second, notably to his younger-by-many-decades mistress Radha (Radhika Apte). In a scene and setting mirroring last year's seminal genre winner Knives Out, a house peopled by close family members, all of whom with the means and motivation to stick a bullet into the man, feign ignorance, but it's evident that each one of them has a heart of darkness and a deep secret to hide.
With all fingers invariably pointing to the mistress, the scenario is ripe for cop Jatil Yadav (Nawazuddin Siddiqui), a man as complex as his name and with the dogged ambition to seek out the truth at any cost, to parachute himself into the case. Soon, Jatil has a crowd of suspects and a bunch of motives, but as matters get more and more twisty, he realises that the answers of the present lie in unearthing the secrets from the past.
Raat Akeli Hai, that marks an impressive directorial debut by Honey Trehan, is a homegrown murder mystery that lays its cards out one by one, even as it keeps many of them close to its chest. The film earns its 149-minute running time, allowing the viewer to ruminate over the proceedings, as much as the man investigating the case, coming up with a watch that keeps you riveted for the most part and ending with a largely satisfying pay-off.
At its heart, Raat Akeli Hai unfolds like a detective story, with Jatil (Jatin was misspelt as Jatil in his school-leaving certificate, but the new name encompasses all that he is) operating like a sleuth and a seeker of truth. More than once in the film he warns, "Hum sach ko kahin se bhi khod kar nikaalenge".
Nawazuddin, in what is a standout act, fully embraces the part of a man who's essentially a bunch of contradictions, one with a perpetual chip on his shoulder. Jatil is a man of habit (he will throw away a plate of chowmein because it goes against his everyday habit of ordering fried rice) and even though he scoffs at something like the practice of dowry, patriarchy is so deeply ingrained in him that he has a checklist for the woman he wants to marry ("charitravaan... jo ghar aur baahar ka seema jaanti ho"). Jatil is the kind of man who refers to a woman as "loose" — his messiah complex towards Radha, who he is inexplicably drawn to, is all too evident, but it's actually he who needs rescuing — but he loses it if someone else judges a woman in the same way. Nawaz, a consummate actor, brings his A-game to the deeply complex part, with Jatil's coming-of-age journey playing out parallely with him tying the twisted ends of a deeply murky case.
Trehan draws his visual palette and eye for detail from mentor Vishal Bhardwaj's frames and fashions Raat Akeli Hai as a slow-burn watch that ultimately turns into a ticking time-bomb. It's his chops as a casting director that makes him pick actors that enrich the strong ensemble cast, with film-maker Tigmanshu Dhulia and lyricist Swanand Kirkire featuring in key roles. Ila Arun, as Jatil's emancipated mother who brings on the film's rare laughs, is worth a mention.
What's also noteworthy is Trehan's use of mirrors as a trope through the film. It's sometimes used for humour (like when Jatil, mindful of his dark complexion, stashes a tube of fairness cream behind the mirror) or passion (when Radha and Jatil have a mirror moment on a stormy night in a classic nod to noir). We also first see the killer through a mirror, but it is most compellingly used when Jatil often takes a long, hard look at himself, deep within, almost mirroring Travis Bickle in Taxi Driver.
Evocatively shot by Pankaj Kumar and with a haunting background score by Karan Kulkarni, Raat Akeli Hai successfully plays hide-and-seek with the audience before lifting the lid off its big reveal. The songs are an impediment, so is the romantic track, but it's a film that needs you to stay with it. For the night may be lonely, but 'the breezes at dawn have secrets to tell you'.

I liked/ didn't like Raat Akeli Hai because... Tell t2@abp.in