Naseeruddin Shah: An actor who's unmatched at his best and horrifying at his worst
As the thespian turns 72, we decode his filmography – from the sublime like Paar and Sparsh to the grotesque like Tahalka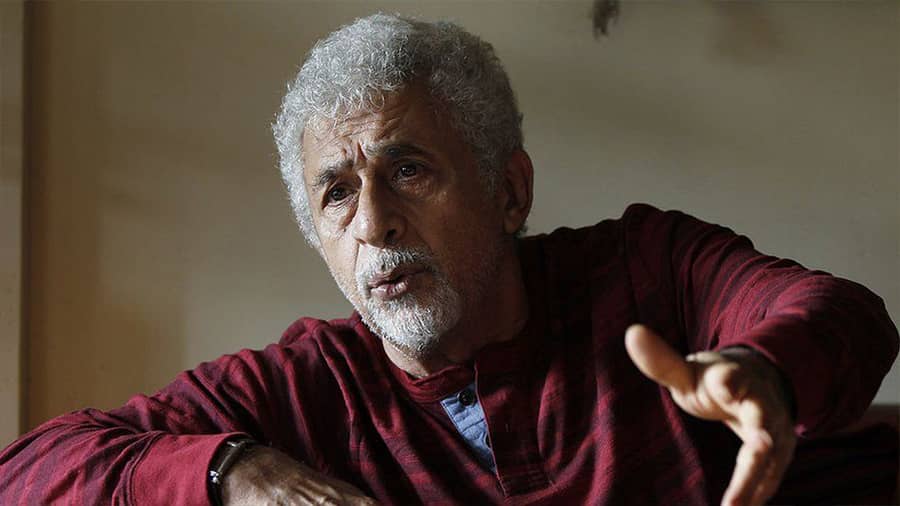 Naseeruddin Shah.
Twitter
---
Calcutta
|
Published 20.07.22, 03:09 PM
|
---
There's something about Naseeruddin Shah's filmography that is hard to wrap one's head around. Something that's almost grotesquely erratic, a delightfully complex maze, both sublime and bizarre in the same vein. Every actor worth his salt has his turkeys. Amitabh Bachchan had his clangers, particularly in the 1980s and 1990s. The post-1970s films of Dilip Kumar, who prided himself on his selectivity, were an embarrassment. However, with Naseeruddin Shah the contrast between the good and the bad is almost schizophrenic.
A crossing of the river, herding a litter of pigs (Paar, 1984), undoubtedly one of the most searing sequences in cinema anywhere in the world, exists side by side with the 'unforgettable' one of the actor in drag, in a swimsuit, cavorting with girls by the poolside (Tahalka, 1992). Something as evocative and understated as Tujhse naraaz nahin (Masoom, 1983) and Karoge yaad toh (Bazaar, 1982) offer a contrast to the outlandish sombrero-with-a-kurta-jacket-dhoti-jooti ensemble in Tirchhi topiwale (Tridev, 1989). 
The thing to note here is that these wouldn't probably have appeared as appalling with any other actor. And he has always been aware of this, as critical of himself as he has been of Rajesh Khanna, Dilip Kumar and Amitabh Bachchan. As he said at a Satyajit Ray Memorial Lecture, "Anyone at any time can be transcendentally wonderful or irredeemably rotten depending on many factors, not necessarily talent or intentions alone. But in our little pond, an actor's punctuality and ability to speak on cue is enough to qualify him as 'good', and being able to cry without the help of glycerine puts him in the league of 'great'…."
As such his films offer the fan and the critic the whole spectrum – the good, the bad and the ugly. When good, there is no one who stands on a par with him. When he plumbs the depth of the bad and the ugly, you can only watch transfixed in horror. THE GOOD
"The most difficult thing for an actor to do is be withdrawn and yet be noticeable. He had that quality," said Shyam Benegal, with whom Naseeruddin Shah did some of his most memorable films. And that's a quality that informs his best performances. Take your pick: Nishant, Manthan, Sparsh, Aakrosh, Paar, Bhavni Bhai, Masoom, Ijaazat… the list of his great performances is legion. So extraordinary is his art that it is impossible to make a selection. These comprise the finest of Indian cinema and, indeed, world cinema. 
Masoom and Mirza Ghalib; Sparsh and Paar
The star himself names Masoom and Gulzar's TV series Mirza Ghalib (1988) as his personal favourites. However, it is in Sparsh and Paar – both films that fetched him the National Award – that he attains a level of verisimilitude that is unparalleled in Indian cinema.
Long before Al Pacino wowed the world and the Oscars with his flamboyant portrayal of the irascible visually impaired Lt Col Frank Slade – and made an iconic catchphrase of 'hoo-ah' – there was Naseeruddin Shah as Anirudh Parmar in Sparsh, a performance as subtle and understated as Pacino's is over the top (in Scent of a Woman). In a film culture where playing 'blind' involved either of two responses – blinking one's eyes till kingdom come or sporting black glasses – Shah brings a rare authenticity to his portrayal of the blind principal.
The actor lists Sparsh as the one role that has stayed with him in a way that changed his life. What he says about it is testimony to his understanding of the craft: "It opened my eyes to the fact that no matter how good my performance may have been, I can never be able to imagine what a person, who is actually sightless, goes through. Mr Mittal, the principal of the school, was blind and he was the one teaching me how to learn Braille. He told me to give up because I would never learn. I learnt the formation of the alphabet but I could never read it with my fingertips. He said I could never be able to because my fingertips didn't have that need."
Nonetheless, Sparsh remains one of the finest depictions of disability in Indian cinema and that is largely because of what the actor brings to the role. Which is true of his lower-caste labourer Naurangia in Goutam Ghose's visceral Paar. Watch his face at the grilled window, listening to a clerk taunt him before offering him some money. If ever a face conveyed sheer helplessness, if ever an actor's body language put across the inner struggle to maintain dignity and failing to do so, it is this. Then, of course, there is the climactic rowing-of-the-pigs sequence which is unlike anything we have had in Indian cinema in its sheer physicality.   
Aakrosh and Albert Pinto Ko Gussa Kyon Aata Hai
At a time when Salim-Javed and Amitabh Bachchan were dispensing poetic justice in three hours, a crop of new filmmakers and literary stalwarts like Govind Nihalani, Saeed Akhtar Mirza, Vijay Tendulkar and Satyadev Dubey were charting a new course with their expose of social inequities and the oppressive state in an entirely different idiom. None better than Aakrosh and Albert Pinto Ko Gussa Kyon Aata Hai, both in 1980, both offering an interesting and a more potent variant of the 1970s angry young man theme.
Naseeruddin Shah underlines this angst like few others – as a young upright lawyer in Aakrosh, who is rendered helpless in the face of his client's silence, and as a car mechanic with major anger management issues, a character as complex as any the actor has essayed, with its troubling mix of misogyny vis-à-vis his treatment of his girlfriend. Rarely has a character's awakening to social and political realities and the world around him been as eloquently and vividly portrayed as in these two pioneering films. Jaane Bhi Do Yaaron and Mirch Masala and Ishqiya
If these films give the impression that the actor is all about being serious, you have to watch Jaane Bhi Do Yaaron (1983), a role that he took on primarily to prove his mettle as a comic actor. The film has now attained a cult status as the finest black comedy, a satire unparalleled in Hindi cinema. And Naseeruddin Shah is a hoot. In what is a landmark performance the actor outdoes himself. 
Witness his dreamy-eyed naivety at the outset, his delightful flirting with the manipulative editor to the soul-shattering realisation of the mendacity all round him as he hums Hum honge kaamyaab. Then there's the telephone scene with Satish Kaushik (involving a fond sendoff of 'Albert Pinto') – probably the funniest sequence of his career, and one of the funniest in Hindi cinema, comparable with Anthony Gonsalves and the mirror reflection in Amar Akbar Anthony.
Naseeruddin Shah channeled this feel for the comic splendidly in Ketan Mehta's Mirch Masala (1987) which cast him as the cunning and evil subedar terrorising a village and its women. What makes the character work is the element of satire that the actor imbues instead of playing it as a straight bad guy. Look at the way he uses the gramophone he has brought to further his nefarious designs on the women in the village. It is chilling and could have easily gone overboard but for the cheesiness he brings to the equation. He is sleazy, he is a rogue and in the end is ludicrous. 
Abhishek Chaubey's Ishqiya (2010) gives another glimpse of this facet of the actor. Given the rut he had got into as an actor, Ishqiya went a long way in enabling him to break out of the fatherly roles he was being offered at the time. And he delivers big time, whether lamenting his 'ancient'-sounding name Khalu/Iftikhar and wondering if he should be called just 'Jaan'. Or insisting that the heart is still young in Dil toh bachcha hai ji. Or for that matter the offhand manner in which he articulates the rustic dialogues, including the classic 'Peepal talle padenge… aur nadi naare hugne jayenge… kya thundi thundi hawa lagegi pichwaare mein.' THE BAD
Again, take your pick. Naseeruddin Shah's list of bad – and indifferent – films are as exhaustive, even more so, as his good ones. And exhausting too. Of course, as he put it in an interview, "I couldn't do it (the commercial roles) and not for want of trying. The reason I wasn't good in these movies is because I just couldn't buy into the kind of synthetic drama they contained. I wanted to sing, beat up the bad guys, fight. But I was terrible at it." 
So why do it? As he admitted vis-à-vis acting in a film called Khwab (1980) made by Shakti Samanta. "This is the film where I'm playing a mandolin and trying to dance with Mithun." He shot for Khwab immediately before going to Delhi to shoot for Sparsh. "Just before! In fact the money I made from Khwab helped me buy a car. So I drove to Delhi in that car and did Sparsh."
But Khwab or Sunayana (1979) or any of his early forays in mainstream cinema for that matter – Woh Saat Din (1983) and Hum Paanch (1980) – were not a patch on the bad films he was part of later in his career. 
Karma and Vishwatma and The League of Extraordinary Gentlemen
Topping this list would be Karma (1986). This was billed as a clash of the titans – Dilip Kumar and Naseeruddin Shah, sharing screen space in what was deemed a dramatic interaction, full of fire and brimstone, with every conceivable Hindi film cliché, thunder and lightning in the background, to drum up the intensity quotient. 
But the film is symptomatic of everything that is bad about a bad Naseer film – theatrical, over the top, and devoid of any glimpse of the great actor. The star himself went on to criticise the director for going to town with the confrontation scene, and admitted, "I have never seen Karma… only parts of it. I couldn't be bothered with the whole film." 
To director Rajiv Rai goes the credit of casting Naseeruddin Shah in a trilogy of films – Tridev, Vishwatma (1991) and Mohra (1994) – two of which are among the biggest hits of the star's career, but which also comprise the worst of his oeuvre as an actor. It is painful to see him ply his trade in the mediocrity that surrounds him in these films. Just watch him shout his vengeance in Tridev, "Karan, mere dost, mere dost ka ghar jal raha hai", in a ridiculous scene and you are flabbergasted that this is the same actor whose one dialogue in Junoon (1978) – "Hum Dilli haar gaye hain, Javed bhai" – remains a defining moment of the film.
Vishwatma is worse, if that is possible, as the director, in a bid to outdo Tirchhi topiwale, gives Naseer a preposterous purple costume with a turban in the song Dil le gayi teri bindiya. You know how bad a film is if that is the film's highlight. And for those who revelled in the actor's portrayal in Sparsh, Mohra again casts him as a visually challenged media tycoon with an evil agenda. Needless to say, gone are the nuances as the star takes the easy way out, sporting shades for most of the time he is acting blind.
The other film – which an array of film critics unanimously called out as his worst – is the Hollywood biggie The League of Extraordinary Gentlemen. I watched this years ago on a video cassette and only have vague memories of the star in a flowing shaggy beard and oversized turban. Even Sean Connery could not salvage the film. It remains one of the inexplicable, puzzling acting choices he has made.
As he says, "That was one of the most boring experiences I have ever had. But I was making so much money that I didn't complain too much. The film itself was unbearable. I wouldn't call my performance bad. I've given plenty of worse performances. There are other bad performances such as Zinda Jala Doonga (1988) and Mujhe Meri Biwi Se Bachaao (2001)." THE UGLY
Naseeruddin Shah's bad outings have one redeeming feature if one might call it that – he seems to be mocking the system he is in, much like Jean-Luc Godard did in Contempt. This self-awareness just about manages to make the inanity of these films bearable, and in a few instances – like Hero Hiralal (1989), Maalamaal (1988) and, most importantly, Jalwa (1987), his first solo mainstream vehicle, an unabashed rip-off of Beverly Hills Cop – even enjoyable.
However in this one film – which represents the actor at his nadir – one does not have even that comfort. We are talking of the atrocious Tahalka in which he plays an army intelligence officer in a film devoid of any intelligence. His entry in the film has him, and two army comrades, scaling a steep wall, just after they have been introduced as army officers. If you thought that this was in the service of a mission, perish the thought. As they reach the top, the sequence opens to a swimming pool with the three men in army fatigues ogling at a gaggle of girls frolicking in it. His first words: 'Aila, Aila.' 
And it only gets worse – to make it to the girls-only pool, they decide to dress in drag and you have the unpalatable sight of Naseeruddin in a pink-and-white-striped one-piece swimsuit, fluttering his eyes, and waving a hand fan daintily. This then develops into what is probably the worst minutes of his career, segueing into a song that goes Aila, Aila… meri chhatri ke neeche aaja. Grotesque does not even begin to describe it. "I had to do it," he insists. "I had to chuck this mantle of serious actor."
Whatever. It remains a huge blot in a filmography that made a fetish of yo-yoing between extremes. 
------------------------------------------------------------------------------------------------------------------------------------------------------------
Shantanu Ray Chaudhuri is a publisher, editor and critic. He has worked with leading Indian authors, and books commissioned by him have won the National Award for Best Book on Cinema and the MAMI award for best writing on cinema. An avid film buff, he loves poetry and music.