'Musicals are like real life... but better!'
Lin-Manuel Miranda chats with The Telegraph about his debut feature film Tick Tick… Boom! And why musicals are his 'happy place'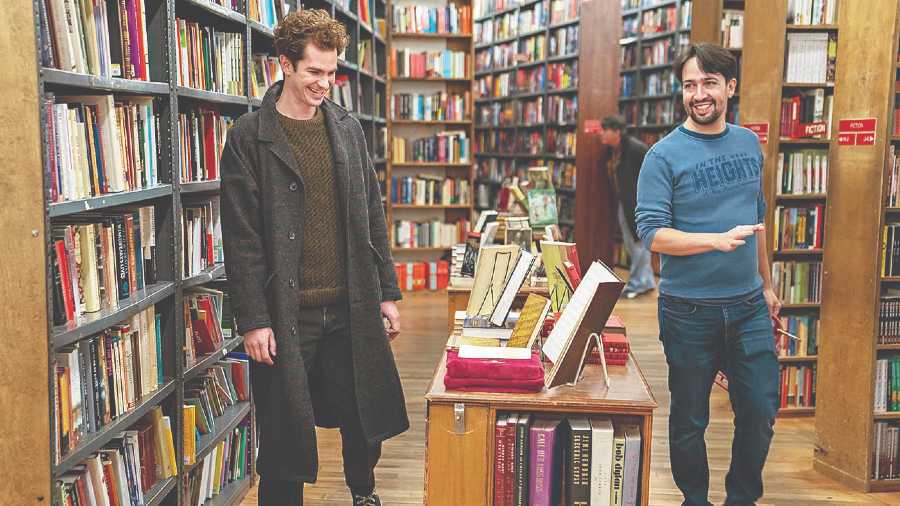 ---
Published 21.11.21, 11:37 PM
|
---
One doesn't only have to be a fan of Hamilton (and there are millions out there!) to know the kind of magic that Lin-Manuel Miranda can bring to the stage. The 41-year-old who wears many hats — at last count it was actor, singer, songwriter, director, rapper, producer and playwright — has created and starred in quite a few Broadway musicals, the most notable being In The Heights and Hamilton.
His awards include a Pulitzer Prize, two Laurence Olivier Awards, three Tony Awards, three Grammy Awards, two Emmy Awards, a MacArthur Fellowship, and a Kennedy Center Honor in 2018. The man is, as many would say, almost a legend-in-the-making.
Lin-Manuel Miranda has now made his feature film debut as director with tick, tick... BOOM!, adapted from Jonathan Larson's  classic stage musical of the same name. Now streaming on Netflix, tick, tick... BOOM! stars Andrew Garfield, Vanessa Hudgens, Robin de Jesús, Alexandra Shipp and Joshua Henry.
Last week, while rushing to catch an early morning flight, I spoke to Lin-Manuel Miranda over a Zoom call in the middle of a chaotic airport. His passion for his art and craft, however, shone through even in the middle of all the noise. Here's what we spoke about...
What is it about the musical Tick, tick... BOOM! that made you want to adapt it from stage to screen as your feature directorial debut?
I believe I have a bit of Jonathan Larson (who wrote the original Tick, Tick... Boom!, which was semi-autobiographical in nature) in me and I felt like I probably only had one chance at directing a first film (smiles). I wanted to take something that I knew as well as Jonathan's life. Rent (a rock musical by Larson) was the reason I started writing musicals... I always loved musicals, but Rent is the one that spoke to me the most. It gave me the courage to try to write one.
I saw the off-Broadway incarnation of Tick, tick... BOOM! when I was 21, and it felt like a message in a bottle just for me (smiles). I was lucky enough to play Jonathan in an off-Broadway production of Tick, tick... BOOM! with my future Hamilton co-star Leslie Odom Jr. It was a joyous two weeks and what was exciting were the possibilities of adapting Tick, tick... BOOM! for the screen.
To be honest, there is no definitive version of Tick, tick... BOOM! We had permission to reimagine it and use the best possible version… take the best songs from all the versions and create our own adaptation of Jonathan's journey. So it felt like an exciting film-making opportunity.
You are prolific at the form but this is a new medium for you. How did you navigate through that?
What I know of Jonathan's life and what I know as a theatre songwriter… that felt like it was enough to meet the medium halfway. I understood Jonathan's struggle and also the resources it takes to get a musical out of your head and into the world (laughs). And what does it really take to start again. Which is what the story of any writer is about.
And so, I hired folks who really know what I don't (laughs). I was really fortunate to be joined by my director of photography, Alice Brooks… I had, firsthand, seen the amazing work she had done on In The Heights.
One of my artistic heroes is the film-maker Robert Rodriguez and he told me something that stuck with me and really empowered me. And that was, 'You aren't starting from scratch just because you are directing your first movie. Everything that you have learnt on In The Heights and Hamilton, everything that you have made, it all applies. It's up to you to find out how it applies. You are just using these tools instead of a keyboard.' I will always be grateful to him for that because it gave me courage.
What were the challenges and the wins of putting this film together?
The biggest challenge was the worldwide pandemic (smiles). No one had anticipated it. We worked several years in putting together this production. We filmed for two weeks in March 2020, and then the world shut down. We never knew if we would ever finish shooting this movie. I remember we were on location in the real Jonathan Larson's apartment at 508 Greenwich Street (in New York) when word came in that Netflix was suspending production on all of its projects. But we were lucky enough to get back to work in September 2020, which was actually pre-vaccine, and all we had to rely on was our faith in each other.
It's not lost on me that this is a movie about a man trying to create art in the midst of a worldwide plague (smiles). Which, in his case, was AIDS, about which, in 1990, we were still learning. This pandemic is obviouly very different, but it felt important and vital to continue to tell the story and make art, and everyone went in with the same level of dedication. And that means people being quarantined from their loved ones. It meant an insane amount of dedication from everyone on set in terms of sticking to the protocols. And I am proud to report that no one got sick on our entire shoot, especially at a time when cases were really up and down.
The biggest high came in the form of the incredible performances the cast gave us. Andrew Garfield went beyond acting into channelling Jonathan Larson so often, and I surrounded him with all the best film and theatre actors that I could find. Everyone on set was so galvanised by Jonathan's work to want to do right by him. I was pinching myself every day on set.
There is a very potent line in the film which asks, 'Are you driven by fear or are you driven by love? What has it been for you in the life and career that you have had so far?
My friend Elizabeth Gilbert writes beautifully about fear. She says to be healthy friends with it because it's always coming with you. It helps guide your choices, but it's not allowed to drive the car. You have to tell fear, 'You can ride in the passenger seat, you cannot touch the radio in the car... but I acknowledge that you are here with me on the ride' (smiles).
You know, this project is so guided by love, by our love for Jonathan, by what we gave us by virtue of his actions and his life, through his incredible work... and fear is a part of that. His impetus to write Tick, tick... BOOM! was, 'Will anyone recognise the work I am doing?' Tragically and poignantly, he didn't live to see how much he was responsible in changing the landscape of musical theatre. This is our way of paying the debt we owe him.
What is it about the magical world of musicals that had intrigued you all your life?
Well, it's like real life... but better! (Laughs) Isn't it always better to burst into songs, to blend the exact right words with the exact right notes and amplify how you are feeling? If you can break into dance, it's even better (smiles). While making this, I would turn to my cinematographer and ask, 'Why do people make other kinds of movies?! (Laughs) It's so much better to break into song and dance'. And possibly that comes from the fact that I fell in love with musicals by doing musicals in school... it was my escape valve and my safe place in elementary school and in high school. Musicals are just my happy place... and I want to continue to make that for other people.