'Motichoor Chaknachoor' review: Patriarchy sold in a mason jar
A film that even Nawazuddin Siddiqui can't save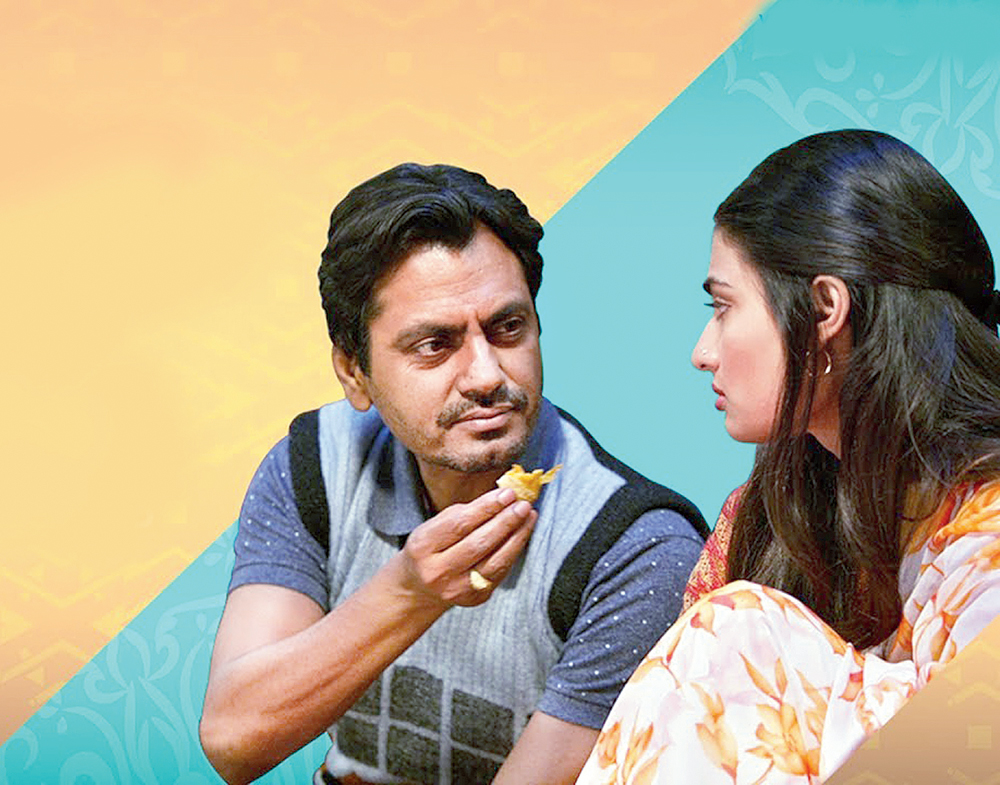 ---
---
Motichoor Chaknachoor is a film with three protagonists — Nawazuddin Siddiqui, Athiya Shetty's dialect and patriarchy; and while the first two try and save this movie, the third, aided by the lack of a plot, will simply not have it! So what we get from director Debamitra Biswal is a film with immense potential that ends up being a vapid quest for relevancy. Anita Awasthi aka Annie (Athiya Shetty) is a 25-year-old feisty girl in Bhopal with the singular purpose of ensnaring an NRI man in marriage, to be able to cross seven seas and put up supposed jealousy-inducing pictures on her social media accounts. "Phoren" is what she dreams of and where she is headed is the least of her concerns as long as it is outside the Indian border. So she does everything in her power to achieve said end goal — put copious amounts of face pack to become fairer and cruelly reject suitors who thwart her dreams of foreign land.
Adding to this deeply problematic narrative is 36-year-old, Dubai-return accountant Pushpinder Tyagi (Nawazuddin Siddiqui) whose family shares a wall with Annie's house. The Tyagi household is ruled by the matriarch (Vibha Chibber) who obsesses over finding a wife for her son but with a caveat — Rs 25 lakhs in dowry. Pushpinder is frustrated and is ready to bring home just about anyone, as long as she is a woman, but as a dialogue proclaims — "Nara kholke taiyyar baithe hai aur mummy ghagre ka intezaam hi nahin kar rahi" (cringe!). The two meet and Annie decides she would have to make do with Dubai, if nothing, and decides to marry him.
Problematic dialogues are aplenty throughout the film and that is the least of the film's problems. Motichoor Chaknachoor is film so regressive that even the semi-humourous first half can't salvage it. Every obscenely patriarchal prejudice has been normalised in this film that takes place in a small town. Pushpinder's younger brother is seen fat-shaming a girl, where the writers felt that throwing in a blade-thin joke about food would make it relatable. Annie's unmarried aunt is constantly shamed by her sister for never having found a man and goes so far as to say that her influence in Annie's life is what is causing a delay in her wedding. Pushpinder is ridiculed by Annie for being dark and short. If someone made a checklist of all things problematic in our current society, ticking off all the boxes would be this film.
Nawazuddin is effortless in his role of a small-town man who is tired of his life in Dubai and doesn't want to go back. His deadpan humour fails to rescue the film from rock-bottom. Athiya tries hard and does manage to get the local dialect down pat but fails to keep up in the emotional scenes. Running around from one house to another with the worrisome couple looking for each other in an effort to create the humorous chaos that Bollywood is so fond of, also fails and further dilutes the ending.
Small-town India does come alive as it slowly makes its way into becoming a favourite setup for Bollywood filmmakers but that doesn't warrant a complete destruction of sanity. In such turbulent times, do we really need another film where the heroine gets slapped by her husband, leaves the house to go back home only to have her father shut the door on her face? We left the hall looking for a single reason why this film should have been made and even Nawazuddin Siddiqui wasn't a good enough one.