Modern Love S2 highlights various shades of love
Unlike Season 1, which leaned on big names (Anne Hathaway to Andy Garcia, Tina Fey to Catherine Keener), Season 2 traverses a more intimate route to give us eight stories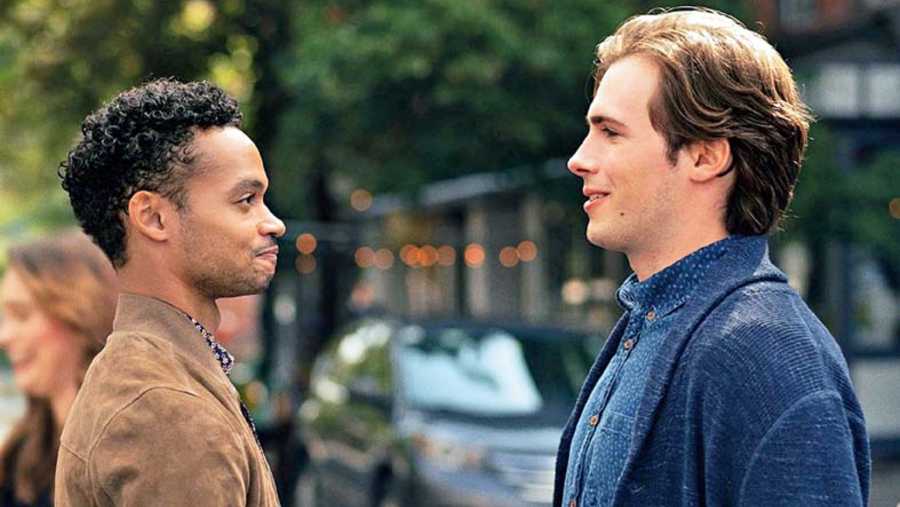 A moment from How Do You Remember Me? in Modern Love Season 2
Sourced by the correspondent
---
Published 17.08.21, 10:09 PM
|
---
We are in a world that has never needed more love. So no better time then for a second season of Modern Love to make its way to our screens, where like the first season, eight episodes of the Amazon Prime Video series are derived — and to a certain degree, dramatised — from the long-running The New York Times column of the same name.
Unlike Season 1, which leaned on big names (Anne Hathaway to Andy Garcia, Tina Fey to Catherine Keener), Season 2 traverses a more intimate route to give us eight stories, playing out over 30 minutes (give or take a few), where love shows up in different forms — some tempered by grief, others willed by chance, a few brought on by rejection and most striving to stay afloat through tough times. The result, though honest and heartwarming for the most part, is an uneven ride.
The first story, named On a Serpentine Road, With the Top Down, in fact, focuses on a ride. Stephanie has her mechanic on speed-dial because her 30-year-old vintage car is on its last legs, but she refuses to part with it because it ties her, in some way, with her dead first husband. Minnie Driver as Stephanie holds fort in this deeply resonating episode — we all attach memories to material things, don't we? — that will make you tear up in parts, but which doesn't translate into as satisfying a watch as one would have expected it to be.
The Night Girl Finds a Day Boy asks if love can triumph across two separate realities, with Zoe (Zoe Chao) and Jordan (Gbenga Akinnagbe) finding that their chemistry has to power through her circadian rhythm disorder. Zoe, a night owl in the truest sense of the term, is unable to sleep at night and snoozes off only when the rest of the world is waking up. That rest of the world includes Jordan, who works as a teacher. They try and work through the different timelines that they function in, but cracks show up soon enough. The episode is charming and inventive, with the meet-cute equation between the two actors giving it much of its heft and heart. Do Zoe and Jordan find an alternate reality for themselves? Well, doesn't love mean meeting each other midway?
A Life Plan for Two, Followed By One is largely pedestrian and a predictable look at the tenuous terrain between deep friendship and fledgling romance, while Am I ...? Maybe This Quiz Will Tell Me, where a schoolgirl questions her sexuality through quizzes, frankly, didn't hold much of my attention. A Second Embrace, with Hearts and Eyes Open, is poignant, tempered as it is with grief, illness and acceptance, but doesn't really say anything new.
Anna Paquin lights up the intriguingly named In the Waiting Room of Estranged Spouses. And it is just that, with Paquin's Isabelle meeting Spence (Garrett Hedlund) by chance at a therapist's office and forming an unnamed connection after they discover their respective spouses are having an affair with each other. It's a story ripe with potential, with director John Crowley and writer Susan Soon He Stanton highlighting a side of love that functions without expectations.
What's 'modern love' without a pandemic twist? That comes on in the form of Strangers on a Train, which is far from Hitchcockian. Showrunner and writer John Carney sets his tribute to Before Sunrise and Serendipity in the times of Covid with two strangers hitting it off from the get go on a train, realising that they have intense chemistry between them, but deciding to go the old-fashioned route by not exchanging numbers and making a plan to meet at the exact spot at the train station two weeks later. But then the world goes under lockdown and the two have to figure out how to make good on their promise. Lucy Boynton has a natural, innocent charm that lends itself well to the narrative, but the real discovery is Kit Harington who sheds his Jon Snow layers to give us a peek into his rakishly romantic side. We want more!
The episode that truly resonates and also has an interesting narrative build up is How Do You Remember Me? Let's face the truth, we all wonder whether (and how) an ex remembers us, and this episode shows two young men locking eyes across the street and then going back in time to relive the first and only date they had together. Playing out very little in real time and mostly in flashbacks, the episode is deeply relatable, with Zane Pais and Marquis Rodriguez bringing alive the bitter sweetness of a love that was never meant to be, but which still holds some intense memories. Well, isn't that what modern love is mostly about?