Matters get grim and grimy in 'Mardaani 2'
The movie is frontlined by Rani Mukerji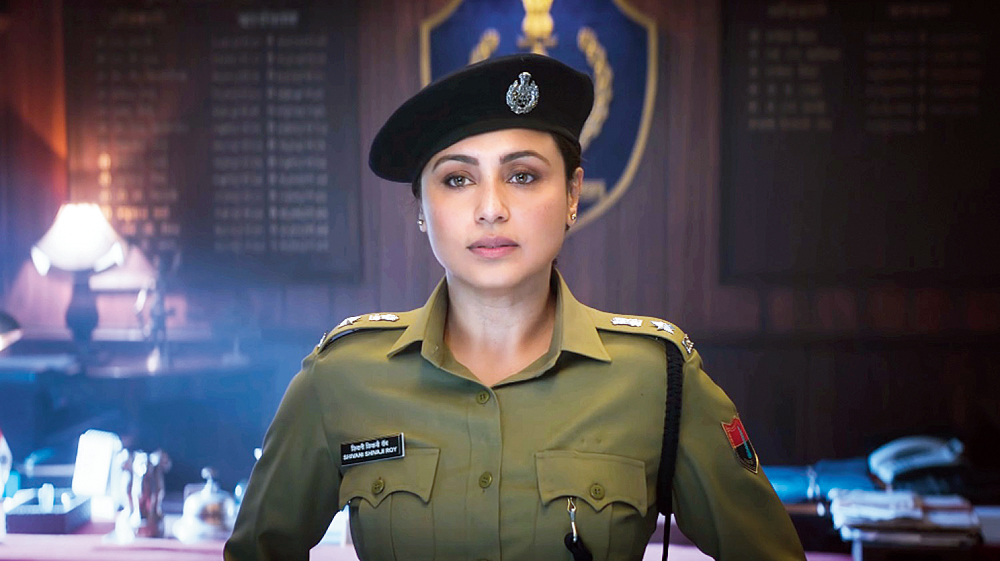 ---
---
Relentless. That's perhaps the best way to describe the 105 minutes of Mardaani 2, which shifts focus from child trafficking in the 2014 prequel to rape, sexual abuse and murder in this film. The sequel hits the ground running, cutting to the chase even before you can say 'Shivani Shivaji Roy'.
Rani Mukerji returns as the tough cop, bringing back the pragmatic and hard-nosed walk and talk, a woman working her way up case by case in a world dominated by men. Like the first film, Shivani brooks no nonsense, has no time or patience for social niceties and couldn't be bothered to pander to the male ego, whether it's her boss barking orders to her over the phone or a subordinate craftily sabotaging her plans. Rani, who played the protagonist with a winning mix of empathy and intellect in the first film, is equally compelling in this new outing, but which does away with much of the emotionality that gave Mardaani a lot of its layers.
Matters get grim and grimy in Mardaani 2 that shifts from the urbanscape of Mumbai to small-town Kota, that's found its way to the map based on the fact that it's the hub of professional coaching institutes. So there are students aplenty, providing the unfortunate setting for many a sexual crime to be committed. A protest by residents in the run-up to release has, however, meant that the film has gone from "based on true events" in the trailer to "entirely fictitious" in the disclaimer that plays out at the beginning.
The best thing about Mardaani 2 is that it wastes no time and keeps its time bomb of a premise ticking from the get-go. The first 10 minutes set the tone, with a heinous rape and murder playing out. Shivani — the new top cop in Kota — rolls up her shirtsleeves and gets to work immediately, but quickly realises that she's not facing the average Joe.
The antagonist in Mardaani (played winningly by Tahir Raj Bhasin, on debut) was a smooth operator, a smart-talking, suave young man. He was a villain always in control and with a fondness for Breaking Bad, even going to the extent of taking on the moniker 'Walt'.
The one in Mardaani 2 is distinctly unhinged, a depraved mind at work who enjoys the bestiality that comes to him naturally, though he may not always understand it. TV actor Vishal Jethwa engagingly balances his baby-faced looks with a terrifying demeanour, making his Sunny a villain with no redeeming qualities. It's a tricky role and Jethwa — except when he breaks the fourth wall to speak to the audience, often not successfully — makes a compelling film debut. He aces a Joker moment, smearing his face with lipstick while staring at the mirror, with parts of his act reminding one of the antagonists in '90s films like Dushman and Sangharsh, both brought to life by Ashutosh Rana.
Mardaani 2's race-against-time template — Monisha R. Baldawa's work with the scissors is commendable and so is cinematographer Jishnu Bhattacharjee's skilful play with light and shade — gives Half Two much of its urgency and agency.
Debutant director Gopi Puthran — also credited with the story, screenplay and dialogues — doesn't hold back when it comes to getting down and dirty. If the crime is gruesome, its verbal description is even more chilling.
The perpetrator likes to stage a spectacle, using a modus operandi and leaves behind a crime scene that imitates those seen in classic Holly thrillers like Se7en and The Bone Collector. You do need a strong stomach to get through some of the scenes.
The hammer-it-in approach may make one largely uncomfortable, but is perhaps necessary in the light of the rise of sexual crimes against women in the country today. Mardaani 2 often lapses into hyper-feminism mode, weaving in gender politics, sexism at the workplace and women's rights. Some of it is pertinent, but not all of it comes together seamlessly. The only moment when the film takes a break from its breathless action is when Shivani lets loose a Pink-inspired lecture on mard vs aurat. It jars, but you can't help but nod your head when it brings up the age-old debate between "hissedaari aur baraabari".
Much like the iron rod in NH10 that beat patriarchy to pulp, Shivani repeatedly smashing the spiked belt down on the rapist becomes a symbol of oppression, misogyny and sexism being bludgeoned. It's not a pretty sight, but the final moments of the film have her sitting in a corner and crying her eyes out, while the other women take over in thumping down the belt. It's a raw, undisguised, horrific scene. It's also curiously cathartic. For you, for me, for every woman.