India Lockdown presents a mellow picture of the deadly period, misses out doctors in the story
Madhur Bhandarkar's film has a compelling cast but there's one that shines throughout and that is Shweta Basu Prasad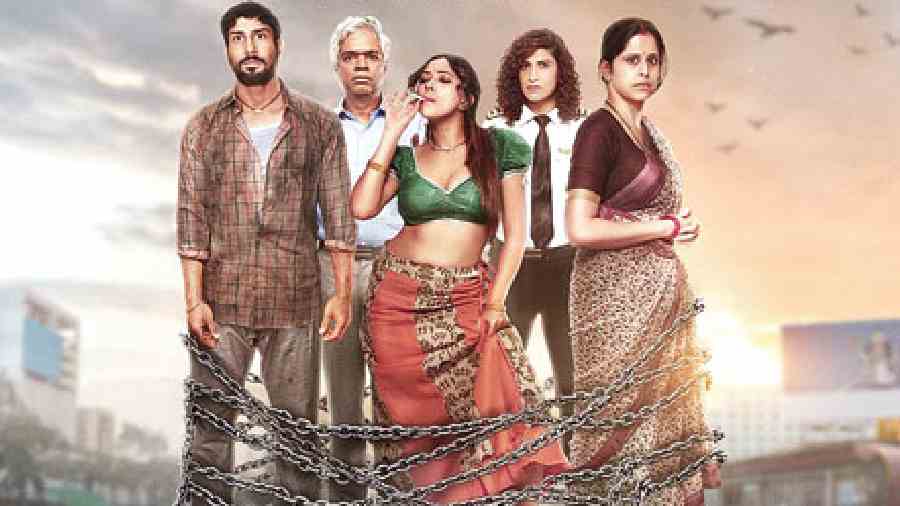 A poster of India Lockdown
Sourced by the correspondent
---
Published 30.11.22, 01:14 AM
|
---
Just before the special premiere at a city multiplex, we asked Madhur Bhandarkar to list three reasons to watch his latest outing, India Lockdown. The prolific film-maker reasoned, "The first reason should be because lockdown not only happened in India but globally; second because of the human spirit that's shown in the film and third I feel the survival of the characters of the four stories and how they connect with each other."
All the three generic pointers clicked for us, except there was more. But first, let's talk about the plot set in Mumbai that chronicles five stories — a young couple in love who are planning to lose their virginity; a middle-aged man who is scheduled to fly off to Hyderabad to meet his pregnant daughter; a migrant couple who are struggling to make ends meet; a commercial pilot who has an exciting life; and sex workers in a brothel.
The story starts with establishing the characters and the situations and then the arrival of the fatal virus in India brings their lives to a rude halt. So, while the hot shot pilot, Moon Alves, played by Aahana Kumra, is grounded at her plush apartment alone, M Nageshwar Rao, played by Prakash Belawadi, is stuck too as the flights are cancelled. Sai Tamhankar who works as a maid at Belawadi's house is barred from entering the complex, thereby losing the regular pay, Zarin Shihab and Satvik Bhatia's intimate plans get foiled and they are left with mooning over each other over Zoom calls. And lastly, the brothel girls headlined by Shweta Basu Prasad feel the crunch of clients and design new ways to sustain themselves.
Since this isn't a thriller and the subject is not alien to us, as we have all lived and survived the period, a lot of it is quite predictable. But yes, as the director told us at the start, it's the story of their survival that's the biggest draw of the film. Though the film doesn't incorporate the haunting visuals that we all witnessed on our small screens — of the struggle of the medical teams in hospitals, the overwhelming cases and the heart-wrenching visuals of mass exodus, it did bring back painful memories that we don't want to relive and that has quietly settled down in the darkest alley of our minds. Also, a sixth and very important story, the story of frontline warriors aka doctors and nurses was missing majorly from the script (I am sure they might be feeling left out). And we wonder what made writers Amit Joshi and Aradhana Sah exclude such a significant element from the first film that captures the moods and moments of the pandemic in India.
The film has a compelling cast but there's one that shines throughout and that is Shweta Basu Prasad. Her character gave us flashes of Alia Bhatt in Gangubai Kathiawadi (their physical features are quite similar to an extent) and we expect to see her oeuvre grow with more impactful roles. Though Prateik Babbar worked hard for the role of the migrant (he is known to have spent time with migrant labourers to get his acting scores right), he struggles to exude that flair which a seasoned actor like Nawazuddin Siddiqui could have pulled off with elan. 
Adding to the mood board are a few songs among which Sukhwinder Singh's Ghor bhasad stands out for its powerful lyrics often giving us goosebumps when presented with the visuals.
If you are apprehensive that the film might be unnerving, it's not. It certainly presents the picture of the lockdown but with mellow accents.   
More about the film
India Lockdown (U/A)
Director: Madhur Bhandarkar (A)
Cast: Shweta Basu Prasad, Prateik Babbar, Prakash Belawadi, Aahana Kumra, Sai Tamhankar
Running time: 118.19 mins