Maanvi Gagroo's Bollywood welcome
The Telegraph caught up with Maanvi, busy shooting in Varanasi for Shubh Mangal Zyada Saavdhan, for a chat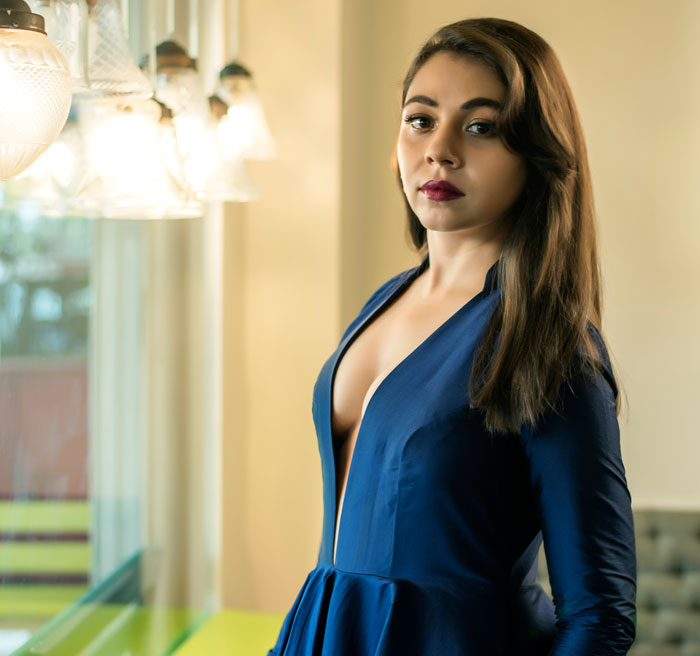 ---
---
Maanvi Gagroo, a known name in the web-series space, will soon be seen in two Bollywood movies - Abhishek Pathak's Ujda Chaman with Sunny Singh on November 8 and Ayushmann Khurrana's Shubh Mangal Zyada Saavdhan. The Telegraph caught up with Maanvi, busy shooting in Varanasi for Shubh Mangal…, for a chat. Excerpts:
Is it a conscious decision to move from the web-series space to feature films?
I would have liked it to be conscious in the sense that it would have been like the obvious next step. Honestly, it did happen on its own. Of course, I was more than open to it. When I got Ujda Chaman, I really liked the script. When Shubh Mangal... happened I was like, 'Okay, cool. This is also an interesting script with a really interesting cast'. I saw them as projects that I would like to do. The fact that they were films just kind of helped.
How different are your characters in these two films?
Shubh Mangal... in itself is a really quirky film. It talks about same sex love but in a very light-hearted manner like you know how a typical Ayushmann film is. You'll have these very interesting characters in funny situations. In Ujda Chaman, I play this girl called Apsara. Chaman (Sunny) is on the lookout for a bride. Some pandit has told him that he's going to have to live a bachelor's life if he doesn't get married by the time he turns 31. So he is on the lookout for a bride and one of the characters he meets is Apsara. She's really fat but there's more to her… she's a regular girl, she's working. Eventually something happens between them and it's a coming-of-age film for Chaman. There's a very nice line in the film that essentially says that, 'We must look for inner beauty. But when we meet a person, we look at the person's face and their body.' That is still something that we judge… and that needs to change. That is the larger message of the film.
This character sounds similar to your character Siddhi in Amazon Prime's Four More Shots Please! as far as addressing body image issues are concerned. Do you take on such roles to create a statement about body positivity?
I'd love to do that and I'd love to be the poster girl for body positivity and everything. But then again, work wise, I wouldn't want to limit myself because I know this industry is so prone to stereotyping. I mean, it's not even prone. It almost feels like they do that on purpose. And that is something I don't want to fall into, like I don't want to get into that trap, no matter what that is. Even if it was playing this really hot, sexy girl in every film! Funnily, although, I guess you're right, that body image issue is something that these two characters struggle with, but in very different ways. For Siddhi, it's teenage related, it has affected her personality because it is something that came from her mother. Whereas, Apsara is not like that. She is a really confident girl who suffers from PCOD, which is why she has put on so much weight. She is okay with that. For her, losing weight, gaining weight, losing hair, gaining hair - these are things that come and go. For her, it's a futile thing.
What's your take on the big controversy about Ayushmann's Bala, that's releasing on November 7, uncannily resembling the plot of Ujda Chaman?
When I signed on the film, I had not heard of Bala or anything of this sort. It's only a week or two after signing that they released that first teaser. I was like, 'Oh dude, is it similar to this?' And everybody said, 'No, it's not.' The protagonist happens to be a bald guy but that's about it. That's where the similarities end. I was very happy when our trailer came out. Some friends from the industry called me asking, 'How similar is it to Bala?' Then I watched the Bala trailer and thought it is quite alike actually (laughs). I don't know what's happening on that. Then Bala changed their release date from November 22 to 15 to now 7. I remember picking up the phone and asking Abhishek (Pathak, director), 'Is it going to affect us?' and he said, 'Let's see.' All I could think of was, 'Hashtag welcome to Bollywood!'.
Shubh Mangal Zyada Saavdhan has such an amazing ensemble cast. Give us a glimpse of what's happening on set right now...
Right now, the entire cast is staying together. I kept telling these guys that by the end of the shoot, we're going to hate each other because we are seeing so much of each other! We have this WhatsApp group. Every time we are back to the hotel, somebody would be like, 'Lunch?' and people will respond to that. Somebody else would say, 'Breakfast?' We are constantly together and once the film is over we are going to need a break from each other. We are constantly talking about, 'When's our call time?', 'Let's go together'. We are all planning to go roam around Varanasi but it's not happening because we are not getting any free time.
Two back-to-back comedy films. Is that the genre you love working in as an actress?
No, I don't! But for some reason I keep getting a lot of these comic films or web series. But trust me, I am petrified of comedy. I am so scared to do a comical part because I feel I am horrible at it. I'm very happy with my comic timing in real life. I'm very happy with my sense of humour in real life. But the minute I'm asked to be funny, whether on camera or if someone asks me to impress a person in real life, I'll be jacked! I feel like I will ruin a good joke by acting it out. But for some reason, I keep getting these characters and for some reason people like it also. People are surprised when I tell them that I don't enjoy doing comedy. In general, this genre is becoming more popular. I'm not talking about comedy specifically, but saying something serious via comedy. It's a mix of an important social message plus entertainment. I think this is something that is catching on and everybody's taking to it. It's not your mainstream Bollywood, that's why people like us also get opportunities to act in these.