Ludo is immensely watchable and entertaining
Anurag Basu's latest offering is a mish-mash of characters and circumstances, all of which operate within their individual bubbles but hurtle towards a common climax before seamlessly coming together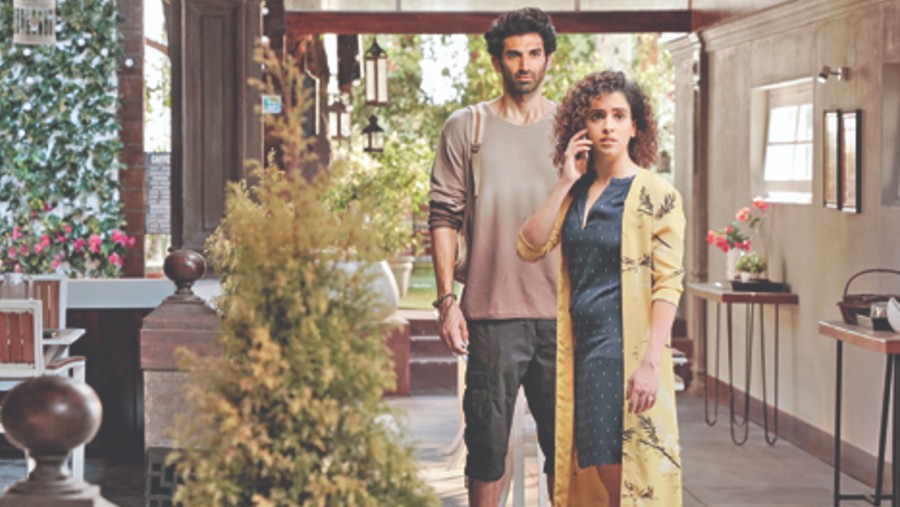 ---
---
Qismat ki hawa kabhi naram kabhi garam. This Bhagwan Dada classic from his 1951 film Albela plays out at key points in Ludo. A line in the song goes, 'O beta ji, khichdi ka mazaa kabhi naram kabhi garam'. In a way, that's what this Anurag Basu film — that isn't simple enough to be slotted in a genre — is about. A mish-mash of characters and circumstances, all of which operate within their individual bubbles but hurtle towards a common climax before seamlessly coming together as a collective whole, Ludo, streaming on Netflix, is a mad, mad ride. It's chaotic, but it's oddly comforting. It's also immensely watchable.
In the run-up to its release, Ludo has been described as an 'absurdist tragic comedy'. But this is a film that truly defies description. Anurag Basu designs Ludo as a four-in-one anthology film, with the innocuous board game defining life, and all that life throws at us. "Ludo is life and life is Ludo", says Basu — who, besides doing director and cinematographer duties, also clocks in screen time.
'All the world's a stage', is what we have known all along. Ludo tells us that all the world's a game of Ludo, peopled with characters of various shades, each being governed by the dice of fate. That our lives are a sum total of cause and effect, action and reaction. But no matter what they do and how they go about doing it, that fate may be a cruel mistress, but in the end, everyone has to come home.
In his films, Basu culls believable drama and authentic emotions out of largely whimsical, even outlandish, situations. Ludo is no different when it comes to both whimsy and wonder. The four tracks are absurd in their own ways (some a little more than the others), but they are all rooted in real emotions, making you root for the players.
A sex tape makes its way to the Internet and compels two players in a friends-for-benefits arrangement to examine their true feelings for each other. Shruti (Sanya Malhotra) is all set for her big, fat destination wedding in less than a week, but now she has to join forces with Akash (Aditya Roy Kapur) to get their sex tape off the web. Everything in this track — from Akash's ventriloquist doll to Shruti's car — is yellow, but it's not merely used as a colour. It defines the two and their love-lust story in a way.
Filling up the 'green' tokens are Aalu (Rajkummar Rao) and Pinky (Fatima Sana Shaikh). Aalu gave up a life of crime for childhood sweetheart Pinky, but she got married to another. Aalu — a Mithun fan with a Sanjay Dutt hairstyle — stills nurses a soft spot for Pinky, and he can't say 'no' when she lands up at his doorstep one night asking for help. That sends them on a crazy ride, one which also involves a hotel room shootout.
Red stands for blood. It's also the colour of love. In Ludo, red describes Bittu (Abhishek Bachchan) who's going through life fast and furious after being separated from his daughter, but takes a pause when he meets the cocky but charming Mini (Inayat Verma).
Bringing up the rear are the couple in blue, literally and figuratively. Both Rahul (Rohit Saraf) and Sheeja (Pearle Maaney) are small-towners looking to rise above their lot in life. Their lives collide one day, and before they know it, the two are on the run, a blue suitcase stuffed with cash in tow.
Basu's genius lies in the fact that he makes all the four tracks hyperlink seamlessly. This happens not only in the chaotic climax where the spraying of bullets is inventively choreographed to the beats of a song, but throughout the length of this screwball comedy. The intersection takes place courtesy Sattu (Pankaj Tripathi), a self-styled leather jacket- and dhoti-sporting gangster, whose shenanigans on one particular night make all these worlds collide at several points.
The players spill into each others' stories without you even realising it, often compelling you to go back and marvel at how it comes together coherently, all the while leaving space for you to stitch things together. This is a film based on Ludo, but is designed as a jigsaw puzzle. And yet, it won't leave you racking your brains. The laughs come on easily, even in the most tragic situations. Everyone takes a leap of faith in the film. You, as a viewer, do too. And are rewarded for it, more often than not.
There's always something happening in Ludo, and the film — despite its bloated runtime — works on the strength of its delightful asides, scattered throughout. All the actors — especially Pankaj Tripathi (who gets the best lines) and Rajkummar Rao — plunge in with all that they have got and come up trumps. The tracks are a little uneven but mostly well fleshed-out, though Abhishek's story, which has the strongest emotional hook, had scope for much more.
Pritam's music is the other big winner here and elevates Ludo through its soundscape. Hardum humdum and Aabaad barbaad are the pick of the lot.
Ludo also works with Basu offering a hat tip to many influences. The physical comedy, much like his Barfi!, is an ode to Charlie Chaplin and Buster Keaton. And the bumbling cop, who also binds all the stories together, is named Sukumar Sinha, after Amitabh Bachchan's delightfully eccentric professor in Chupke Chupke.
It's almost serendipitous that the senior Bachchan pops up in conversations throughout Ludo. The man had once famously said on screen, 'Hum jahan khade ho jaate hain, line wahi se shuru hoti hain'. Ludo once again proves that Basu's mind travels to places where few others can and has the inventiveness and courage to pull off the ideas playing around in his head. He overreaches for sure and is indulgent, but he ends up, more often than not, making genre-bending, genre-defying and often, genre-making cinema. The queue, for now, starts with him.