LITTLE HEARTS
Cute alert! Bajrangi Bhaijaan sweetheart Harshaali Malhotra is the face of little jewels, a kids' range by P.C. Chandra Jewellers. A t2 chat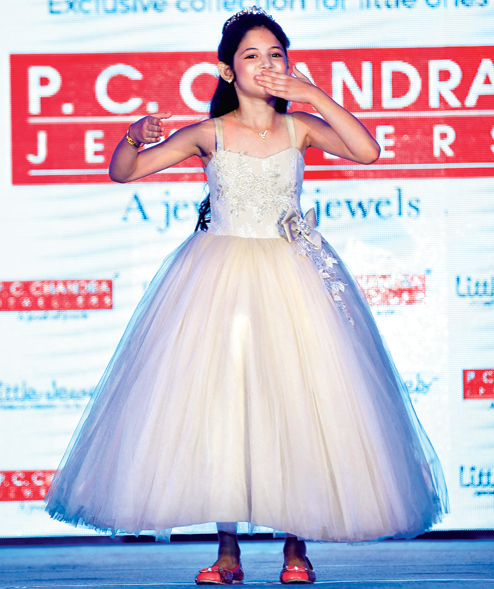 ---
Published 17.05.16, 12:00 AM
|
---
As we walked into Harshaali Malhotra's room in ITC Sonar after her totes adorbs ramp walk for the P.C. Chandra Little Jewels collection, we saw the seven-year-old scribbling away in her notebook, seated on the bed. In between "making words" with mom Kajal's help, "Munni" chatted with t2 about her "Uncle" Salman Khan, about her faves, and about not being a girl who doesn't speak! The result? We came away completely in the little princess's spell!
Hi, Harshaali. This is your first time in Calcutta. What did you like here?
I liked the globe on the road (the Biswa Bangla installation on Parama Island) and the sprinkler (smiles that angelic smile).
Kajal, how did you know about the Bajrangi Bhaijaan audition? What was it like, what did she have to do?
We got a call from the casting director, Mukesh Chhabra. At that time, they just looked at her body language. She was asked for an introduction. They observed how she cries, smiles and talks. She wasn't given any dialogues. Then we were called again and she was asked to attend workshops. It went on for five to six days. There were 10 other girls. Kabir (Khan, the director of Bajrangi Bhaijaan) used to come and observe the workshops.
Did she meet Salman Khan before shooting started?
She was very fond of Salman's Kick. She remembered all the songs. And, when she was confirmed for the film, she was lost in her own world in happiness for the next three days!
So, how was the first meeting with Salman?
She felt shy. Then, Salman initiated a conversation with her. She, along with two other kids who had come second and third in the auditions, went to meet Salman. After hi-hello, she straightaway told him, 'Please, mujhe aapke jaisa superstar bana do!' That was the first time Harshaali met Salman!
What about the first day on set?
She was shy. Salman said, 'Uss din toh bade confidence se bol diya tha mujhe… ab kya hua?' Then, Kabir joined in and she settled down. Every day, she used to take a few minutes to be normal with Salman.
How difficult was it to play a girl who couldn't speak?
Harshaali: Magar main toh bolti hoon (laughs)! Nahin, difficult nahin tha. Magar thoda sa larai mein main darr jaati thi aur rone lag jaati thi.
How did you spend time with Salman in between shots?
Main ATB (all-terrain bike) rides pe jaati thi, table tennis khelti thi aur hum saath mein chicken khaate thhe.
Kajal, how does she react when people treat her like a star?
People address her as Munni, Shahida and also Harshaali. People ask for selfies and autographs at airports, malls and restaurants. Thodi der baad woh pareshaan ho jaati hai. (Harshaali starts playing with t2's recorder.)
Has she met Salman after Bajrangi Bhaijaan's release?
Kajal: We met a couple of times, during Diwali and Salman's birthday.
Harshaali: I wished Salman Uncle 'Happy Birthday'.
Kajal: Then he got busy with Sultan. We will go and meet him once he is free. Whenever Salman meets her, he makes her do the hand gesture from the film!
Salman has said Harshaali is his favourite co-star. How does she feel?
She doesn't understand how big the compliment is. Hence, she can't reciprocate. If we tell her in simpler words, tab woh khush ho jaati hai.
How has life changed for Harshaali after Bajrangi Bhaijaan?
Life has changed! Wherever she goes, and whatever she does, woh news ban jaati hai. But, that's what she wanted… to become a superstar! As parents, we try to see that she remains a normal girl and does not lose her innocence. Though, we do want her to fulfil her dream of becoming a superstar. After pack-up, she becomes normal. She is my child so I shouldn't be saying, but the kind of determination I have seen in her, I haven't seen in any other kid. If I tell her that she will have to get up at 4am, she gets up the moment I switch the light on. She is very focused. But, she is also very naughty and I have to scold her when she doesn't eat.
What else does she like?
She loves to sing and dance. I am looking for a good teacher because I can't send her everywhere now because of security issues. Life has become a little difficult as well (smiles). She goes to school, plays with her brother (Hardik) and rides her bicycle. She is like a typical girl who loves bags, shoes and clothes. I buy her stuff but she is the one who decides what to match with which dress.
So, what's next?
She is doing commercials. She is getting a lot of offers but we don't want to compromise with small roles. She has got offers from the south too. She had got an offer to play the younger Katrina Kaif in Fitoor. That time, Bajrangi Bhaijaan hadn't released. People find her face very similar to Katrina Kaif's. She also gets offers for reality shows on TV, like Jhalak Dikhhla Jaa, but I don't want to pressurise her. If she does the show, she will have to do rehearsals and give performances. I want her to do something that she will be able to do physically.
---
HOW TO BECOME A P.C. CHANDRA GIRL
Why should elders have all the fun dressing up? With that thought in mind, P.C. Chandra Jewellers has come out with a children's collection, Little Jewels, and signed up Harshaali Malhotra as brand ambassador. The Class III student was the showstopper for the unveiling of the range at P.C. Chandra Gardens on Sunday, where kids aged five to 12 years adorned in Light Jewels also walked the ramp. And Salman Khan's fave co-star stole everyone's heart with her smile. They cheered and went click-click as she blew kisses.
According to P.C. Chandra officials, it was Harshaali's "charming innocence" that won them over. "She is able to carry a beautiful combination of poise and purity, which is synonymous with the brand. Cute Harshaali dazzled in the gold jewellery," said Anil Jain, vice-president (marketing), P.C. Chandra Jewellers.
The P.C. Chandra team had been following Harshaali's style keenly before signing her on. "She carries her innocence and dignity as her ornament. She is a star and yet her mother's little angel. This girl-next-door personality has made her an iconic figure. Children can relate with her and parents can imagine their little jewels through Harshaali," Jain added. The range has lightweight gold pieces weighing up to 4g, portraying superhero characters and animals in pendants, earrings, finger rings, bangles, neckpieces and bracelets, priced between Rs 3,000 and Rs 15,000, available from May 18 at all P.C. Chandra Jewellers showrooms.
"Kids have a definite fashion sense these days, so we created a collection for the youngest member of the family, for all kinds of occasions," said Suvro Chandra, joint MD, P.C. Chandra Jewellers.
After the ramp walk, Harshaali wowed again, this time singing a few lines of Sun saathiya from her fave actress Shraddha Kapoor's film ABCD2. When asked what she loved the most in the Little Jewels collection, she paused, then pointed at the tiara. #LittlePrincess
---
Harshaali's faves
Actor: Salman Khan
Actress: Shraddha Kapoor
Colour: Pink and purple
Cartoon: Doraemon
Hobby: Singing, dancing and acting
Food: Chicken (t2 says kukru koo!)
Toy: Teddy bear
Animal: Dog
Subject: Mathematics
Pastime: Playing on the PlayStation with her brother, Hardik.
Text: Ratnalekha Mazumdar and Malancha Dasgupta
Pictures: Anindya Shankar Ray
After reading this chat, my message to Harshaali and her mom is.... Tell t2@abp.in