Laughably loud and laboured, Sadak 2 is a ride best not taken
Despite its repeated allusions to road, travel and journey, both physical and metaphorical, it is a film that basically goes nowhere, pretty much being dead on arrival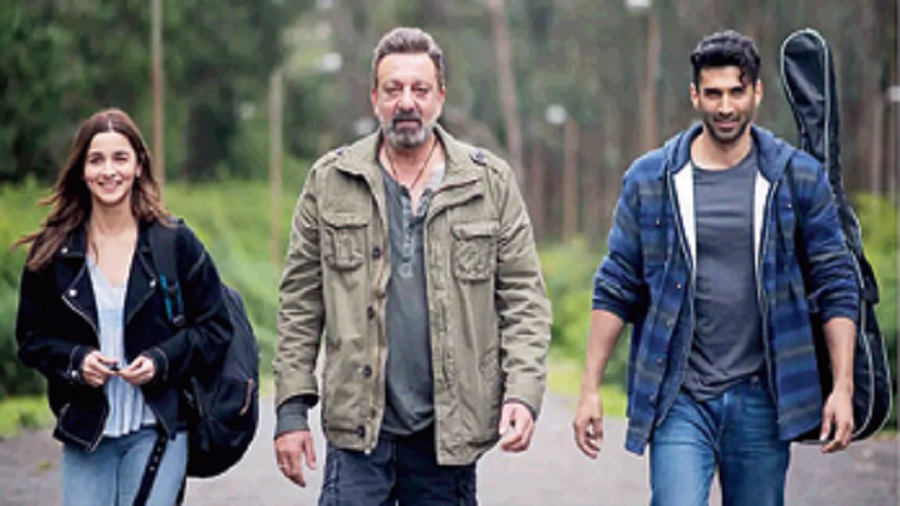 Sadak 2
Still from the film
---
Published 30.08.20, 05:14 PM
|
---
Let's cut to the chase: Sadak 2 is a terrible, terrible film. It's also incredibly stupid.The film has practically no reason for existing except for the fact that it ticks off a few 'first' boxes: Mahesh Bhatt's first film as director in 21 years, Alia Bhatt being directed by her father for the first time in what is the young actor's first film, in a career spanning eight years, with her home banner, Vishesh Films. It's also a sequel in spirit to Sadak, made 29 years ago and a memorable film in its time.This nostalgic hook could make a few tune in, only to have their memories of the original marred by this mangled mess of a Part II. Despite its repeated allusions to road, travel and journey, both physical and metaphorical, Sadak 2 is a film that basically goes nowhere, pretty much being dead on arrival.
The best bits of Sadak 2 are where you get to see moments from Sadak. The first time an image of Ravi (Sanjay Dutt) and Pooja (Pooja Bhatt) spring up from the original, you can't help but smile. So also when strains of the still hummable Hum tere bin kahin reh nahin paate play out as Ravi looks on at his familiar kaali peeli taxi. But you can't really make an entirely new film by assembling scenes from its original, and this exercise soon loses its appeal, appearing more as a ploy to make up for the lack of a story.  
Sadak 2, streaming on Disney+Hotstar, is largely a couple of scattered ideas that fail to stitch themselves into a coherent film. Pooja is now limited to being a black-and-white picture on the wall, operating as a shadow and a voice that only Ravi can hear. Ravi is extremely suicidal and after a couple of failed attempts, he finds purpose in life when Aarya (Alia), an heiress on the run, signs him up for a road trip to Kailash.
On the way, they have to pick up her boyfriend Vishal (Aditya Roy Kapur) from jail. Vishal walks out of jail with a caged owl called Kumbhkaran in his hand. This is an owl that nods its head when spoken to. Ravi starts singing every time someone pulls a gun on him. Towards the end, a mountain peak lights up and starts speaking to humans. None of this is done for comic relief (the film, as a whole, is of course laughable) Nothing, really nothing, makes sense.
Care to know more? There's a god-man called Gyan Prakash (a hammy Makarand Deshpande trying to ape Sadashiv Amrapurkar's Maharani from Sadak, but coming up woefully short) who runs a religious cult that Aarya aims to expose through an unimaginatively named online movement called 'India Fights Fake Gurus'. Suspecting that her mother was killed at the behest of the god-man, Aarya takes on her wicked stepmother (Priyanka Bose, otherwise a fine actress, is an embarrassment here), with her father (played by Jisshu Sengupta) appearing to be a pawn in the hands of the god-man.
Sadak 2 aims to take on blind belief and superstition and question the motivations of those who use religion to further their ends (armed with trite lines like, "There is no better business than god business"), but is too harebrained to be taken seriously. Where is this cocooned world overrun with fake gurus, wily conspirators and guiltless murderers? The film's ridiculous tone and treatment overshadows even its well-intentioned parts, with Bhatt, whose directorial style is largely '90s rusty, failing to capitalise on the father-daughter emotion that the chemistry between Sanjay Dutt and Alia promises in parts. There is, however, zero chemistry between Alia and Aditya, with the viewer finding it impossible to buy into their half-baked love story.
Sadak 2 plays out on a perpetually circuitous road, which even the otherwise adroit Alia fails to navigate. An attractively grizzled Dutt sincerely labours through his part even as everything else around him falls apart. The only genuine plot twist in the film belongs to Jisshu, who, to be honest, looks pained to be part of a film like this. Gulshan Grover is the kind of villain who only walks into the frame to be battered. At one point, he even goes down to Kumbhkaran the owl. The largely unmemorable songs go down even faster.
Laughably loud and laboured, Sadak 2 is a ride best not taken. Even GPS, references to which pop up in the film, can't save this one.

I liked/ didn't like Sadak 2 because... Tell t2@abp.in