Kirti Kulhari on why Four More Shots Please! is a 'life-changing experience'
She will also be seen in the Hindi adaptation of The Girl on the Train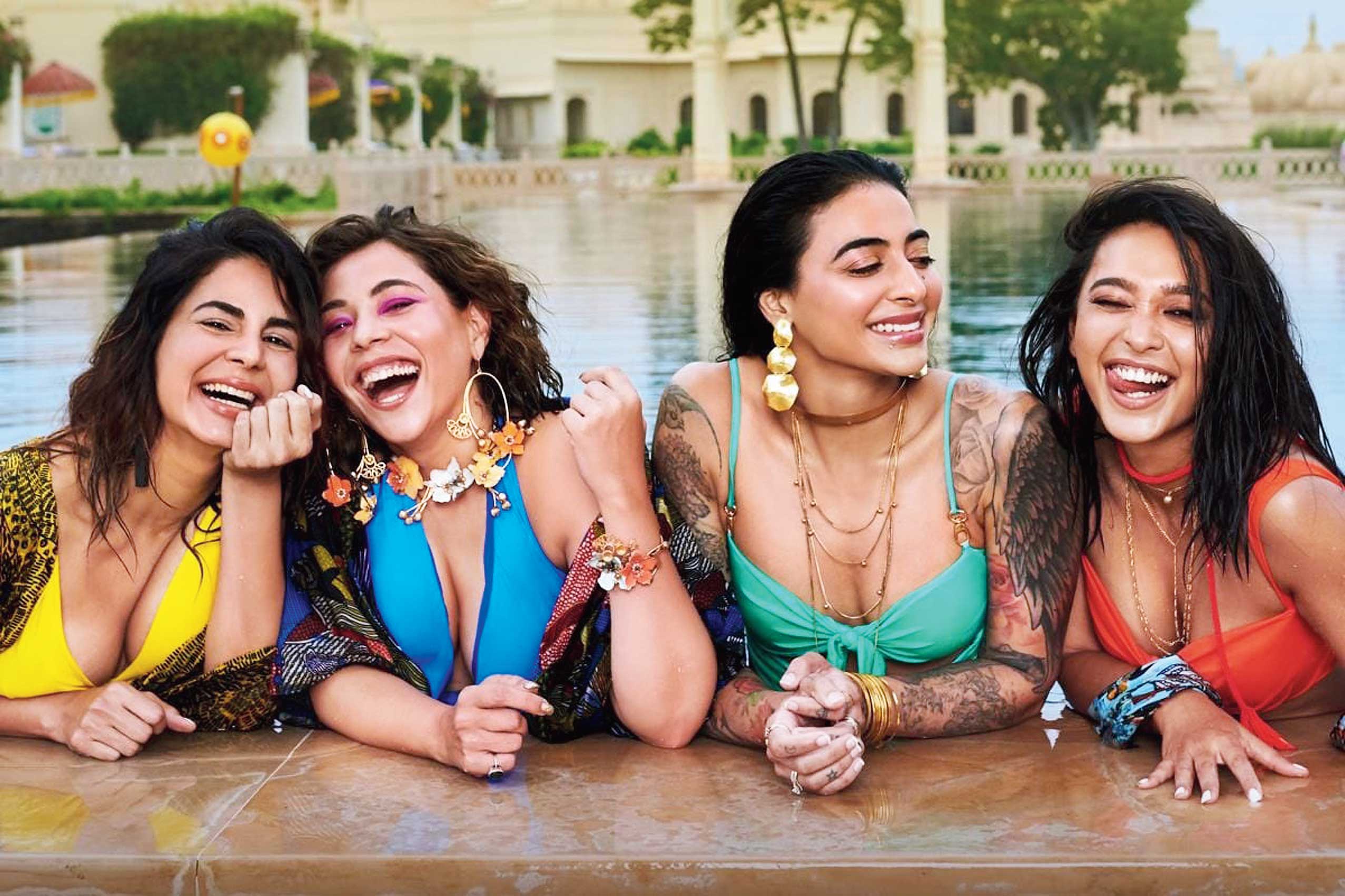 (L-R) Kirti Kulhari, Maanvi Gagroo, Bani J and Sayani Gupta in Season 2 of Four More Shots Please!
---
Published 05.04.20, 06:34 PM
|
---
In Four More Shots Please! Kirti Kulhari plays Anjana Menon, a successful single mother who is unapologetic about the choices she makes. Kirti — who debuted with the Bolly thriller Shaitaan close to a decade ago and is best known for playing Falak in the 2016 film Pink — has been churning out winners of late, from Four More Shots Please! to Bolly blockbusters like Uri and Mission Mangal. A t2 chat with Kirti — who will also be seen in the Hindi adaptation of The Girl on the Train — on Season 2 of Four More Shots Please! and more.
Why do you think that Season 1 of Four More Shots Please! worked so well with audiences, cutting across demographic and gender?
What surprised me a lot was how much people connected with the show… with the girls (played by Kirti, Sayani Gupta, Bani J and Maanvi Gagroo) and with their issues. While a lot of men have also enjoyed the show, I would specifically like to talk about how much women have connected with Four More Shots Please! It's actually been very overwhelming. While you are making something, you have some idea of the potential of the project you are working on and how it has the power to trigger off conversations, but you can't really tell what the actual impact is going to be.
The success of the show just goes to prove that no matter what strata of society or background you come from or which culture you belong to… the problems, the ups and downs, the confusion, the pain… it's all the same, you know. While there were so many people who gave us flak for the show saying, 'Aise thode hi na hota hai… ladkiyan aise nahin hoti hai… yeh kaun se duniya se aayi hai?' it's amazing how a small-town girl connected to the show in her own way... maybe it was aspirational and showed her a world she doesn't know exists... these four girls in Bombay living life on their own terms and being what they are. At the same time, there are many women who are like the women that we play on the show... for them it was like, 'Oh finally, there is someone telling our stories'. I think everyone found something or the other to just connect with.
Something like this hadn't been done before. While there was a Sex and the City in the West, there was nothing till Four More Shots Please! that fitted into this kind of a space in India. The newness of it, the boldness of it, that there were women who were owning their sexuality... so people, depending on their own reasons and where they were in life at that time, just connected with the show.
When it was offered to you, did you respond to the script as a woman or as an artiste or was it a mix of both?
It was a mix of both. You can't really take the woman out of me when I read a script. As a woman, when I was offered this show, I was happy with the fact that something like this was being attempted. At the same time, there was another part of me that went, 'Okay, this is very new and as an audience, are we in that place to be able to digest this kind of content? Is it going to be too much?' So it was these two parts of me that kept talking to each other.
As a woman, after a point of time, I felt that this was a show that needed to be made. If you keep waiting for whether people are ready or not ready, then how will we all grow up? Sometimes, you just have to push in content and wait for the reactions.
Also, not just on screen, there are so many women working behind-the-scenes on this show. We are talking about an 80 per cent female crew and I think that's something that I hadn't heard of before and I was very excited about experiencing it.
There are quite a few sex scenes in the show and while I am someone who is very appreciative of sex scenes done well on screen, a part of me kept thinking, 'I hope they get it right'. As an actor, I was excited about pushing my boundaries. I had done some bold scenes before, but not in the way it's there in the show. So as a woman, as an actor, I just felt I needed to push my limits.
Being a part of this series has been very liberating for me. This show has changed me in ways, it's affected me and made me question my belief system and my view about so many things… it's been life changing. It's helped me find myself to some extent.
That's quite something, given that life-changing experiences can be quite rare...
Yes. As an actor, I believe it's a beautiful opportunity to be in someone else's shoes. The whole process of creating a character is actually that, to find that person in you. And every time you don't agree with a character, then you question your own beliefs about that particular aspect. That brings about both exploration and discussion... that's the beauty of being an actor. I am not sure how many people, otherwise, get to experience something like this. I think an actor — one who is truly an actor at heart — will experience it, whether you want it or whether you realise it.
That happens to me with every role I take up, and that's pretty much the reason why I do less work. I do selective work because with each project, I really look for an opportunity to grow. If I had to just be in front of the camera, I could do that every day. But that's not what I am here for. I am here for me, to start with, and I need to keep feeling that I am evolving and becoming a better version of myself with everything that I do. If that doesn't happen, then it's not okay for me.
Four More Shots Please! does that for me because of the number of themes it has, the things it shows you and the beliefs it makes you question. It's really bold, and not just in terms of its sex scenes. The themes are bold, almost everything it tackles is a taboo... whether it's women drinking or smoking, being liberated about their sexual choices, or just being successful or being single mothers.
It's just a great time to be whoever you are. Things are changing for women in big ways and small. The world is opening up, people's minds and hearts are opening up. For a long time, I would only do my job as an actor and keep my questions limited to my role. But now, I am loving the fact that everything is so collaborative. Everyone can question everyone on everything, being given the space and freedom to do so. That's the idea of filmmaking for me. Creating content has to be collaborative, it cannot be one person's vision. Also, the world is your audience now.
The chemistry that you share with Sayani, Bani and Maanvi makes Four More Shots Please! the show that it is. Did you girls know each other before you signed up for the show?
I didn't know any of them. I had met Sayani a couple of times and thought she was wonderful in Margarita with a Straw. I had known of Bani and Maanvi I had never even heard of. It's quite nice to have a cast that's very different from the regular names. It's been two years of working together now... our shoots are very intense, it's a drama and so it's really a rollercoaster ride for everyone involved. We've spent so much time with each other that we can't help but be ourselves... there is no pretence. Everyone knows everyone's good sides and everyone's flaws. We've gone through the whole ride of loving and hating each other, sometimes fighting and then feeling so much love for each other! (Laughs) Today, we are more bonded than ever.
You've always been selective about your work, but you have gone full throttle in the last year, with web shows like Four More Shots Please! and Bard of Blood and also taken up strong roles in blockbusters like Uri and Mission Mangal. Has the changing work sphere and the plethora of choices informed this new turn in your career?
Acknowledgement in every form, critically or in terms of box office, is always great. The last year has been a constant learning curve and I would like to believe that it's changed my position as an actor in this industry. Today, if someone comes to me with a project, they are aware of what I bring to the table. They know that I won't be someone to whom they can say, 'Achha yeh script hai, yeh tumhara dialogue hai, isko yaad kar lo.' I will come in with my own ideas and questions. Just to be able to be in that space where you are respected for your talent feels good. The fact that people can't mess around with me because they know that I mean business… they know that I am my own person and can't be bullied around.
This also means that I am working a lot, which I am not used to! (Laughs) The last year has been about adapting my lifestyle in terms of working so much. I am able to handle it, and that, in itself, is an achievement. I am just going with the flow, but I also exercise quality control like I have always done.