Kiara Advani on her dream run
'I never want to let this go to my head and be someone who's just holding on to success'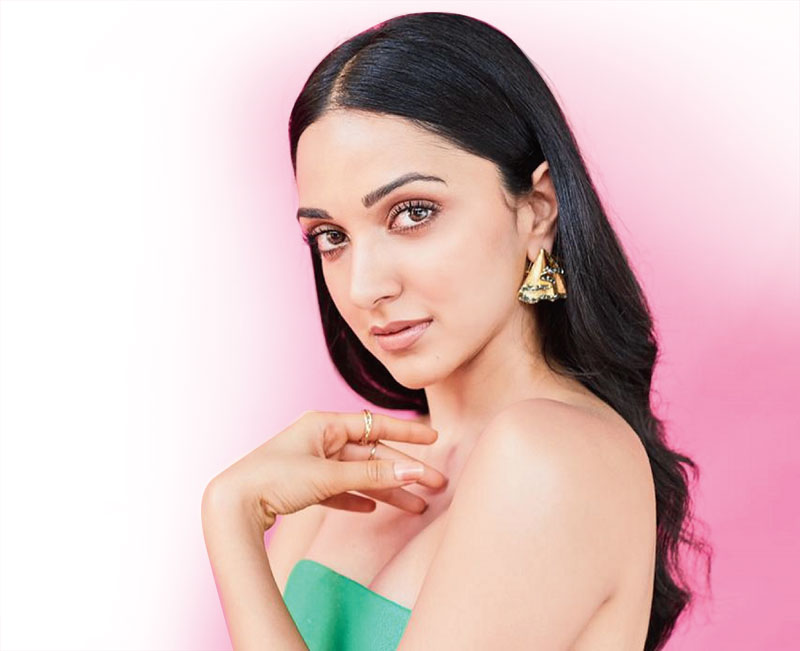 ---
---
It was a rare Sunday off for Kiara Advani when The Telegraph sat down for coffee with the young actress at the Sun 'n' Sand Hotel in Mumbai. It's no secret that she's juggling multiple films — in December last year she was in Dubai to shoot a song for the horror-comedy Laxmmi Bomb with Akshay Kumar, which was followed by another song for Shershaah with rumoured boyfriend Sidharth Malhotra in Lonavala and recently, she was shooting for Indoo Ki Jawaani in Mumbai. That's not all, Dharma Productions recently shared Kiara's first look for her Netflix film Guilty and she'll soon start shooting for Bhool Bhulaiyaa 2. "These are my five releases for 2020 and I couldn't be more excited," Kiara says as we sit down with cups of coffee for a leisurely chat.
You have five releases this year. In a recent interview, you said that you always prayed for a day when your mom would have to call your manager for your dates. I understand it's a joke but has it happened?
(Laughs) It did. Usually, my family and I take the summer off and do a holiday... we've been doing it since school. Everyone's dates would match and all that. But 2019 was a busy year for me and I wasn't getting a window to travel or to just take time out to spend with my parents. So my mom actually asked my manager when I'm free so that they could plan around that. Because I would pick up work on any free dates, whether it's ads or brands... let's do it all.
Last year you were a part of two blockbusters — Kabir Singh and Good Newwz — and signed some exciting projects. That counts as a good year, right?
I think it's been a year I've been dreaming and praying for and when it happened, it's been like a bubble. But it's also made me realise a lot about myself. Both professionally as an actor and personally, I value my journey. I never want to let this go to my head and be someone who's just holding on to success. I want to be adventurous enough to take things that are challenging and risky, just like I did when I did Lust Stories, or even a Kabir Singh for that matter.
How do you ensure this success doesn't go to your head?
I give a lot of credit to my team, because it's easy to let it go to your head when the people around you make you start believing it. But I have a team who's very realistic and they've been with me since my first film. They've seen me in every phase of my life. The one thing they say is that I've not changed and they make sure that I don't change. Like on days when I'm lazy or I don't want to read something, they'll remind me of the days when no one sent me any scripts. So then I'll not just read it, but also want to meet that person and get a narration.
Good Newwz gave you an opportunity to work with Kareena Kapoor Khan, who I believe you are a big fan of. Is there anything specific that you learnt from her through the making of the film?
Working with Kareena was a childhood dream that I didn't think would be possible. I noticed that she would never go back to the monitor and watch a shot. She's someone who goes totally by her director's instinct and she's very chilled out. She's very comfortable in her own skin and that's something you see when you meet her. It also allows you to feel very comfortable with who you are. There's an aura around her, no doubt, but she is a warm and lovely person irrespective of that aura.
Kabir Singh was a landmark film in your career but was also very vocally criticised post-release. Did all that noise take away from the joy of such a big hit?
Every time there was that noise, somehow it was offset with sweet and special moment from a fan. So, I realised that this was something that the people and the audience have just loved. When all this noise was going on, I told myself there's a reason this film has been loved so much and wanted to focus on that rather than taking away from that moment.
I wasn't affected by the fact that the conversation started. I thought that if people are talking and there's a debate going on, it has impacted everyone in a certain way. Everyone is allowed to have their own opinion and that's okay. There were debates and discussions and when it came on primetime news, that was something none of us saw coming. It is a landmark film and I even felt that overwhelmingly when I went to promote Good Newwz. I was in Chandigarh for a concert to promote our song and the entire crowd started chanting 'Preeti, Preeti' (Kiara's character in Kabir Singh) when I walked on stage.
Whatever be the debate around the film, as long as it's healthy, it's fine.... When it gets nasty with personal digs, I switch off. I played a part as an actor and I look at my film like that. When I'm playing a character, I'm able to detach myself. I'm able to play parts without bringing my own personality to them. That's how I look at it.
Filmmaker Kabir Khan says he can forgive bad filmmaking or bad acting but the politics or messaging of a film can't go wrong. Saif Ali Khan, on the other hand, spoke about doing a supremely problematic film like Tanhaji only because the character was very interesting. Do you think there's a need to have your beliefs dictate the kind of work you do? Or does it not matter at all if it's a big film or a big character?
The first thing when I read a script is how much I connect to it. With Kabir Singh, when I watched the original film (Arjun Reddy), the last scene answered all the questions I had about the remaining parts of the film. In my mind, here's a girl who's left a man because he slaps her. In that anger, she got married to someone her father wanted, then realises she's pregnant and has the guts to leave the man she's married and not go back to the man she loves, but raise this child on her own. Even when Kabir (played by Shahid Kapoor) comes back, she doesn't want to take him back. But love conquers all at the end of the day, you're fighting and having that blowout in a park and she eventually gives in to the love. And he's come back a changed man, let's hope so. It answered my questions. I didn't see anything negative.
But are you someone who is conscious of what a film is saying or a role is saying?
If I had to play a negative character in a film that had a good message, and at the end you know what's right and what's wrong, I would do it because you understand the messaging at the end is still correct. The character could have grey shades in that case and that's fine. But yes, there is a sense of responsibility. And more than us, I think it's about the audience accepting it. If there's wrong messaging in a film, the audience won't accept the film. And when the film does Rs 280 crore despite being adult rated, they have understood what we're saying on a deeper level. If it was anything negative, they wouldn't have accepted it. I think people know right from wrong... let's give them some credit.
Now that we've got all the work stuff out of the way... what kind of a boyfriend is Sidharth Malhotra?
(Laughs for a really long time) This is the first time I've been linked to a co-star. There have been other random link-ups that luckily died soon, but this one has been a long link-up. I feel that the minute you talk about your personal life, it just takes away from your work. And we all work so hard that you don't want your work to get diluted. The day I decide I want to get married will be the only day I talk about my relationship. Otherwise, I don't want to talk about relationships. I understand the curiosity and people getting extremely interested in your life and that's okay. But that doesn't mean I have to answer every single question.