Khakee: The Bihar Chapter: Neeraj Pandey's new Netflix series is fast, furious and hard-hitting
The seven-episode series stars Karan Tacker, Avinash Tiwary, Nikita Dutta, Abhimanyu Singh, Jatin Sarna, Ravi Kishan and Ashutosh Rana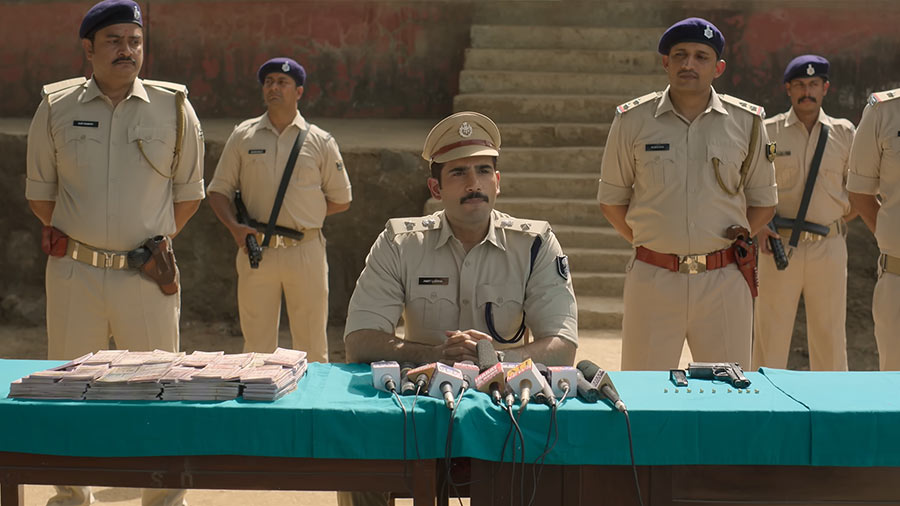 A still from Netflix's Khakee: The Bihar Chapter.
YouTube
---
Calcutta
|
Published 03.12.22, 03:20 PM
|
---
Writer-director Neeraj Pandey takes an unflinching look at the triad of politics, caste and power in his latest crime series for Netflix, Khakee: The Bihar Chapter. 
An amalgamation of thriller and police procedural, the seven-episode drama series follows the cat-and-mouse chase between a notorious gangster of Bihar and a cop who's determined to bring him to book. 
Here's why Khakee: The Bihar Chapter — which is trending on Netflix at No. 1 in India and No. 9 globally — has a fast and furious pace, 
Adaptation of a real-life cop-and-criminal story
Set in the early 2000s, the series is an adaptation of senior IPS officer Amit Lodha's non-fiction book Bihar Diaries: The True Story of How Bihar's Most Dangerous Criminal Was Caught. Khakee: The Bihar Chapter follows young IPS officer Amit Lodha (played by Karan Tacker), who's stationed in Bihar, as he pursues gangster Chandan Mahto (played by Avinash Tiwary) across Sheikhpura, Nalanda and Patna districts of Bihar. 
As the chase hots up, Amit realises he needs to do more than just plan how to catch Mahto — he must learn to bend the rules set by those in the corridors of power to ensure justice. The series shows how caste politics is entwined with the state machinery from the lowest rungs to the highest corridors of power, and how poverty and lack of development lead the youth into criminal pursuits.
A law enforcer's take on crime and punishment 
From Prakash Jha's Gangajal (2003) and Apaharan (2005) to Anurag Kashyap's Gangs of Wasseypur Part 1 and 2, Bollywood has made a host of crime films set in Bihar inspired by real-life events. Khakee: The Bihar Chapter follows the same path to showcase the collusion between criminals and politicians in the region.
Much like Neeraj Pandey's earlier Hotstar shows Special Ops and its prequel Special Ops 1.5, Khakee: The Bihar Chapter is told from the perspective of an upright civil servant. It is through the eyes of the Jaipur-born Amit that we see how the law enforcement agency tries to find its feet in this chaotic situation. An unwritten code between the police and the criminals — they do not go after each other's families — also comes to light, a code that prevents things from hurtling into mayhem and chaos.
Karan Tacker's Amit Lodha vs Avinash Tiwary's Chandan Mahto
The series is heavily dependent on the two main characters, played by Karan Tacker and Avinash Tiwary. Karan looks the part as Amit Lodha but there is not much character development as the series progresses. The major antagonist, Chandan Mahto, comes across as menacing but Avinash's understated style sometimes belies the fact that Chandan is a mass murderer. Ashutosh Rana steals the show
Neeraj Pandey has put together a stellar supporting cast to drive the show forward. Ravi Kishan gets the tone spot on as Abhyudaya Singh, Chandan's upper-caste mentor. Jatin Sarna of Sacred Games fame fits the bill as Chandan's trusted sidekick Chywanprash Jha. Abhimanyu Singh is effective as SHO Ranjan Kumar as he perfectly captures the mood of an upright cop who wants to work honestly but is frustrated due to the political pressure from the top.
However, it is Ashutosh Rana who stands out as Amit's mentor IPS Mukteshwar Chaubey, a bureaucrat who knows how to play the game and win the day. From muttering witty idioms to helping Amit and sometimes checking the young officer's overenthusiasm, Mukteshwar is a delicious blend of humour and intelligence who keeps the audience guessing at every moment.
Nikita Dutta as Tanu, the resolute wife of Amit, and Aishwarya Sushmita as Meeta Devi, the attention-seeking wife of Chywanprash, turn in impressive performances despite little screen time.
A tale of black and white
Despite being hard-hitting, Khakee: The Bihar Chapter stops short of going beyond the starkly black and white characterisation. For instance, Amit, a righteous cop is perfect in every way, which seems unconvincing for a police officer tasked with tracking down a ruthless killer. On the other hand, Chandan's transformation from a petty gangster to a mass murderer is too sudden and would have benefitted from more exploration.
In the seven episodes of this series, the caste politics in Bihar is shown as the major cause of the rising crime rate. Despite broaching this topic, the show, however, sometimes refrains from exploring the nuances of social reality.