Kay Kay Menon: A master actor who captures your attention in ensemble features
Be it Paanch or Haider, Kay Kay's eyes and voice have never failed to mesmerise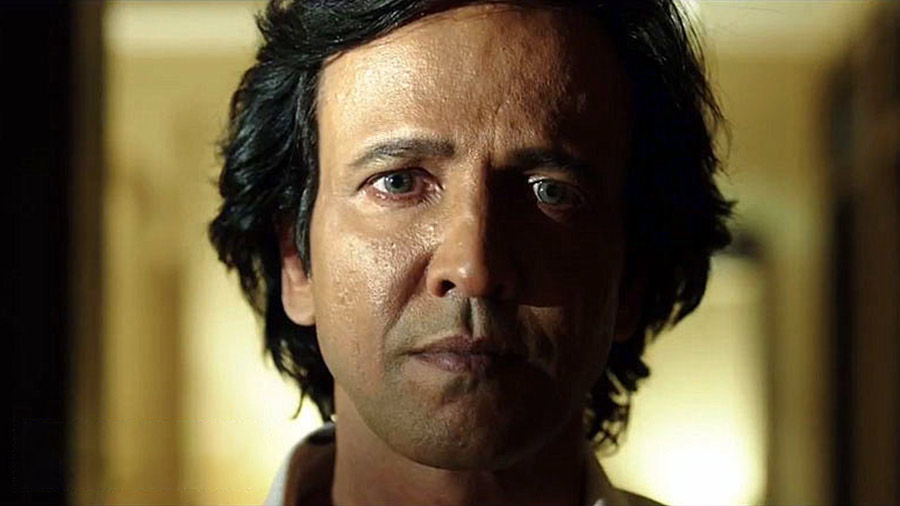 ---
Calcutta
|
Published 01.10.22, 03:49 PM
|
---
'I have always believed that he is an actor who could easily become a sex symbol because of his quiet intensity, his aloof exterior and his unusual looks. He could easily become India's Chow Yun Fat' – Hansal Mehta, filmmaker, on Kay Kay Menon
The eyes! The eyes! The first Kay Kay Menon film I watched was Deewaar: Let's Bring Our Soldiers Home (2004). Having not been a television buff, I had missed the serials that brought him to the notice of filmmakers, the pioneering Star Bestsellers series (featuring him in the films Zebra and Last Train to Mahakali) and his star-making act in Ketan Mehta's Pradhan Mantri. 
Of course, he had made quite a splash in his theatre debut, Mahatma Vs Gandhi, playing Hiralal Gandhi opposite Naseeruddin Shah's Gandhi. I had missed that too. And of course he had an astonishing run of bad luck with his first few films. Despite being scripted by Piyush and Prasoon Pandey, produced by Hollywood's backstage Indian-origin A-listers, Deepak Nayar and Tabrez Noorani, and 'presented' by David Lynch, Bhopal Express (1999) was a misfire. Paanch (2003) and Black Friday (2004) ran into trouble with the censors, the former never seeing a theatrical release, while the latter came to the theatres three years after it was made. Hazaaron Khwaishein Aisi (2003) too released a couple of years after it was canned. 
The other film from the time I have failed to get a hand on is Hansal Mehta's Chhal (2002), which cast the actor as an undercover cop who infiltrates a gang (echoes of Donnie Brasco). The director's 2020 tweet calls it an 'exciting film with cutting-edge writing, editing, cinematography and music. Some stellar acting too. It could have easily become a franchise.' 
On his website, while mentioning having worked with Kay Kay 'on a television series based on Jeffrey Archer's Kane and Abel. Kay Kay played Abel', Mehta also waxes eloquent about the actor: 'Kay Kay pulled off the character with great aplomb. Sexy in a simple way, stylish in an understated way, Kay Kay was spectacular.' This is one film I would have loved to watch for this feature. Unfortunately, I have no memories of the film's theatrical release and a frantic hunt for a print online, and a DM to the director on Twitter and a communication with its writer Suparn Verma, proved futile. 
As such, Deewaar, a forgettable potpourri, was my first Kay Kay experience. I went into the hall for Amitabh Bachchan and remember leaving it wondering who this actor was, whose eyes could leave you hypnotised and whose dialogue delivery, devoid of theatrics, could mesmerise you with its everyday texture. And in a film starring three big mainstream stars – Amitabh Bachchan, Sanjay Dutt and Akshaye Khanna – it was he who caught the eye. 
Of course, in the years since then, the actor has made that something of a fait accompli. Time and again, he is the actor who captures your attention in ensemble features like Corporate (2006), Life in a Metro (2007), Honeymoon Travels Pvt Ltd (2007) and Mumbai Meri Jaan (2008). Whatever be the length of a role, whoever is the megastar facing him, whatever be the overall quality of the film (and there are quite a few in his filmography that are underwhelming), the eyes and the voice never fail to haunt you. 
Take Baby (2015), for example. In a film choc-a-bloc with high-octane moments, the discerning viewer's highlight is Kay Kay Menon saying, 'Suna hai Kasab ko AC wala kamra diya tha yeh log ne. Us se toh zyada hi kiye hain hum.' Or that explosive 'I am God!' moment in Ankur Arora Murder Case (2013) which almost makes up for the weak execution that mars a potentially good medical thriller. At the hands of any other actor, it would have probably tipped over into the ridiculous. But just watch the graph of his performance leading up to and following the outburst and you know you are in the presence of a master. Paanch (2003) and the Anatomy of 'Evil'
Now famous as probably the most watched film that never had an official release, Paanch provided Kay Kay with what is arguably his most provocative performance. As the volatile and unpredictable Luke, the actor is a revelation with a character that has no redeeming features at all. To the credit of the director and the filmmaker, there is no effort to provide Luke with any justification for the way he is. 
The simmering tension in Kay Kay is tactile, be it in the manic sequences where he is beating up a bus conductor or bludgeoning a person to death or responding sarcastically to one of his friends who asks him about food – he makes even a response as mundane as 'Jhapad khayega' memorable – or in a more contemplative sequence where he is on a rocking chair and we see a poster behind him on the wall that says, 'Van Gogh, Kafka, Michelangelo … unrecognized geniuses in their lifetime. Like I am now. Recognize me.' 
Adding another layer of edginess to the character and the performance is the subtext of his sexuality, subtly alluded to through his interaction with Shiuli (Tejaswini Kolhapure). Watch him perform to the Vishal Bhardwaj composition rendered by the late singer KK, 'Main khuda', for a glimpse of what audiences missed out on with the film failing to get a censor certificate. The Fiery Monologues 
At the heart of the actor's popularity are a few white-hot sequences that I call the 'Kay Kay Specials'. These are among his most-viewed movie sequences online. Their power lies in the fact that though the actor is on fire, he seems blissfully unaware of the effect he is having. He is not playing to the gallery and there's not a moment in them that feels false or played for effect.
Gulaal (2009): Some of his best performances have come with Anurag Kashyap, and this sequence in Gulaal is right up there with the very best of Hindi cinema. Close to seven minutes, he seems to be in a zone, modulating his voice masterfully, articulating despair at how democracy has robbed the princely states, exhorting the Rajputs to unite and ridiculing the Rajput rajas who seem more keen to send their progenies to 'vilayat' (note the mockery in his voice, the anglicised intonation), before exploding with the iconic 'Jack and Jill went up the … bhos****' which he came up with impromptu. Shaurya (2008): Samar Khan's film, an unabashed rip-off of Rob Reiner's A Few Good Men, was called out for its problematic politics but no one can deny that with Brigadier Rudra Pratap Singh, Kay Kay crafted one of the most iconic characters in contemporary Bollywood. In its climactic court-martial sequence, Kay Kay goes the whole range from the mocking early responses to questions about his favourite colours (black, black, black) and animals (rabbit, ant, cheetah), the offhand manner in which he justifies collateral damage, leading to yet another explosive climax where he literally spits out the two words, 'Bloody democracy', panting. 
And like in the sequence in Gulaal, listen to the subtle arrogance that marks his enunciation of 'Veer-bhogya vasundhara' – only the valiant deserve to rule over the earth – and you know here's a man who is dangerously delusional. 
Jack Nicholson's 'You can't handle the truth' monologue in A Few Good Men is probably unsurpassable, but Kay Kay nails it with his 'Sach yeh hai ki main hoon isliye tum ho', subtly highlighting in his performance the difference between what drives the two men – Colonel Nathan Jessup and Brigadier Rudra Pratap Singh. Ego in the case of the former, hatred and bigotry in the latter. Again, the way he modulates his voice, his body language (in a sequence where he is confined to a chair) and the way he uses his hands, mocks the effete liberalism and intellectualising of his opponents, the frown barely concealing his mounting rage – all come together in what is a masterclass. Sarkar (2005): There are not many films starring Amitabh Bachchan where the exit of another character takes the meat out of the film. Kay Kay achieves the impossible with his turn as Vishnu Nagre, the impulsive son of the 'godfather'-like Subhash Nagre. He is absolutely electric in the film's finest sequence facing off Amitabh Bachchan. 
Or where he watches, on a CD, his 'heroine' make out with the hero of the film he is producing. The camera closes in on his eyes that convey all the disgrace and humiliation in the world. It's a measure of the impact Kay Kay has that despite the histrionics of the two Bachchans, Sarkar visibly loses steam after Vishnu is killed. It is Kay Kay who gives the film its edge, making it more than just another Godfather rip-off. The Regular Guy 
In a film culture that prioritises the dramatic over the subtle, the overstated over the natural, it isn't surprising that his monologues above are all the rage. It is in his Everyman avatar that he provides evidence, if any were required, of the brilliant actor in him.
Haider (2014): Leading the list would be his advocate Khurram Meer in Vishal Bhardwaj's spellbinding Haider, his finest performance, notwithstanding Paanch or any of the Kay Kay specials listed above. In a film that made waves for Tabu and Shahid Kapoor's performances, as also Irrfan Khan's ghostly Roohdaar, it is Kay Kay who steals the scene. 
As Haider's paternal uncle, the actor brings in a sly charm that is almost irresistible, keeping the viewer guessing about his motivations, wondering where the character's moral compass, if he has any, lies. Conniving and devoid of any redeemable qualities – but for his 'love' for his brother's wife, Ghazala – Kay Kay may have only a handful of scenes in the film. But there's no denying that he makes the most of these, including the scene where he sings a Kashmiri folk song for Ghazala. Black Friday (2004): Another Anurag Kashyap-Kay Kay collaboration, another superlative performance. Stripping himself of all the manic energy that drives his characters in Paanch and Gulaal, Kay Kay brings a quiet pathos to his Rakesh Maria, a police officer torn between his duty and his humanity. Even as he retorts to an accused he is interrogating, who questions him about his faith and religion, you can't help but marvel at the weariness he brings to the character. His two interrogation scenes – of Badshah Khan (Aditya Srivastava) and Asgar Mukadam (Nawazuddin Siddiqui) – show the control he is capable of in sequences where it would be too tempting and easy to go the Shaurya or Gulaal way. Hazaaron Khwaishein Aisi (2005): Sudhir Mishra's ode to the 1970s, this is another instance of Kay Kay making it count in a film where his co-actors Shiney Ahuja (Vikram) and Chitrangada Singh (Geeta) have the more potent roles. As Siddharth, a firebrand student activist driven by the dream of a revolution in the tumultuous decade, he is the perfect foil to the more flamboyant Shiney and to Chitrangada who is clearly the director's muse. 
There's not a false note as he evokes Jimi Hendrix and Bob Dylan fighting injustice (is it any wonder the revolution never came?) and cites the examples of Vietnam and China in the context of what can be done in Bihar. The quiet credibility he lends to the character's ideological commitment – there's not a rabble-rousing moment – only heightens the disappointment the viewer experiences as he finally gives up on his dream to go abroad to study medicine. 
And his voice – tormented and disillusioned, yet hopeful, probably even trying to justify his abandonment of the revolution – as part of a letter he pens to Geeta, 'I hope the mysteries of the human body will be less confusing', provides a shorthand to the dynamics of a lost generation, testimony to what the actor brings to the table. The One Missing Link: Comedy
The one genre where a defining performance eludes Kay Kay is the comedy. Not that he has not tried his hand at it. And on the evidence of Honeymoon Travels Pvt Ltd, where he plays Partho Sen, a rather stuffy Bengali husband to a wife who, unknown to him, is a blackbelt in martial arts, he has what it takes to get the laughs coming. 
However, most of these attempts at comedy or light-hearted fare – Sankat City, Bheja Fry 2 and Saat Uchakke – have fallen short because of poor writing and poorer execution, so that not even an actor of his calibre could rescue them. Kay Kay himself has expressed his desire to act in a romantic comedy, but with his dramatic act as Himmat Singh in the web series Special Ops and Special Ops 1.5 becoming hugely popular, I guess those who want him in a comedy will have some waiting to do.
Shantanu Ray Chaudhuri is a film and music buff, editor, publisher, film critic and writer