Kartik Aaryan on the 'purple patch' in his career
'My success has come after years and years of being in films where people didn't even know my name'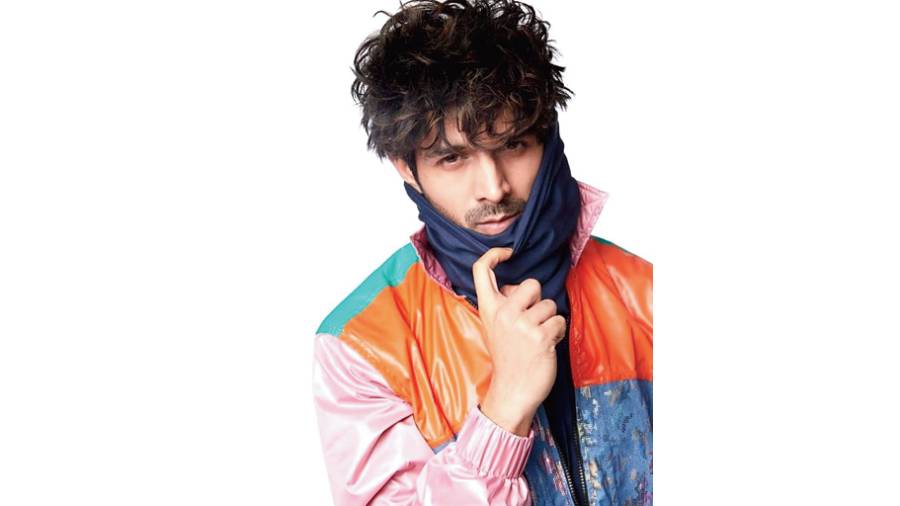 ---
Published 18.11.21, 11:35 PM
|
---
Kartik Aaryan shifts gears to slip into the role of a TV news anchor held hostage by chance and circumstance in Dhamaka. The Ram Madhvani-directed thriller, that also stars Mrunal Thakur and Amruta Subhash, drops on Netflix today. t2 caught up with Kartik — now experiencing a purple patch in his career — on how Dhamaka has made him a better actor, clocking a decade in the movie business and the excitement he felt when the audience finally started calling him by his name.
Having watched Dhamaka, I can safely say that we haven't seen Kartik Aaryan the way we see you in this film. As an actor, what were the boxes that Dhamaka ticked for you?
Thank you so much, this is special! The primary reason has to be (director) Ram Madhvani. I wanted to collaborate with him, and I always knew that I would never say 'no' to anything that he offered me. The second reason was the character of Arjun Pathak. The moment he narrated the character to me, I was simply blown away.
What really attracted me to Arjun Pathak is the fact that he's so grey. We often come across characters in our films who are unrealistically positive (laughs). The characteristics of a hero and an anti-hero are written in stone in most of our films. But Arjun Pathak is a guy who can often be morally not right, and that really struck me about him. People like him are everywhere, we see them in our day-to-day lives.... Everybody is grey, and that's what the reality is. And on screen, it's also very relative. Ki ek negative character kitna darkness ki taraf jaa sakta hain....
Ram Madhvani has a very unconventional style of film-making, which is evident in every frame of Dhamaka. What were your biggest learnings on this set and how has the Dhamaka experience enhanced your skills as an actor?
It's really helped me a lot. Unfortunately, for most in the audience here, when you do comedy and romance — which is what I have done so far — they don't think it requires much acting. It's only when you start doing intense parts, then they realise, 'Arre, yeh toh achha actor hain' (smiles). On the contrary, I think comedy is the most difficult genre to crack.
Having said that, it's true that Dhamaka has been one of the most challenging films in my career so far. While doing all those rehearsals and even on set, I learnt a lot of things related to the craft, about the nuances of acting and catching on to them, and having that frame of mind and being in character throughout the shoot of the film.... I really took it upon myself to go a notch higher with Dhamaka. It's thanks to Ram sir and his whole team that I was made to be a part of a unique way of film-making.
When I say 'unique', I mean it was really unique (smiles). This was a totally different way to shoot. We shot the whole film in just about nine or 10 days. I was surrounded by 10 cameras all the time. We were shooting very long takes... each take was about 15-20 pages long. It was very emotionally draining for me as an actor, but I was just happy to be getting this opportunity to do something that no one has seen me do before. Now that some people have watched the film already and have liked it, it just validates the reasons why I wanted to do Dhamaka.
It's been 10 years since you made your debut. Though the Pyaar Ka Punchnama films gave you some success, your popularity soared after Sonu Ke Titu Ki Sweety a few years ago, post which you signed some huge projects. How did you handle this sudden attention and what still keeps you so grounded?
I still feel very overwhelmed. It's not easy to navigate through so much attention. Maine bahut saalon tak hard work kiya hain iss position tak aane ke liye, but I still fee very overwhelmed. But I also enjoy it (smiles). I love it when someone wants to click a photograph with me or a photograph of me.
My success has come after years and years of being in films where people didn't even know my name. I had some success with Pyaar Ka Punchnama and its sequel as well as some other films I had done alongside, but no one knew me by name. They would always refer to me as, 'Arre, woh lamba dialogue bolne waala actor!' (Referring to Kartik's viral monologues in the Pyaar Ka Punchnama films.) I would always hear things like, 'Aap woh ho na jo lambe dialogues bolte ho ek baar mein?' (Laughs) They never knew who Kartik Aaryan was. A lot of people watched Sonu Ke Titu Ki Sweety, it was a blockbuster at the box office, and a lot of fan following came my way after that film.
And then suddenly, they started calling me by my name. For me, it was just exciting to hear people call out my name. For the longest time, I had craved it. And now that it's happening over and over again with every successful film that I have had, I am really happy. But then again, success is relative. Aaj yeh hain, kal kuch aur hoga. That's what keeps me motivated, I guess.
Success has also come with quite a bit of controversy. How do you concentrate on your job and not let the noise get to you?
I have always been that person who has been into his work. I have normal human reactions towards success and failure, towards positives and negatives. Failures and negativity do affect me, par kuch din baad main normal ho jaata hoon. I go off on a holiday, come back and restart. Restart with the intention of doing things anew, doing things better.
Whenever I have faced criticism, whatever it may be for, I have always tried to look inwards and see how I can prevent it from happening again. I don't want anyone to say that, 'Kartik Aaryan yeh nahin kar sakta.' For me, hard work is constant. On every film, my first day on set is my first day as an actor... that's how I treat it. Even if it's my 100th day on a film set.
What would the Kartik of 2011 say to the Kartik of 2021?
I think I would just say, 'Relax, don't worry... things will happen'. I remember my first day on set vividly. I was excited, but very, very nervous. The only saving grace was that we had done a lot of workshops before the shoot of Pyaar Ka Punchnama, and I was totally into my character. I was well rehearsed with my lines, and we had shot with a small camera even before the actual shoot had started. I had got the hang of it, but set pe aana ek alag hi cheez hoti hain. The lights are on you, so is the camera and then there is 'action' (smiles). But once the first shot was done, I got the hang of it and then I just became a part of it.