Karan Anshuman and Gurmmeet Singh on directing Mirzapur
They wanted to switch the cliches around and use them in a way that's never been seen before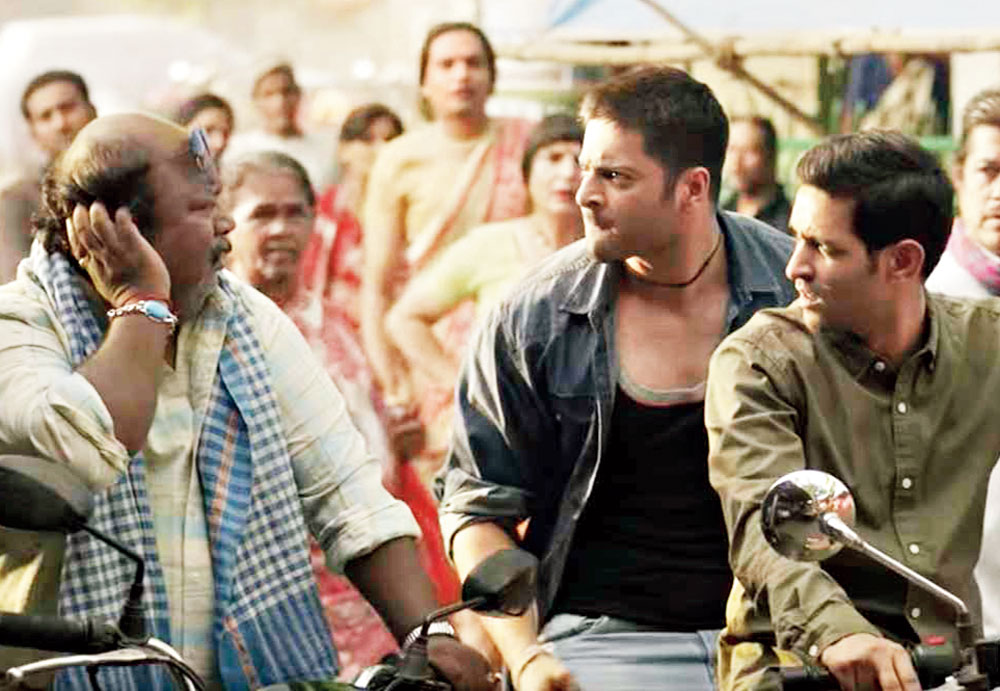 Ali Fazal and Vikrant Massey in Mirzapur
(A still from the show)
---
Published 18.11.18, 12:36 PM
|
---
A small town in Uttar Pradesh forms the backdrop for gang wars and bloodshed in Amazon Prime's new Indian original Mirzapur. It boasts a stellar ensemble cast that includes Pankaj Tripathi, Vikrant Massey, Ali Fazal, Divyenndu, Rasika Dugal, Shriya Pilgaonkar and Shweta Tripathi. Karan Anshuman, who previously created Amazon's successful series Inside Edge, co-directs Mirzapur with Gurmmeet Singh. A t2 chat with Karan and Gurmmeet.
Where did the idea of Mirzapur come from?
Karan Anshuman: Puneet (Krishna, co-creator) and I had this idea of doing a very 'Let's get our hands dirty' kind of show, a hinterland-based gangster drama. We had a story in mind but were just waiting for this perfect storm to come together, which was Amazon (Prime) as a platform, the idea of not having censorship to deal with, and the idea of not telling the story like a film but using a longer format. Even though we've had some iconic films in this space like Omkara and Gangs of Wasseypur, it's never been in the kind of amped-up, hyper-real space that we have placed Mirzapur in.
Like you mentioned, this is a world that we've seen often in films. While using a longer format allows you to go more in depth, there are also the cliches that have been established. How do you navigate that?
Gurmmeet Singh: I think the important thing was to keep the novelty within the story, regardless of where it's set and what world it is. The backbone of any show is its characters and story while the setting is the flavour. It's not as if you've watched one romantic film and you can't watch another. Karan wanted to switch the cliches around and use them in a way that you've not seen them before.
In Mirzapur, you'll also find that they're a lot more contemporary and aspirational than what you'd find in a Wasseypur or an Omkara. It's not as if people from a small town look a certain way or aren't dressed properly, or wouldn't know anything about technology. But the characters stay true to who they are. We've tried to stay true to who the person is rather than fitting them into a model of who they should be.
Karan: For example, take the cliches around how the women are. There's a lot of patriarchy that comes with that world, but we've tried to use that in a way that female characters benefit from it.
The cast has the who's who from the indie space!
Gurmmeet: It wasn't easy material to portray on screen, and we didn't want it to go into the caricature zone. That's why we worked hard to get really good actors into this show, and thankfully they responded to the written material. I also think Inside Edge played a big part in being able to reach out to these guys because we struggled during that one to get a good cast together.
Really?!
Karan: When we were casting for Inside Edge, people saw it as another web series. Fortunately Amazon did give us a larger canvas. With Mirzapur, I think the script got them hooked. We wanted to have a balance of people who are good in a conventional way, but also go against type in some cases. With Ali Fazal, for example, we've never seen him do anything like this; he's always been in the romantic comedy space. Pankaj (Tripathi) is coming off four-five films that were in the comic space. It took him a couple of days to change gears once he got to the Mirzapur shoot. We had to tell him to ignore the comic timing and scare the hell out of everyone.
You mentioned censorship earlier. Is that what makes this medium a lot more lucrative for creative minds?
Karan: At the moment, yes. But that's not the main driving force. It's one of the factors that we enjoy as filmmakers, unshackling as it is for writers and directors to be able to tell a story that does not necessarily cater to a single weekend.
Gurmmeet: Yes, more than censorship, you don't have to be formulaic and you don't have to worry about what will work and what won't.
Karan: The pressure to write words in a certain way is gone, and your characters start speaking in a very natural way, even on paper. That doesn't happen in films. It's a very small nuance, but if you observe the characters in films, they speak to a pan-India audience. Here, we're trying to be very rooted and close to the world that it's set in.
To direct a series is a completely different beast, telling a story in three hours versus eight or nine hours. Karan, you've done this before. Did you have any advice for Gurmeet?
Karan: He was a producer on Inside Edge as well, but more like a Hollywood producer, where he had creative control and a say in things. He was also the second unit director for all of Inside Edge. We've known each other for about 20 years, so it's easy for us to share directorial responsibilities. In Season 2 of Inside Edge, we have one primary director, but we're doing three episodes where we interchange scenes when I'm not available. We share a lot of responsibility that way, and we step in for each other all the time, whether it's directing or script stuff.
Gurmmeet: It's a lot of work for one person to handle alone. Overseas, they have bigger budgets and more organised structures, and therefore they can divide everything episodically. We're getting there but still don't have the liberty to do things episodically — so we do an entire schedule like a film. Responsibilities are divided logistically rather than creatively, and it's the group.
Karan: If you trust the other person with the material, and know that they'd do what you would have done, it's fine. So, it's important to collaborate with people who you're really comfortable with.
Congratulations on the International Emmy nomination for Inside Edge!
Karan: Thank you, it came out of the blue for us. There is an award function in New York on November 19, so we're going.
What's the news on the next season of Inside Edge?
Karan: We're shooting it right now and going to wrap up in a couple of weeks. It should be out sometime next year.