Kaberi Antardhan: Modern romantic thriller, says Prosenjit
Unfolding during turbulent times, Kaberi Antardham is Kaushik Ganguly's period thriller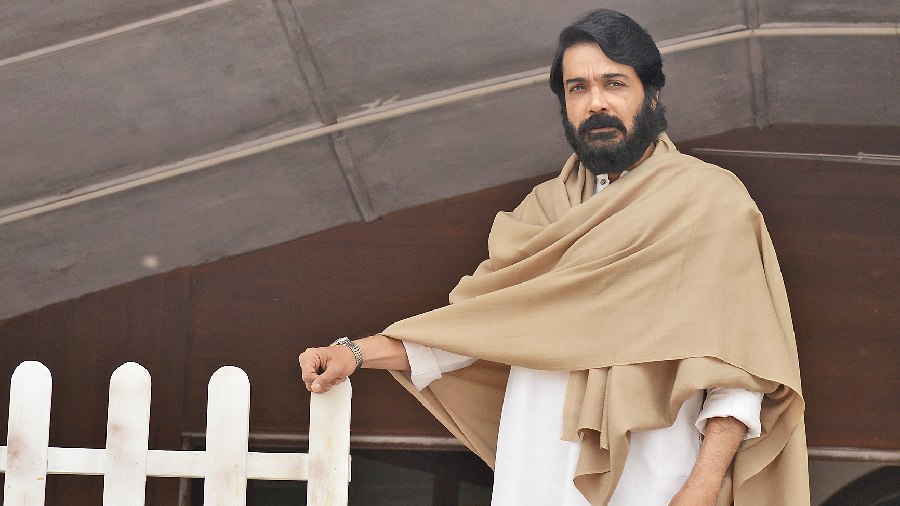 Prosenjit
Pictures : The Telegraph
---
Published 20.01.23, 04:00 PM
|
---
Kaushik Ganguly's period thriller Kaberi Antardhan, which releases today, is set in the small town of Hatimara, which is surrounded by tea gardens. Hatimara is a pro-extremist small town which has turned out to be a ghetto for the Naxalite movement in the last few years. Prosenjit plays the prolific artist Arghyakamal, who has refused to move out of the disturbed small town for a better life. He is a smart, charming middle-aged man whose life revolves only around art. A The Telegraph chat with Prosenjit....
What was your first reaction when Kaushik Ganguly told you this story?
With directors like Kaushik and Srijit (Mukherji), whenever they think of me for a film, they brief me about it before writing the script. They share the details of the story and the arc of my character with me. So I get really excited. Kaberi Antardhan has a wonderful subject. The story unfolds against the backdrop of the Naxalitemovement in 1975. The film is a deep love story, which is also a thriller. This film reminds one of Roja, the way the love story unfolds against a turbulent backdrop. Kaberi Antardhan is a very modern, romantic thriller. The film has brilliantly captured that time and has told a very moving love story. Kaushik has blended it really well. The younger generation will get to see what really happened during that time.
Tell us about your character.
From the trailer it is obvious that someone is dead, another person is missing and Kaushik'scharacter arrives to investigate. My character is someone who is going through an inner struggle. But his expression of this struggle is really different. He is challenging the establishment at a time when the establishment has only a one-track agenda. Which is why he is facing a lot of problems. He is fighting the odds. I play a painter and he has his own struggles, his own journey. He imparts lessons to youngsters and he faces obstacles there too. Every character in the family is really important. The poster of the film has two faces, and if you notice my eyes and Kaushik'ssmile do the talking in the poster. That is really important. The different personas of these two men set the tone for the film.
How did you prepare for this film?
I did not work on any other film for five-six months before the shoot of this film. I carried out my own research of that time, and of a person from that period who has left the city. I took up painting lessons and worked on the way I would speak the language. 
You must have been around 13 in 1975. What are your memories from that period?
I remember moving to Dum Dum. Lights would go off in the evenings and we would hear bombs exploding in the streets. Later we would get to hear the news of someone missing or passing away. It was really difficult to lead a regular life during that time... it was really tough to focus on our studies and we would constantly be distracted in the evenings. We made it a point to return home from school by 4 pm. 
Do you remember watching movies in the mid-1970s?
I watched films like Sholay, Sound of Music and Enter the Dragon in the theatres. Coming back to Kaberi Antardhan, all the actors have performed brilliantly.
You and Srabanti go back a long way. She was a child artiste in your 1997 film Mayar Badhon.
Incidentally, that film was shot in north Bengal and Kaberi Antardhan was also shot in north Bengal. Without make-up, there is something about Srabanti's face that makes one believe that she easily fits into that timeframe. On the first day of shootSrabanti arrived on the sets with colour streaks in her hair. She immediately washed off all the colour and was ready for the shoot. She has done a brilliant job in the film. She is a very good actress, and our directors should cast her in various roles. Srabanti will be seen in a new light after this film.
Did you discover anything new about Kaushik Ganguly while working on this film?
Our bond has become stronger. We understand each other really well. This is our fourth film together. Without expressing it, we know what the other person wants to say during a shot. Also, it was great to share screen space with Kaushik Ganguly.
The shoot was wrapped up just before the pandemic. How challenging was it to dub during the pandemic?
After completing my dubbing, I again went back to it to make a few corrections. When I dubbed for the first time I wasn't feeling very strong mentally. It was because of the pandemic. So I went back, watched the film again and made the corrections. It really helped.