JL50 is an idea with many possibilities, but not really a compelling watch
The show employs a back-to-the-future narrative, even as it tries to pack in everything from science fiction to a history rewrite, extremist politics to time travel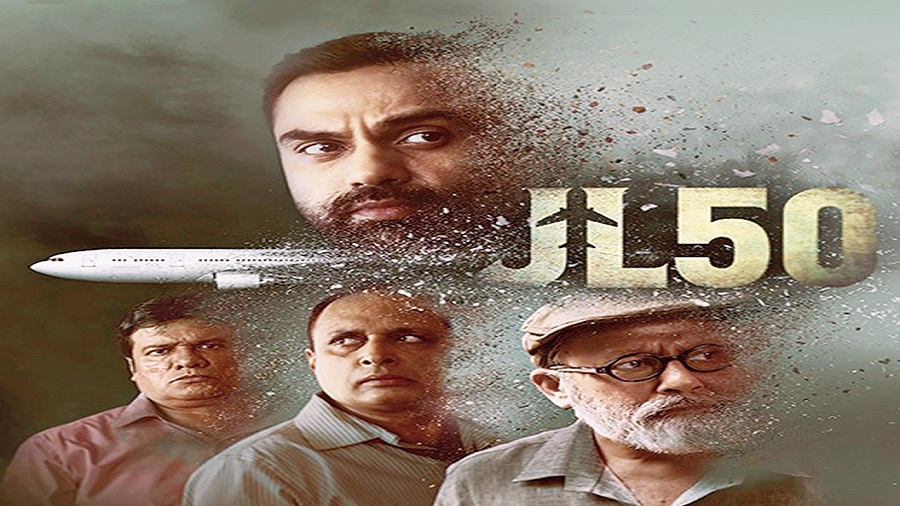 Pankaj Kapur in JL50, now streaming on Sony LIV
Sourced by the Telegraph
---
Published 06.09.20, 06:22 PM
|
---
Somewhere in the middle of JL50, a character, with a very sceptical look, says, "Aapki kahaani bahut interesting hain, par...." That, in a nutshell, sums up JL50, that employs a back-to-the-future narrative, even as it tries to pack in everything from science fiction to a history rewrite, extremist politics to time travel. The result is a story that scores high on unbridled ambition but comes up short when it comes to execution.
Almost entirely set in and shot in Calcutta, JL50 was originally intended to be a film but the circumstances of the new normal mean that it's now been chopped into a four-part series streaming on Sony LIV. The show is powered by writer-director Shailendra Vyas's winner of a one-line idea — a passenger plane goes off the radar in the mid-'80s and remains untraceable for decades, only to crash 35 years later in the quiet hamlet of Lava near Darjeeling. This spurs the government and bureaucratic top brass to go into a huddle, with the CBI stepping in. It's up to the agency's Shantanu (played by Abhay Deol) to not only piece together the mystery in the present but also time travel into the past to attempt to create an alternative version of history, and also unearth and acknowledge his own origins.
JL50 rests on an intriguing premise, and Vyas starts it off well, building the suspense brick by brick. The mystery of the JL50 crash — the survivor count of two includes its young pilot Bihu (Ritika Anand) who miraculously hasn't aged even a day even more than three decades later — is juxtaposed against another flight in the present day being hijacked by a rebel group demanding the release of its imprisoned leader. It's up to Shantanu, colleague Gourango (Rajesh Sharma) in tow, to solve this double mystery. Along the way, the two encounter a slew of potential suspects, including Subroto Das (Pankaj Kapur), a professor of quantum physics, who clearly has some secrets to hide, and who, on that fateful day, bailed out of boarding JL50 at the last minute.
To give credit where it's due, JL50 is a rare attempt at science fiction, contextualised in the Indian ethos. Vyas attempts to give a Dark spin to the narrative by tempering it with emotional beats that sees Shantanu as beat up as Leonardo DiCaprio's Dom Cobb was in Inception, attempting to make sense of his past and reconcile it with his present.
JL50 is a thriller born out of the lanes and bylanes of Calcutta, and much like in Kahaani, the city — even though it can't resist the touristy, romanticised shots of Howrah Bridge and Kumartuli —  assumes a distinct character of its own, becoming the keeper of many a secret.
The series also stems out of the Bengali fascination for both science fiction and the classic detective story, both of which meld in JL50, at least initially, in a way that keeps you engaged.
JL50, true to its genre, calls for a large amount of suspension of disbelief. But where Vyas and his co-writers falter is in fashioning a compelling enough story that will enable the viewer to gloss over its more problematic parts. First is its half-baked character development, with none of the players being given a credible enough backstory to justify and inform their choices in the present. We see Shantanu's estranged wife walk in and walk out at random, while the motivations powering 'mad scientist' Chandra Mitra's (Piyush Mishra) unscrupulous turn doesn't have its roots in solid enough ground.
While the ticking time-bomb pace helps partly in building a pressure cooker-like situation, too much of JL50 rests on repetitive silences and often, an unjustifiable amount of gibberish.
The plot and pace gets a fillip in the final stages with the protagonists travelling back in time, but save for an opportunity for the art designer to have a ball tinkering with a retro look and feel, nothing much is accomplished. A shootout at an abandoned factory, in fact, is an embarrassment of sorts, mirroring those often seen in the Bollywood masala films of the '80s.
What works, though, are some evenly solid performances. Very few can make cynical look as good on screen as Abhay Deol, and here his Shantanu, caught between a man who wants to believe but is compelled to question, is top rate. So also is the ever dependable Pankaj Kapur, though his attempt at a kind of Bengali-laced-Hindi is quite clunky. Ritika Anand, doubling as producer, hogs the only female part of import, and the rough edges in her acting show up more often than not. Rajesh Sharma is the show's welcome relief. The weakest link is Piyush Mishra, who frankly, needs to move on from that trademark garbled dialogue delivery.
JL50, in the end, is an idea with many possibilities that doesn't really translate into a compelling watch. It doesn't crashland as such, but this flight is definitely rather turbulent. Seatbelts on!