Jatin Sarna wants to expand his range to romance and comedy after Netflix's Khakee: The Bihar Chapter
The actor who plays Chyawanprash Sahu in the Neeraj Pandey-created series has starred in films like 83, Chhalaang, Saat Uchakkey and Sonchiriya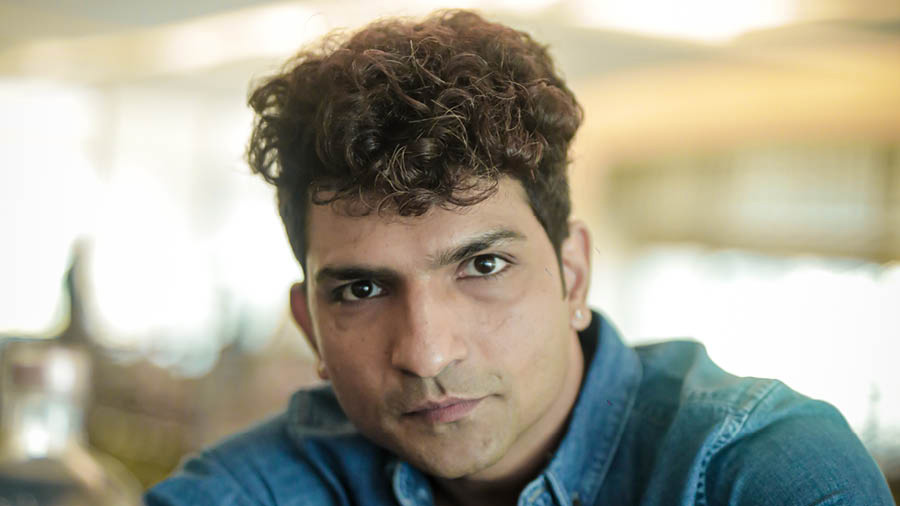 Actor Jatin Sarna in casual wear
Instagram
---
Calcutta
|
Published 09.02.23, 03:56 PM
|
---
Jatin Sarna has wowed us as the foul-mouthed Bunty in Sacred Games (produced and directed by Vikramaditya Motwane and Anurag Kashyap) and Dilip 'Chyawanprash' Sahu in Neeraj Pandey's Khakee: The Bihar Chapter. The actor rues the fact that despite working on successful projects, he has to wait for good offers to come his way. Excerpts from a chat with Jatin, who has featured in films such as 83, Chhalaang, Saat Uchakkey, Sonchiriya and Meerutthiya Gangsters. 
The Telegraph: Khakee: The Bihar Chapter has been appreciated and widely watched. What kind of feedback have you received?  
Jatin Sarna: I have tried to bring an authentic, vulnerable yet scary side to my character, Chyawanprash in Khakee: The Bihar Chapter. The audience liked it and understood the nuances of what I have tried to enact. There was no space to go over the top for my role. I have tried to bring variation to the portrayal. Recently I met Prakash Jha (filmmaker and actor) for a project, and he appreciated my work. 
Among all the challenging scenes in this series, which one was the most difficult to do? 
Jatin Sarna: The climax scene where Chyawanprash Sahu faces Chandan Mahto (Avinash Tiwary) and says that maybe they shouldn't have killed children and women and that he thinks differently is the turning point. In the courtroom, where my character changes his stance, I held my emotions as there was no dialogue. I did it with just the eyes and facial expressions. It was challenging because I stopped talking to everyone on the sets and the shoot went on for six to seven hours.  
Which character is closer to your heart — Bunty in Sacred Games) or Chyawanprash?
Jatin Sarna: Bunty is closer to my heart because when I got a chance to act in Sacred Games in 2017, I didn't have work for two years before that. For me, Sacred Games was 'do or die'. It was my only chance to deliver. To my good fortune, I have worked with the best directors, best script writers and best co-actors for the show.
Sacred Games was one of the first web series to be made in India. Bunty's dialogues went viral and there were memes all around. Whenever a breakout character comes up, the actor gets flooded with work. But we didn't see you as much after Sacred Games. What happened?
Jatin Sarna: I don't know why people didn't approach me. I too wonder, if Bunty became so popular, then why wasn't I flooded with offers? I did get a few films, which I probably did for money and sometimes for the role, but they didn't do well. I can satisfy myself by saying that I am chosen for meaningful characters but I really want to show my talent. Nothing interesting came my way and whatever came, I didn't feel like doing it. It's not that I sat on it. I went to the casting directors and asked for work. I did all of that, but it didn't work.
Does it concern you that you have played a lot of roles that are of gangsters?
Jatin Sarna: It does worry me. I actually tried to break out of it and refused many such roles. It's not that I won't play gangster characters, but it has to be very different from what I have done. If something excites me, I will do it but now my focus is to do roles ranging from romance to comedy. I want to play more intense and exaggerated characters.
Given the good reviews garnered by Khakee: The Bihar Chapter, are you getting offers?
Jatin Sarna: To be honest, I am in a situation again where I have offers but nothing is very interesting. I don't know whether people are testing me. I am confident and optimistic that this year will be a game changer for me. My focus is to better my craft and work on myself. One of my important films, Motor Maachis Cutter, will be released soon. I want to work with the likes of Shoojit Sircar, Vishal Bhardwaj, Sriram Raghavan, Meghna Gulzar, Imtiaz Ali, Raj Nidimoru and Krishna D.K.