Janhvi Kapoor on keeping fit and eating good
The 25-year-old Gen Y star is a fitness enthusiast, but she also swears by her food, including parathas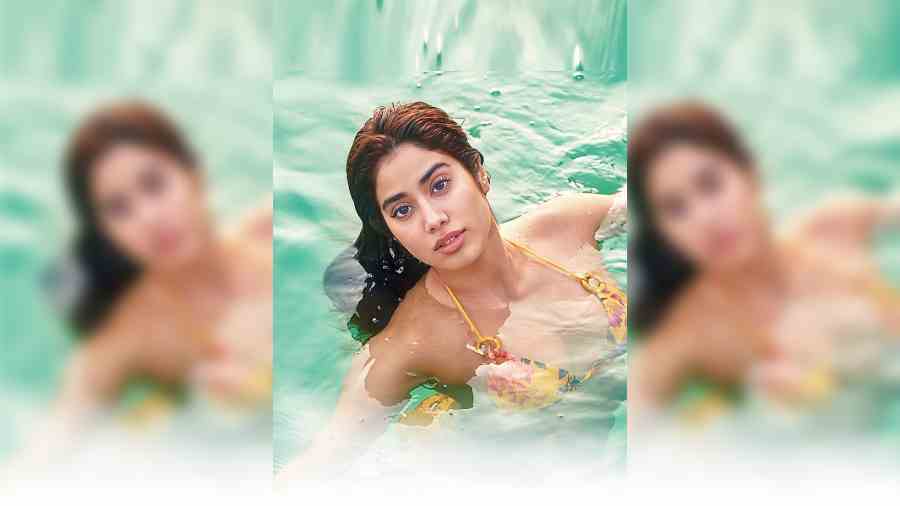 ---
Published 19.12.22, 06:06 AM
|
---
When she isn't on a movie set, the airport or on the red carpet, Janhvi Kapoor is always spotted exiting her Pilates class. The 25-year-old Gen Y star is a fitness enthusiast, but she also swears by her food, including parathas. Recently, Janhvi signed on as the face of Saffola FITTIFY and is the new ambassador of the brand's Peanut Butter and Perfkt Gummies category. The Telegraph caught up with the star, who has taken rapid strides in her career this year, for a chat.
How does your association with Saffola FITTIFY align with your overall fitness and lifestyle mantra?
As much as I enjoy my workout routine, I am a true foodie, and like so many others, I don't like the idea of compromising on taste when it comes to eating healthier. This is where Saffola FITTIFY steps in to make things better. The Saffola FITTIFY Peanut Butter and the Saffola FITTIFY The Perfekt Gummies are the perfect blend of health and taste. So now I can have delish snacks without guilt. 
Even though all their products are amazing, I would definitely pick the Saffola FITTIFY Whey Protein Dark Chocolaty Peanut Butter which lets me relish a tasty and healthy snack anytime I want. It is available in seven different variants and those too have a division of extra crunchy and extra creamy. How perfect is that!
The Perfekt Gummies are full of nutrients and just one gummy gives me the benefits of having a perfectly balanced diet. This comes in seven variants too, dealing with different nutrient requirements. Having nutritious food is now fun!
Is there a delish yet nutritious and healthy option for a calorie-heavy dish that you have discovered through the years?
I'm sure I have come across a couple of those here and there, but this one time I was visiting Italy, I tried this delicious bowl of pasta in pesto sauce. Since pesto is made with basil leaves along with garlic, pine nuts and olive oil, it is extremely refreshing and healthy. It is a healthier choice when choosing between the creamier pastas and this one. Not to forget, it is absolutely yum!
Another dish that I absolutely love and is super healthy is sweet potato paratha. We make it at home, and it tastes best with curd. It is also my post-workout meal as it supplies quick vitality to the immune system. Sweet potato is so packed with antioxidants and nutrients, it fulfills the body's nutritious needs.
You have gone on record to say how much you enjoy your food and ensure you have your favourites in moderation. What would your advice be to those who think that depriving oneself is the key to achieving fitness?
Just like most people, even I used to believe skipping meals and eating extremely small meals would help, but as it turns out, that is not true at all. I would suggest eating a filling yet well-balanced diet at regular intervals. It is important to fulfill your body's nutritional requirements. I would, however, recommend cutting down on your sugar intake but besides that, depriving oneself is really unhealthy and not the answer to being fit. Would you say that right now, you are the fittest that you have ever been? Have there been any changes in your fitness and lifestyle regimen that you have introduced in the last year or so that has benefited you a lot?
The lockdown really made a lot of people more focused on their health and fitness. I was already a fitness fanatic, but sometimes, the same workout routine might get mundane, so I started doing a mix of yoga, weight training and dancing on a weekly basis. Besides that, working out with friends also makes things easier and more fun.
We know that Pilates forms an essential part of your exercise routine. How has it changed the way you look and approach your fitness?
Pilates has definitely been a game-changer for me. It helps me stretch my muscles properly and has made me feel way stronger, fitter and healthier. It has strengthened my core and made me more flexible. Even my cardio fitness levels are so much better ever since I started doing Pilates. Do I need more reasons to state why it is my favourite part of my workout routine?
On a daily basis, what are the must-haves in your diet?
Without fail, I consume a spoonful of ghee first thing in the morning. For breakfast, I eat sweet potato parathas with curd. I also include eggs, avocados and a lot of fresh fruits and veggies. I eat a pair of roti with veggies for lunch and three hours before sleeping, I prefer eating a plate of red rice biryani. What are your cheat day indulgences?
Ice cream, for sure! I love ice creams and I wait for cheat days specifically so that I can gorge on them. And since I am a big-time foodie, I try to fit in one or two of my top favourite not-so-healthy foods like pizza, fries, chocolate and cheese nachos.
With winter setting in, are there any must-dos for you when it comes to diet, skincare, and haircare?
In winters the skin becomes dry, and so in such cases, I put hydrating fruits on my face as they are rich in antioxidants, vitamins and minerals. These fruits help in keeping skincare problems at bay. For hair, I have been using a hair oil made from dried flowers, just like my mom (actress Sridevi) used to make. Irrespective of what season it is, this oil is really effective.
In terms of diet, I like including seasonal fruits and veggies in my meals as they help me keep warm, healthy and fulfill nutritional needs. Even meals made from ragi are really helpful as they protect us from winter woes.
Is there anything that you include or cut out from your diet when you are doing a scene or song that needs you to be at your fittest best?
In such cases, I stay away from sugary items completely. It also depends on the kind of scene I am shooting. Certain situations require me to increase my protein intake, so I do that. I even have to limit my water and sodium intake at times to avoid bloating.