Jaideep Ahlawat steps up for An Action Hero; remembers Irrfan Khan's advice to him
Co-starring Ayushmann Khurrana, Anirudh Iyer's An Action Hero releases at cinemas on December 2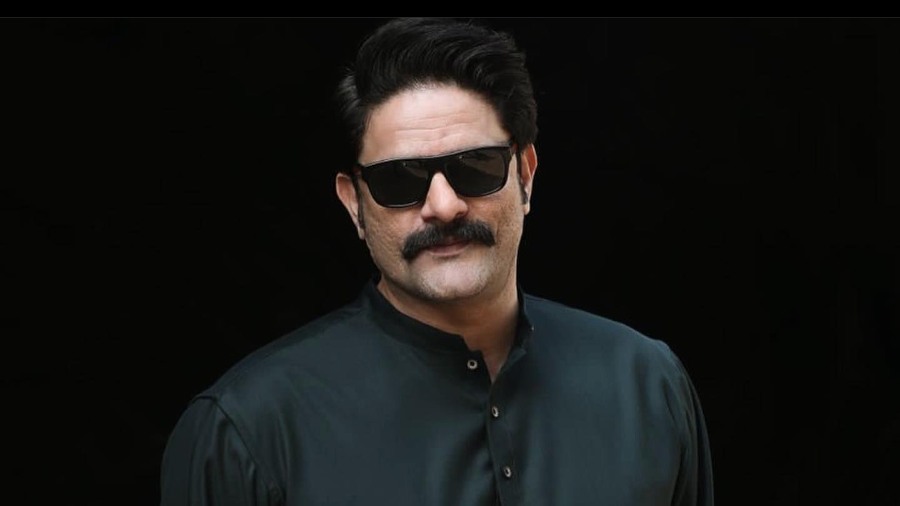 ---
Mumbai
|
Published 24.11.22, 12:05 PM
|
---
After Prime Video's Hindi language gritty crime thriller show Paatal Lok became a hit, Jaideep Ahlawat, who played honest cop Hathi Ram Chaudhary in the series, started grabbing eyeballs. The actor has his plate full and will be seen in the December 2 film An Action Hero — directed by Anirudh Iyer — along with Ayushmann Khurrana. 
In an exclusive conversation, Jaideep talks about his latest film, how things changed for him after Paatal Lok, advice given to him by Irrfan Khan and the faith people put in him as an actor.
Ayushmann Khurrana insisted on having you in An Action Hero. How does it feel to get that respect and recognition from a fellow actor?
Jaideep Ahlawat: As an actor you always want people to have faith in you, so it's a good feeling. It's immensely satisfying that somebody has faith in you because of your work. 
Tell me about the character that you play in An Action Hero. What prompted you to play that character?
Jaideep Ahlawat: My character in the film hails from Haryana. He used to be a wrestler but has become active in politics. He has his own ideology in life and finds himself in a situation where he clashes with another person with a different ideology. 
The role has been interesting as I am a guy from Haryana. I know the village, its people and their profession very well. Wrestling is a celebrated sport in our region. So, it was intriguing to portray that on the screen.
Are you happy with the kind of work being offered to you after the success of Paatal Lok? How does it feel?
Jaideep Ahlawat: I feel happy when people approach me with different types of roles. Writers and directors now trust me and know that they can come up with something different with me. The acceptance of the character of Hathiram from Paatal Lok has done that for me. It's a great feeling that I am being offered roles that have a bigger canvas and scope.
Gangs Of Wasseypur catapulted Nawazuddin Siddiqui to stardom; Pankaj Tripathi also got recognition for it. You were just starting out with that film. Did it give you a ray of hope that interesting characters are finally being written for good actors?
Jaideep Ahlawat: For a new actor like me, I figured out some positive points during the shoot of Gangs Of Wasseypur — I was working with Anurag Kashyap and Manoj Bajpayee, I was to play an interesting character. The biggest happiness at that time was that I was getting to work in such an environment and with the people that I wanted to work with. I realised that whether it was a small role or a big role, I was going to learn a lot by working with these people. 
But back then, I didn't really think if Gangs Of Wasseypur would bring any ray of hope and whether cinema was changing or not. I was just happy that I got the opportunity to grow as an actor. When things are written well and the director is good, half your work is done. You just have to play the character with utmost honesty and that's the end of the story. 
How difficult is it to say no to the roles you don't want to do and wait for the right role to come to you?
Jaideep Ahlawat: It's great that now I have a choice — I can say either yes or no to a film. Saying no is always difficult. But you have to do it. The reason for refusing a role could be anything. Sometimes you don't like the role, while at other times you may not have dates or have some other genuine reason. It's part of life.
Does it feel frustrating when similar roles come to you once you have played a role that became popular?
Jaideep Ahlawat: Yes, it feels weird. I'm like 'Yaar abhi toh yeh kiya tha'. We always try to do something different; otherwise, it's not fun. You always wait for something better to come to you — I think it's common human behaviour. 
But there's also another truth: if someone is good at making tea, then everyone tells him to make tea only. Sometimes the audience also wants to see an actor doing only particular types of roles. Despite this, actors must try to rediscover themselves. And if the audience also likes to see an actor doing different things, then it's even better.
How do you prepare as an actor?
Jaideep Ahlawat: It varies from one character to another, even from one film to another. If the writing is good, then all you need to do is play the character. That's why writers are very important. Otherwise, you look for references to help build the character and make it believable and convincing. Because if you as an actor are not convinced then how will the audience get convinced?
The more you read about the script and your character, the more you will find things about that character. I like to read the script and about my character a lot. That gives me clarity. I try to get into the psyche of a character. And then there are the writer, director, cinematographer, and others who help you build the character. I like to make my character as believable as I can.
How important is the instinct for you as an actor?
Jaideep Ahlawat: I think having an instinct is important for all of us in life. It is important to listen to that voice. Whether it pans out successfully or not is a different thing. But it is important to listen to it. Because deep down that instinct/voice is trying to tell you something. When you read a script for the first time, you instinctively feel whether the story has something to say or not.
Any advice that you have got from the actors you admire or worked with? Something which is close to your heart?
Jaideep Ahlawat: Sometimes these actors say something casually and you think that it is something very profound.
 I had once asked Irrfan sir how he got such interesting stories to act in. He said, 'If nothing happens inside you after listening to your story, then that story is not for you. You might do it for money or other reasons. But if a story remains with you after a narration or reading, then try to make sure that you don't lose it.' It's something I'll never forget!
What are your upcoming projects?
Jaideep Ahlawat: A film titled Three Of Us has gone to IFFI and will be released soon. Another film, Devotion, is in its final edit stage. We are shooting for Paatal Lok Season 2. Then there will be The Broken News Season 2.