Jai Mummy Di: Sunny Singh magic on screen
'This is the first time the focus is on moms and you'll see how protective mummies are, everyone has lived that life'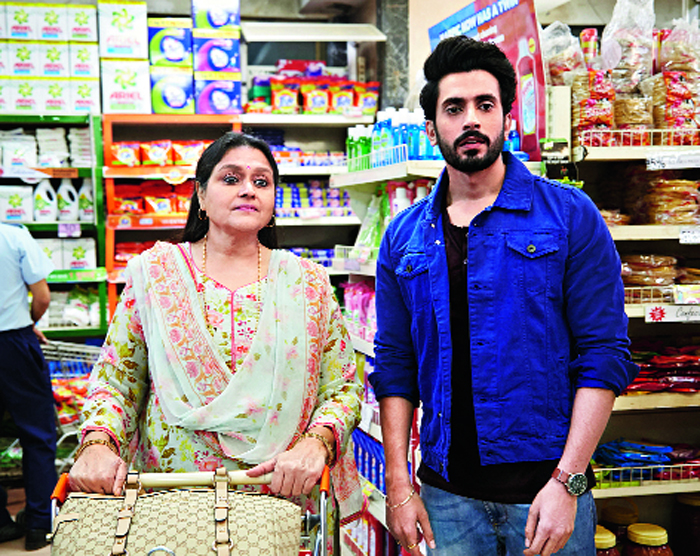 ---
---
Sunny Singh is back in theatres last Friday romancing his Pyaar Ka Punchnama 2 co-star Sonnalli Seygall in Jai Mummy Di. Excerpts from a chat...
What is unique about the story of Jai Mummy Di?
The unique thing are the moms. (Director) Navjot Gulati is also unique because it's his debut. Before that, he had done a short film called Jai Mata Di. This is the first time the focus is on moms and you'll see how protective mummies are, everyone has lived that life. They fight even if it's for garbage with the neighbours or how they behave at weddings. So far these have been always shown in a 'family' way in all the movies but here I feel that the mummies are the hero.
How is it working with Sonnalli again after Pyaar Ka Punchnama 2?
I remember Luv sir (Ranjan, Jai Mummy Di producer and Pyaar... director) calling me and asking me to come to the office. It was a surprise. He said it was a solo lead and I was very happy. Sonnalli was there and it was like friends together again. Sonnalli, Nushrat (Bharucha), Kartik (Aaryan) and me, we somehow always keep doing movies and it's because of Luv sir who has that belief in us. The only one who was new was the director so we were like, 'Chalo ab iski ragging karte hai' (laughs).
Did the off-screen friendship with Sonnalli make it easier to romance her on screen?
When you know people for long and have that kind of camaraderie or chemistry, you know exactly when she'll get angry also. She's always there for cues, she does it for you as if it's her close-up. It's very receptive when you do it for an actor. All the technicians were also same, only the director was different, so we played a lot of pranks on him. He is very disciplined as a person and he goes to the room after shoot. He doesn't even come out for dinner, he's that focused. I told him, 'If you don't come out on the last day, I'll come to your room!' One day, I kept banging on his door and he opened the door while sleepwalking. I had asked Sonnalli to put some powder and sit down like a bhoot outside the door. But when Navjot opened the door all drowsy-eyed, Sonnalli got scared instead and ran away (laughs).
What brief did the director give you about your character?
He asked me to be myself but also keep in mind that this guy is from Delhi. I'm not from Delhi but I have the same kind of dialect since I'm a Punjabi. I used to react very naturally while acting with Sonnalli and everyone. Poonamji (Dhillon), Supriyaji (Pathak, playing Sunny's mother), Rajendra Sethi who's playing my father, these are such good actors and have an amazing chemistry. So when you act together, it comes out like magic.
How was it working with veterans like Supriya Pathak and Poonam Dhillon?
The first day I was very excited to share the screen with them. I've always been a fan of Poonamji and used to tell her that, 'If I existed in that era, I'd be beside you in that song Soni meri soni and she'd laugh. I was a big fan! You learn a lot because you see them improvise. The best part about Supriyaji is she saves her energy a lot. She doesn't talk a lot but when the camera is on, she gives her energy like anything. They're both different but you learn a lot from them.
Was the vibe on set of full chaos and fun?
The chaos was because of me because I was always doing something or the other. It was more like a family and I still miss them.
Did you guys end up laughing while shooting funny scenes?
My problem is that I laugh during serious scenes. When you're serious, you don't talk and there's no noise. If I start laughing, then nobody can control me. Navjot used to give us 15-minute breaks in such cases. Supriya ma'am and I were doing some scene at a mall and I had started laughing. She laughed at every take because of me!
Is comedy your comfort zone as an actor?
My comfort zone is being intense because that's the easiest emotion. You just have to make a serious face and get into that zone and that's easy for any person. Comedy is tough because you have to think a lot. If you're shooting a comedy scene tomorrow you have to think tonight how you're going to do it. Luv sir had asked me to not think while reacting. There's a humorous side to everyone and I just had to show that. An actor is a little bit nervous about comedy because unlike other scenes like intense drama or action, in comedy you've to push yourself a lot.
Which are the directors you'd want to give a limb to work with?
For me, it's mostly the script which is the hero of the movie and the producer. I also have an emotional side for new directors because I know where they have come from, I know how many movies they've assisted in. It's difficult to make a mark. Many people have so much knowledge and are so creative and I'd love to work with them. But of course I want to work with the legends too like Sanjay Leela Bhansali and Imtiaz Ali. I'd love to go to that world also but my favourite is real cinema where I can connect to the audience naturally.