It is unfair to compare Ponniyin Selvan: Part 1 with Baahubali; here's why
Mani Ratnam's PS-I starring Chiyaan Vikram, Aishwarya Rai Bachchan, Trisha Krishnan, Karthi and Jayam Ravi released in cinemas on September 30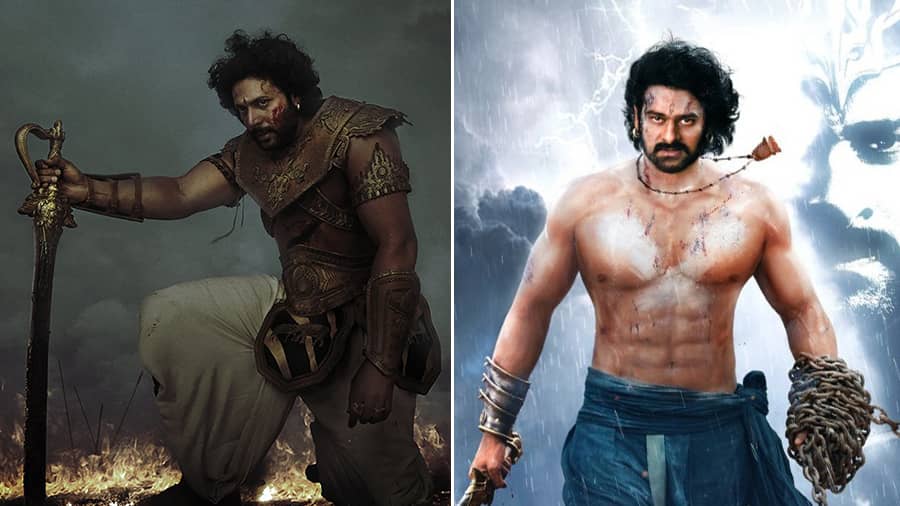 Ponniyin Selvan: Part 1 and Baahubali
---
Calcutta
|
Published 06.10.22, 11:45 AM
|
---
Mani Ratnam's visual extravaganza Ponniyin Selvan: Part 1 released in cinemas on September 30. Based on late author Kalki Krishnamurthy's popular five-part novel series Ponniyin Selvan, the film grossed Rs 80 crore worldwide on opening day, creating a buzz on social media. Fans of Tamil cinema were overjoyed and celebrated the success of this epic drama. 
Meanwhile, fans of Telugu cinema were quick to compare Mani Ratnam's magnum opus with SS Rajamouli's two-part Baahubali films. A full-fledged tweet war ensued between the two factions, and others jumped in on the bandwagon. Now the Twitterverse is divided over which film is superior: Mani Ratnam's Ponniyin Selvan: Part 1 or SS Rajamouli's Baahubali.
The answer to this question lies in the age-old idiom about comparing oranges and apples. We give you three reasons why Mani Ratnam's Ponniyin Selvan: Part 1 cannot be compared to SS Rajamouli's Baahubali.
History vs Fiction
Mani Ratnam's Ponniyin Selvan: Part 1 is historical fiction. It brings to life the reign of the Chola empire, one of the most glorious periods from Tamil history. The main characters who appear in the film — Sundara Chola, Adithya Karikalan, Arulmozhi Varman — are all kings who once lived in this part of this world. Only a few fictional additions have been made to the script, to further enhance the drama. 
On the other hand, SS Rajamouli's Baahubali is a fictional tale. The kingdom of Mahishmati never existed in real life. Baahubali, Bhallaladeva, Devasena and Kattappa are all figments of Rajamouli's imagination. Or rather of Rajamouli's father, V. Vijayendra Prasad, who wrote the story for the film.
Source Material
Mani Ratnam's Ponniyin Selvan: Part 1 is based on the popular novel series of the same name by celebrated author Kalki Krishnamurthy. The five-part novel series that was published in 1955 depicts events that are documented in history. The protagonist of this tale, Arulmozhi Varman, who later became King Raja Raja Chola, is regarded as one of the greatest monarchs in history.
On the other hand, Rajamouli's Amarendra Baahubali does not exist in the pages of history. He was inspired by tales narrated by his father, V. Vijayendra Prasad, and by his fascination with the Mahabharata to weave the magical universe of Mahishmati.
Style of Filmmaking
Mani Ratnam is a veteran filmmaker who is known for delivering gems like Anjali, Mouna Ragam and Geethanjali, which won him National Awards. He is a master storyteller and the manner in which he mounts scenes and frames them is a masterclass in itself. He excels in highlighting the beauty of a moment in its simplicity. Mani Ratnam does not believe in portraying physics-defying stunts. His characters are real, vulnerable and human.
SS Rajamouli, on the other hand, believes in larger-than-life storytelling. His lead characters are superhumans who can never face defeat. That is why, when Baahubali and his army are propelled on to the fort of Bhallaladeva, in a gravity-defying scene, with the help of palm trees acting as pulleys, the audience does not bat an eyelid. People throng the theatres to expect such visual exuberance from Rajamouli. 
Mani Ratnam's epic drama may not have OMG stunts, but it is full of drama. Sample the songs Ratchasa Manamey or Devaralan Aattam in the film. AR. Rahman's composition is full of dramatic elements which get translated on to the screen, thanks to the trademark Mani Ratnam touch. Aishwarya Rai Bachchan, who plays the scheming Nandini, uses her beauty to entice the powers that be and have her way. Her Machiavellian machinations are no less ruthless than the brute force of Bhallaladeva in Baahubali.
So, if you are going to watch Ponniyin Selvan: Part 1 in theatres expecting an out-of-the-world experience like Baahubali, you should lower your expectations. Mani Ratnam's epic tale is less about the spectacular and more about the signature.