Ira the boss
'Super-duper excited and not all nervous' about the play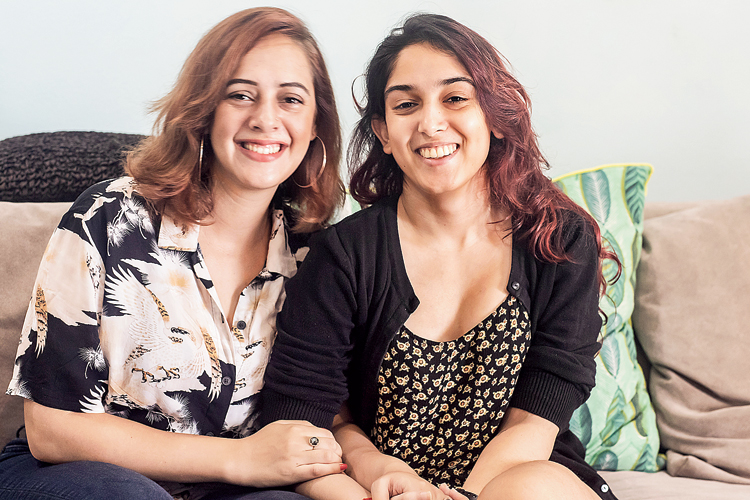 ---
---
Aamir Khan's 21-year-old daughter Ira Khan is set to make her directorial debut this month with the theatrical production Euripides' Medea. 'Super-duper excited and not all nervous' about the play, the director speaks to The Woods on her play…
What interested you to choose Euripides' Greek tragedy Medea as your directorial debut?
I just took the English translation of the play, edited the script a little bit, cut some parts out and changed some bits. But this is not an Indian adaptation of the original play.
How different or similar will it be from the Greek original?
I don't think it'd be performed the same way it was performed in Greece. There would definitely be visual differences, in terms of how I visualise the play. The scenes that I have added may not have been there, I've changed that. I'm also breaking the fourth wall, it's very interactive. So, it's the nuances of the play that makes it mine.
What made you cast Hazel Keech for the titular role of Medea?
I've known Hazel for really long and I've not watched any of her other work. I've not watched Bodyguard or any of the plays she has been in. I've known her personally and I asked her to audition for it. I really liked the audition and I was confident that she'd manage the subtleties and the loud extremities of the character.
Apparently your brother Junaid (Khan) is also a part of this play. What can you tell us about his role in it?
Yes, Junaid is part of the play. So there's the lead role of Medea, the protagonist or the antagonist of the play, whatever you decide to call her. Then there's the chorus, a group of six women who are on stage constantly with Medea. He is doing an important role, playing Medea's nurse.
Are you excited or nervous about your directorial debut?
I'm super-duper excited and not all nervous because in my head, it's not actually happening! In my head, we are just rehearsing and learning and we are not actually going to put up this play or no one is going to watch this play.
Do you take tips from your father about direction and did he give you any feedback on this play yet?
Both our parents (Aamir Khan and Reena Dutta) have pretty much let us be and figure stuff on our own. They have always been there for us but essentially they've let us figure it out. So, it's not like he has given me any specific tips. But he has told me general stuff about how to keep my priorities correct and also about people management and how to deal with them.
The subject is pretty dark. Was it burdensome at times while rehearsing for it?
Hazel knew the play decently well so yes, she had to go to dark places in her mind. But that's something we had discussed before when I had offered her the part, that it'd happen.
How many hours a day did you all rehearse for?
Rehearsals started in September and we rehearsed for that whole month. Since the play essentially doesn't have more than two characters on stage at one time, apart from the chorus, I called people in slots. I was there from 10 or 11am till about 7 to 8pm. But everyone else were called in slots... at some point my producer yelled at me and said I need to take a break once a week. So then I had to take a break, it was very annoying (laughs). But for everyone's mental health and sanity, we took a day off a week but pretty much rehearsed every day.
Did you always aspire to be a director?
I don't want to be one thing in my life, I want to be lots of things. Directing has always been one of the things that I wanted to do. At all points of time in my life, I want to be in every career and every profession ever, except a doctor.
Did you study direction?
No, I have studied theatre in general and I've studied literature. I've not studied direction specifically but I think it's more about being able to tell stories than actually learning how to direct. You can direct any way you want as long as you know how to communicate.
Being Aamir Khan's daughter, did the acting bug never bite you?
It's like, you either want to act or you don't want to act, irrespective of whether your parents, aunt or cousin is an actor. I never wanted to act in the first place, so being his daughter didn't really affect that in any manner.
What's the touring plan with the play in December?
We premiere in Mumbai on December 7 and move to Prithvi Theatre on December 10, 11 and 12. Then we move to Bangalore on December 22 at Ranga Shankara. For now, that's what we have planned but I hope to do more shows.
Do you plan to direct a film someday?
I hope so. I really want to direct an action film and make cars explode and flip in the air. I really hope to direct a film someday!
Lastly, what has been your biggest learning from theatre?
I am a non-confrontational human being and I've been allowed to get away with that most of my life. But now I have to learn that sometimes I'll have to confront people and be an adult about situations. That is something that I knew before and made sure I was aware of... I think I have managed so far.