Ruchi Narain: The woman behind 'Guilty'
The director is best known for writing screenplays of films such as Hazaaron Khwaishein Aisi and Calcutta Mail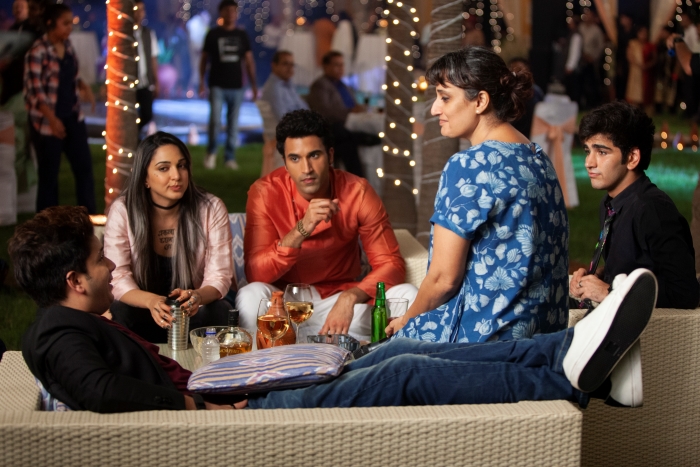 ---
---
Ruchi Narain, who directed the Netflix Original Guilty this year, is best known for writing screenplays of films such as Hazaaron Khwaishein Aisi and Calcutta Mail. Produced by Karan Johar's Dharmatic, the digital arm of Dharma Productions, the whodunit thriller Guilty revolves around a college heartthrob who is accused of rape by a small-town girl on Valentine's Day. It features Kiara Advani, Akansha Ranjan Kapoor, Taher Shabbir and Gurfateh Singh Pirzada. The Telegraph caught up with Ruchi for a chat.

What was the genesis of the story?
We read about stuff like this all the time but I wanted to talk about it in the context of our daily lives. When you're in college, you are there to have fun and hang with your friends. Nobody wants to actually deal with something like this. I was very interested in that. When you see these things happen, they come out as headlines but what actually happens to those people? They also don't want to dwell on it, they want to move on and live a normal life. That was the starting point. Actually, I had written a film with a male protagonist and was trying to cast for it and we just couldn't. Eventually, Karan told me that, 'I've a feeling that they don't want to work with you because you're a woman'. I thought that I love my film but I'm not going to have a sex change to make it! I was so angry and infuriated that I decided to make a film that talks about what women are up against. I have channelled that anger through Guilty.
What did you keep in mind in order to handle the subjects of sexual consent and victim blaming in a sensitive manner?
I'm a woman who knows a lot about this stuff. I didn't have to be extra aware to be sensitive because I'm not talking about something I don't know about. As a filmmaker, to tell an interesting story, you cannot keep it unidimensional because I'm not giving a lecture. I'm telling a human story about people who are messed up and complicated, and all of us are. Nobody has only good in them, nobody has only bad in them. Everyone has different insecurities and fears. Even when I started writing it, I started getting a lot of perspective from the guys on what they are feeling at a time when people are being called out everywhere.
Do you feel the tides are somewhere turning for female filmmakers in the Hindi film industry?
Of course it is changing and that change is also happening because now you have platforms and there's so much available space for content. Now by default, they can't stop themselves from taking your work because they want content and we have got the content (laughs).
At a time when so many web shows are jostling for space across OTT platforms, where do you think Guilty would stand out?
I think Guilty and I are in a very fortunate space, mainly because it's Dharmatic's first production for an OTT platform. And because of Karan's stature, body of work and goodwill and the fact that he's launched Dharmatic with this and also the collaboration with Netflix, I think it automatically gives it a certain leverage. It has actually got very little to do with me, I'm the one who is benefitting from it.
What did you keep in mind while casting this young ensemble cast?
When I'm casting, I always look for an actor where I can take something from their personality and add it to my character. So that they can make my character real. While casting for Guilty I realised that all four of them (Kiara, Akansha, Taher and Gurfateh's characters) are the exact opposites of what they are as people. That is what was working for me, that it's not unidimensional. That is how the layer gets added. Like, Kiara's character is of this bad-a**, intimidating rebel but you know that she is not like that. That adds a fragile layer to an otherwise rebellious looking character. I find that interesting, I like my characters to be layered. They all have other sides to them in the film.
Did you face any challenges while shooting the entire film in one month in Delhi?
My biggest challenges were sunrise and sunset because I was always fighting the light! But I actually had the best time shooting because I had wonderful actors. All my actors were fun to work with because they were totally into their characters and they all worked really hard. Kiara was there right after the huge success of Kabir Singh, so one always has an apprehension. When someone gets so much stardom, everyone is entitled to a few weeks of going a bit crazy. But Kiara was completely unaffected and she was so sincere and hardworking throughout the shoot. She hardly even spoke about the success of Kabir Singh, once or twice someone else would come and mention how many crores the film has earned that day. But she was already immersed into this and was very grounded. That also set the tone for the other actors, I feel. One day she even came to Bombay for the success party of Kabir Singh. It's the first film for Akansha and Gurfateh and they had prepped a lot. Tahir is playing a personality completely opposite to his inherent self. He plays a lawyer, so he met lawyers and sat on set while it was being built to get a feel of his work cabin. It was a lot of creative fun and everyone was into their work. It's very exciting to create something when you have good collaborators and everyone is invested in it.
What are you binging on the OTT platforms right now?
I'm addicted, actually. I loved watching Sex Education, Stranger Things, Unbelievable and The Sinner on Netflix.