'One can enter the hearts of the audience as an actor even without being spotted at airports' — Pankaj Tripathi
A chat about why he doesn't need to resort to gimmicks to make his place in the hearts of the audience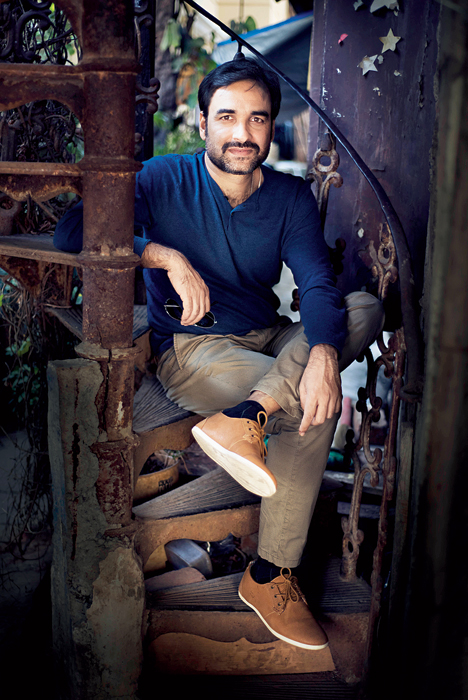 " I haven't made a six pack or an eight pack, neither am I spotted at parties, at airports or outside gyms. I don't know where people spot me and shower their love on me," says Pankaj Tripathi
Sourced by the Telegraph
---
Published 28.04.20, 02:36 PM
|
---
A conversation with Pankaj Tripathi is always an enriching experience. It wasn't any different when we dialled him recently. After a hectic two years that have seen the 43-year-old actor deliver stellar turns cutting across mediums, Tripathi is using this period of the lockdown to spend time with family and do all that he hasn't been able to in the last few years. We chatted with the actor on his life goals after the crisis gets over and why he doesn't need to resort to gimmicks to make his place in the hearts of the audience.

You've been working non-stop for the last few years. The last time we spoke you had mentioned how you hadn't been able to find time for yourself or for your family. Has that changed in the last month since the lockdown?
Yes, I have been doing a lot of things that I couldn't do for many months. Bachche ke saath waqt bitaa raha hoon. I wasn't being able to cook or spend time with my family, all of which I am doing now. I am also spending time with my pets. Ghoomne ke siwa baaki sab kuch kar raha hoon (laughs).
Yeh ek adbhut samay hain. We were all running a race, we had forgotten how to respect nature. Main bhi bhaagey jaa raha tha. For me, the post-corona period will be very different. I will only do what my heart tells me to do. I don't want to be restless anymore.
When I walk out to my balcony now, I can see about 10km of the sea because it's so clean and pollution-free. Just as I am talking to you, I can see a large boat on the sea. Now I am curious to know the details of that boat. Our priorities, our curiosities are changing.
In the past, you've said that you don't watch your own work. Have you watched anything of your own in the last few weeks?
I watched two-three episodes of Mirzapur (on Amazon Prime Video). Aur mujhe achha laga... mujhe laga ki yaar main bahut matured acting kar raha hoon (laughs). Apart from that, I am watching a Malayalam film called Trance that I have heard a lot about. I am really not watching much content. On the contrary, I am reading quite a bit... I have read three Hindi fiction books in the last few weeks.
Is there any specific reason why you don't watch your own work?
Mostly, I haven't had any time in the last few years. Whenever I would get time, I would prefer to sit quietly on my own, beer piyu aur biwi se baatein karoon. For someone who acts for 350 days in a year, watching oneself doing the same thing on the days one has a break... I really don't like doing that.
Also, when I watch my performances, I get angry with myself... I start picking faults in my acting. I keep thinking about how I could have done something better, and I want to avoid that. I feel that what I did in my front of the camera was my truth at that moment... I can't change that or replicate it.
You just made your Hollywood debut with a cameo in the Netflix film Extraction. What was that experience like?
Bahut badhiya. It was a good opportunity. The Russo brothers (the producers of Extraction) make some of the biggest films in Hollywood now, and I thought Extraction was a good film to be a part of. Even though it's a cameo, my role has a lot of impact. They said they needed an actor like me for the part and when I heard my role, I felt that it would benefit the film if I was a part of it. I got a lot of respect on set. Ek hi scene hai bande ka (his character, Ovi Mahajan Sr) lekin uske threat pe poori film chalti hai.
You've just said that your post-pandemic priorities will be different. How do you predict movie-viewing patterns changing in the post Covid-19 world? Your film '83 has also had to push back its release date indefinitely...
I can't really say anything from the business point of view because even earlier, I never involved myself in the business aspect of filmmaking. I only act. But I think things will be fine eventually. The world has seen setbacks like this and has always bounced back. It will possibly take a few months for things to get normal.
But yes, as far as my personal life is concerned, after this gets over, I want to lead a minimalistic life. I have thought I will not unnecessarily buy things that I don't need. All of us tend to accumulate more things than we actually need in life. We all are victims of marketing... if there are one crore people, there are 10 crore products that need to be sold to them. Earlier, a house would have one TV set, now there is a TV in every room. We have made the biggest weapons and nuclear bombs, but today we don't have a vaccine for coronavirus. I have thought of making my life very simple from now on.
How do you look back at the career you've had so far and what's been your most satisfying experience as an actor?
It's been a good run so far. The audience has given me a lot of love and a lot of the praise I have got has been unexpected. Main kamzor hoon kuch mamlo mein... jaise dikhawa aur khud ko kaise market karna (laughs). Kamzor bhi hoon aur pasand bhi nahin hain mujhe. Samajh mein mujhe nahin aata yeh sab. I don't understand why actors need to post their pictures on social media all the time and why do people need to see those pictures. In the last few weeks, ever since I have got time to sit back and think, I have realised that one can enter the hearts of the audience as an actor even without being spotted at airports (laughs). Sirf apne abhinay se main logon ke dil tak pahuncha hoon. I haven't made a six pack or an eight pack, neither am I spotted at parties, at airports or outside gyms. I don't know where people spot me and shower their love on me.
Just yesterday, I got a call from a 60-plus gentleman. He had got my number from someone and he had called me to say that he had streamed Criminal Justice (on Disney+Hotstar) the whole night and he was regretful that he hadn't watched any of my other work. He said that for the last three days, he was only watching my films. These are things that make me happy. So yes, what's happened in my career so far has been unexpected and I am grateful for it. And the glamour that's an integral part of this business... ki jo dikhta hai woh bikta hai mere liye applicable nahin hain... main sirf cinema ke parde pe dikhta hoon.
It's tough for me to pick my most satisfying work so far. I feel I learn something in every project. Life is always about learning. Yesterday, I was reading a nibandh called Nakhoon kyon badhte hain by Hazari Prasad Dwivedi. It says that fingernails are the weapons that nature had given us. Now, man has made even bigger weapons than his fingernails. The nibandh says that we hence don't need our fingernails anymore and we keep our animal instincts under control by clipping our nails short regularly. Hum baar baar kaat te hain kyun ki hum apni pashuta ko control mein rakhna chahte hai. So to answer your question, har project mein hum thoda aadmi ban ne ki koshish karte hai. Har kirdaar humein kuch samjha ke jaata hai jeevan ke baare mein.