Juhi Chaturvedi on writing Gulabo Sitabo
'For me, the idea always has been to bridge the gap between me as the writer and me as the audience'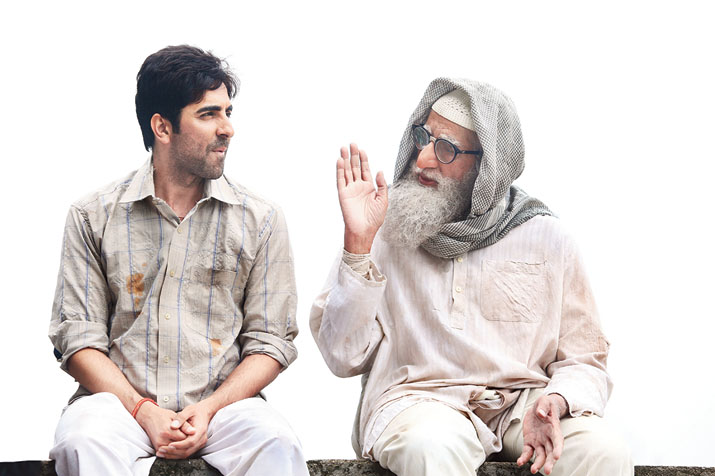 Ayushmann Khurrana and Amitabh Bachchan in Gulabo Sitabo
Sourced by the Telegraph
---
Published 07.06.20, 03:50 PM
|
---
Over the last decade, Juhi Chaturvedi's pen has given us some of Bollywood's most 'woke' and compelling stories. Whether it was the light-hearted take on sperm donation in Vicky Donor or the idiosyncrasies of a constipated septuagenerian and his tenuous relationship with his daughter in Piku to the gut-wrenching story of processing and handling grief in October. All these films were directed by Shoojit Sircar.
Next Friday, Juhi teams up again with her long-time collaborator in Gulabo Sitabo. The satire, starring Amitabh Bachchan and Ayushmann Khurrana in a landlord-tenant story set in Juhi's hometown Lucknow, will stream on Amazon Prime Video from June 12. The Telegraph chatted with Juhi on the universal yet specific world of Gulabo Sitabo and why it's not necessary to push oneself to be productive in this pandemic.
You were born and brought up in Lucknow and that's where Gulabo Sitabo is set. That aspect alone must make the film very special for you...
Yes it is. But then again, the basic plot of the film — the equation between a landlord and a tenant — is fairly universal. Of course, the film is about the simplicity as well as the complications of this equation and where it leads to. Setting it in Lucknow helped me drive in a lot more humour and authenticity, the language, the drama, the mindset of the characters. Lucknow is not just the setting for the film... it also becomes a potent influence on the lives and the behaviour of these characters. It's an important character, as such, in the film. It shapes the characters' ideologies and their reactions. In that milieu, even such a universal story gets a certain flavour that perhaps one wouldn't have found in many other cities.
When we had spoken last, you had said that for you 'life is the best screenplay'. How much of what we will get to see in Gulabo Sitabo stems from your own life experiences?
Quite a lot. Situations will always be universal, it's how you react to it individually determines who you are. For example, we are all facing a pandemic now. But you and I will have individual ways to cope, react and deal with this situation. That's where the differentiation comes in. So my life experiences, my journey, the way I have grown up in Lucknow and the people I have interacted with have found their way into the plot and the screenplay, but Mirza (played by Amitabh Bachchan) and Baankey (played by Ayushmann Khurrana) are different individuals who will react differently than how I would in a given situation. The idea has been to ensure that nothing in the film seems like it's been written and planted in. It has to seem very realistic and seamless and while it may have happened to someone I know, the idea is to not bring me into the story, no matter how close I feel to it. The story, as I said, is so universal, that when you watch it, the camera is so close to the character that you say, 'Yes, I know this guy. I may not have gone through what he's going through, but I feel it'. For me, the idea always has been to bridge the gap between me as the writer and me as the audience.
What were the high points of writing this script?
The biggest high was that I got to set this story in Lucknow and also got to be on the shoot. There's Mr Bachchan, there's Ayushmann, it's Shoojit Sir's (Sircar) direction.... In times so grim, anything that brings on a little humour is welcome. The whole look of Mirza, the language of the film... everything's novel and exciting, for me at least (laughs). To bring all of this together and to write it in a city that's shaped me, was a big, big high.
The challenge was also to render it authentically because I know I won't get this chance, this set-up, these people, again. Even if it sounds cliched, the city or town you grow up in does shape you and I had to invite people into that world. To find those nuggets, to dig out those experiences that make sense to the film, that was important. Yes, I am from Lucknow, but why should Shoojit Sir make a film based on that? It needs to have a sensible story, and everything that I have experienced doesn't fit into the world of the film... so I had to go about seeking all that. The story needed to be on a larger level, not on a personal level. The personal connect can motivate me to write it, but on a broader level, it has to become everybody else's story. To make the Mirza that I know into your Mirza... that journey took a while. It shouldn't belong to me only.
Being a caregiver to your mother in her last days made October a very personal film to write. You had also told me that you howled for days after writing Bhaskor Banerjee's death scene in Piku. Did writing Gulabo Sitabo feel as personal?
It was, but then again I thoroughly enjoyed myself while writing this. I was fortunate to get a lot of inputs from Shoojit Sir because he is someone who has lived life very closely... he observes people and moments keenly. So, when you create a world like this, you need something funny to add to it to keep the audience engagement alive. Shooting this was actually a fun process. Other than the weather constraints in Lucknow, it was a fairly relaxing experience to make this film.
How do you and Shoojit come up with such winning ideas?
The world of ideas and discussions and conversations that we have, even outside of making a film, is what works for us. He's a very grounded person, very methodical, very systematic, very disciplined... working with him is a fairly simplistic and uncomplicated process and that's how his team has always been. I have seen him work with the same set of people, and that says a lot about the work ethics and discipline of a person. There is a certain consistency in the way he works, his demeanour towards those he works with and the way he likes his team to work. We come from fairly similar mindsets, family values, what we see and expect out of life is more or less similar. That has helped us collaborate a lot more.
The biggest thing is that there is a fairly open equation between us... it's not that he has to make the films I write, he's not bound to do that and he has worked with other writers.... At the same time, if I have something I have written, he will definitely take out time to read it. It's as simple as that. And if he doesn't like something in the script, we can argue and debate.... For us, it's always cinema first, idea first, project first. We just ensure that that objective has to be met. If the script works towards it, then great; if it doesn't, then that's also great. Either way, it doesn't affect me or him. We have never tried to outdo each other or prove a point (laughs).
It's always said that great art stems from trying times. During this lockdown, some of your peers have gone as far as to pen a script or two while some have confessed that their state of mind hasn't allowed them to be productive at all. Which side of the divide are you on?
(Laughs) The latter! I do write but it's all been general. To me, at this point, it doesn't matter what the world is doing. All of us have got time out to recalibrate ourselves. It's a very important time in our lives and I don't think we will ever get it again. It's no more about what to do or say... it's no more about that Instagram post.... If I am feeling screwed, depressed and hollow, it will come out and let it come out. So there are some days when I am able to write and some others when I am not able to focus at all. We are facing a harsh reality of life now, and we need to cope with it.
We were a 'red zone' building for the longest time... we still can't go out. In this reality, it's too difficult to force yourselves to do anything. I just feel we need to do what comes to us naturally. This situation will eventually end and we will go back to being a better version of ourselves... hopefully. There will again be a time when we will need to put on a face for the world (laughs), but this is not the time for that.