Meet dance divas Shakti and Mukti Mohan
The duo challenge viewers to pick up their moves as they bring to you their brand new show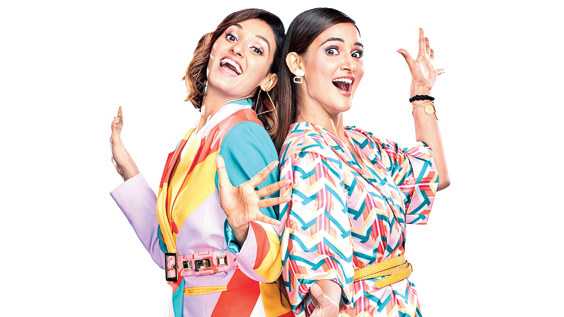 ---
Published 04.11.20, 12:51 AM
|
---
Hello, kaymon achhey? Bhalo achhey?' Elder sister Shakti by her side, Mukti Mohan beamed on the laptop screen and greeted us in broken Bengali as the video conference ensued on a Durga Puja afternoon. The twinkle-toed sisters are hosting and curating an interactive show called Dance with Me, which gives viewers an opportunity to learn from them. Every week, the Mohan sisters are seen teaching a special hook step. The floor is then thrown open to viewers to send in their entries and select a few who would be featured in a special segment on the show in every episode, airing on Sundays at 10pm on Zee Cafe and 10am on Zee TV, in addition to Zee5.
How did you pick up Bengali?
Mukti: Our mom and dad grew up in Calcutta so we know a bit of Bengali. My dad was in Burrabazar and mom in Bhowanipore.  
Do you have any Durga Puja memories?
Shakti: We have been to Calcutta only twice or thrice during Durga Puja. The last time was in 2015. Mamaji took us around and we saw a lot of pandals in the Bhowanipore area. It was the fourth or fifth day of Navratri. Durga Puja had not yet started.
Mukti: We ate a lot — rosogolla, phuchka, churmur…(laughs)
How exciting is it for you to do a show together?
Shakti: It's our first show together. She is madness for me in life and now we get to show that on screen. We grew up together, sharing same clothes, same hairstyle, same school, same college...
Mukti: Same phone also once.
Shakti: The level of compatibility I have with her is crazy. During a pandemic to get a show, and that too with her, is a blessing and a gift.
Mukti: She's being so sweet to me, I don't know why! Her birthday is gone. I have given her gifts. But she wants more.
It was on October 12. So belated greetings.
Shakti: Thank you. I told her aise hi. She thinks I am serious. (Pauses and turns to Mukti) But you can give. That's ok.
Mukti: See? Badi behnon ka pressure!

What is the show about?
Shakti: Mukti and I are hosting the show. We look at the performances and talk about them. We pick up a performance from a previous reality show, like Dance India Dance season 7, and we watch it and give our feedback. We also look at some fresh talent who are stuck at home for months. They have submitted their entries. There is no competition as such. The idea is just to celebrate dance, through learning, watching, discovering new talent. And you also get to see our banter which happens on a daily basis.
 
We  there that night in 2010 when you were crowned the DID winner.
Shakti: What are you saying!
Mukti: (Squeals) That was the moment for our family. I love it that you say "crowned". She was always a princess for us. But that night she got the winner's hat, she became a queen. Even today, when we visit public places like malls and airports, people walk up to us and say they had voted for her. We feel so special! We are waiting for the episode when we get to see her performance.
So what are you showing now?
Mukti: Till now, we have seen not only participants but performances of some of the judges also. Each episode is dedicated to an aspect of dance — props, or costume or partner or comedy, different things around dance. We also add our own experience and previous knowledge. That is something new that has not been done before.
How would each episode go?
Shakti: The show starts with both of us dancing, performing a new routine, which goes very well...
Mukti: (Laughs) She is just praising us, wah!
Shakti: Then we talk about what the episode is about. We look at performances from across the seasons of DID — kabhi solo hota hai, kabhi duet, kabhi group. Ussi episode mein kuchh new entries bhi aate hai, some new budding talents which are chosen on the same theme. Like if we were discussing Indian (dance forms), we choose Indian entries. Then we do a hook step. There are some jokes thrown in between. There are 13 episodes in the show.

How was life in the Mohan household during lockdown?
Mukti: We were in Australia when we heard of the virus. We were there for the (ICC) Women's T20 World Cup. We did not expect it to be a pandemic but our family members told us there could soon be travel restrictions in place. So we came back but we had to stay away from our parents as we could be asymptomatic carriers. So the two of us and Niti, our elder sister, and brother-in-law, put up in a farmhouse in Gujarat. Then the lockdown started. It was only after three months that the Mohan household started living together. It has deepened our relationship. We got creative. Our mother has started making masks.
The two of you have featured in the show Kitchen Champions before. Were you doing any cooking at home?
Shakti: Not at all.
Mukti: She can cook.
Shakti: I can cook for myself but nobody can eat that food.
Mukti: She started cleaning utensils and the floor and got really good. I plan to hire her. She did a floor contemporary sequence with the pochha that went viral. If you want such services, contact Shakti.
Who is the better cook between you two?
Shakti: (Gestures towards Mukti)
Mukti: I bake. Complex stuff. I have tried to make gluten-free stuff. I can't do dal roti.
Shakti: That I can.
Mukti: Yes, she is good. And also upma, poha…

With the virus unlikely to go away soon, live performances seem too distant. What are your thoughts?
Shakti: We, human beings, are amazing at adapting to new changes. There is so much happening digitally. Our classes at my dance school Nritya Shakti have gone completely online. We never thought about it before. Ussi tarah digital concerts bhi chalenge. People are getting used to it.

Mukti, you have done a web show on YouTube.
Mukti: I had done a show called Inmates which was on YouTube. Now it is on Netflix. Lots of auditions are going on. For actors, it is a golden time. You have to learn how to light yourself, record yourself — the sound, the video… we are working on multiple devices. It has been an enriching experience. I have also started my channel on YouTube. I have sketches, blogging, fitness and a show called Muktgyaan (t2 checked out the first episode and it's super fun! No wonder it has garnered 35K views already). It was all her idea — put yourself out there, whatever skills you have. Earlier, we somehow used to think it's not our job; it is for someone with the specific skill set. The pandemic has shown us how many skills we have. There are so many digital resources like apps out there which we still have to explore. For performers, it is a good time to connect with the audience.