Ali Fazal on building his Hollywood career and Mirzapur
The actor returns as the irrepressible and hot-headed Guddu Pandit in the smash-hit web series, with the promise of a different arc this season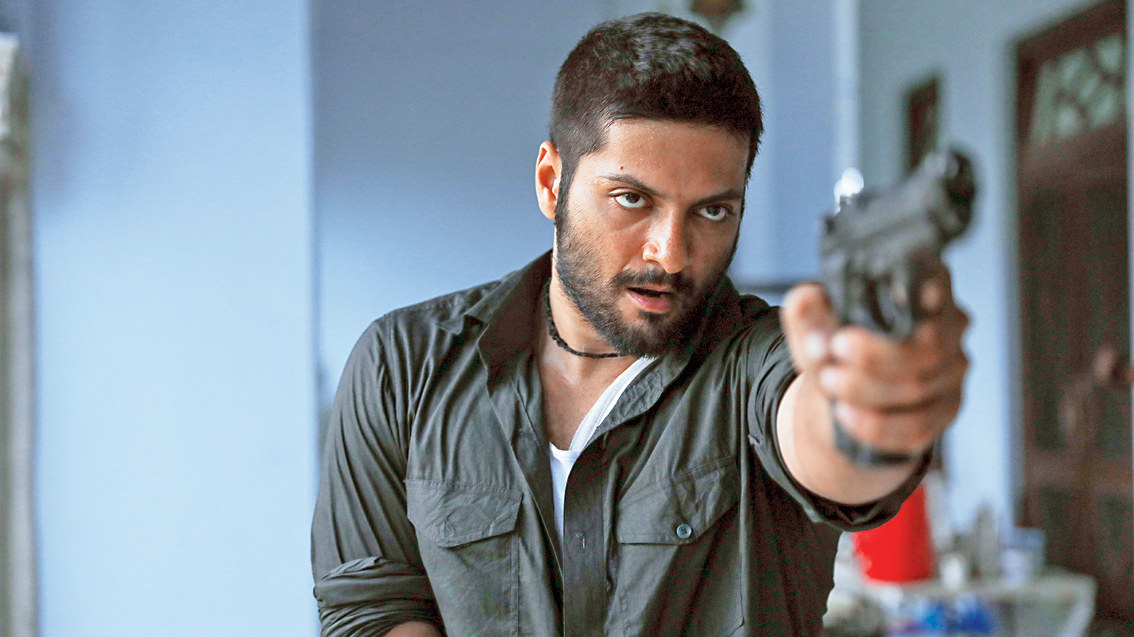 Ali Fazal as Guddu Pandit in Season 2 of Mirzapur, streaming on Amazon Prime Video from October 23.
Sourced by The Telegraph
---
Published 14.10.20, 01:17 AM
|
---
I am chatting with Ali Fazal on the day his next big Hollywood film has been announced. The actor plays the lead in Codename: Johnny Walker, based on the bestseller of the same name, which is the latest in a slew of projects on foreign shores that Ali, 33, has quietly signed on, building his Holly career brick by brick. Death on the Nile, the Agatha Christie thriller in which he stars with the likes of Kenneth Branagh, Gal Gadot, Annette Bening and Armie Hammer, is eyeing a December release tentatively.
Right now, however, Ali is in the middle of the frenzy called Mirzapur, Season 2 of which is scheduled to drop on Amazon Prime Video on October 23. The actor returns as the irrepressible and hot-headed Guddu Pandit in the smash-hit web series, with the promise of a different arc this season. We spoke with Ali on Mirzapur, Hollywood, being the underdog and more.
What's it been like since the trailer of Season 2 of Mirzapur dropped?
It's been crazy! Everyone is really looking forward to Season 2. I personally feel this was a very interesting and dhamakedaar trailer.  I must tell you this! After the trailer dropped, my aunt called me very worried and said, 'Kya hua? Tumhara itna kum kyon dikhaya?!' (Laughs)
I told her that there is a build-up, you don't really want to show so much of a character right at the outset. So she was like, 'Acha, acha, I was just checking... tum ho na?! (Laughs)
Given the tenor of the show, she can't really be blamed for worrying that you were bumped off between Season 1 and 2!
(Laughs out loud) That's a possibility. I don't know... you never know, man! Anything happens in this one!
The last time we spoke, you had said how Mirzapur has become a 'monster of its own', obviously in a good way. The expectations from Season 2, when it drops on October 23, will go through the roof. Did that pressure weigh on the team going into this season?
I don't think my team let the pressure come in on the sets. First, we have Gurmmeet (Singh) as director... he's one of the calmest, sweetest people I have ever known. The same goes for the writer Puneet Krishna... they create that skeletal structure for you to dive right into. Also, Mirzapur shoots are hectic. So you don't get time to worry about public ka pressure... woh pressure already hota hain (laughs). And then I have to keep working out when I am not shooting, just to be able to maintain my physique as Guddu. So one doesn't really have the time to think of 'worldly' things. The only thing I manage to do is talk to my family and Richa (Chadha, fiancee) over the phone.
Of course, with Season 2 the stakes are high, the emotions are high... we have to top the previous season. So there's also that part that keeps informing the actor in me. On paper, this season is something else... as actors, I hope we have managed to elevate that off the page and bring something spectacular to the viewer. But then again, the expectations are very high (laughs). You guys will decide.
Over the last few years, you've played some pretty interesting characters, across mediums, industries and even continents. Where would you place Guddu Pandit just in terms of challenge and complexity?
Oh, it's been one of the hardest. Physically, it's been taxing on me. I have always been a sports guy, I have never been a gym freak. This was a welcome change, but a rather irritating one (laughs). Every day I would find myself caged inside a gym, pumping iron. Victoria & Abdul (co-starring Judi Dench) was a very cerebral part... I had to read a lot. I read so many books on history... itna toh maine school mein bhi nahin padha jitne history books maine uss film ke liye padhe thhe (laughs). Pichhle teen sau saal ka jo history hain woh mujhe poora ratt gaya hain.
Mirzapur, of course, has been a big game changer for me. It opened up the web in a way which hadn't been done before. And because I had already done a little work in the West, I could see the change happening, the heights to which these streaming platforms were taking Indian content. I took that leap, and I am glad I did.
Do the characters you play change you in any way, specifically someone like Guddu who is completely unlike you and exists in a world very different from yours?
My characters don't change me as much as they stay with me... a part of every character stays with me somewhere. I will carry the Guddu of Season 1 with me forever. Some parts do take a toll on me, especially during and a few days after shoot. I am a hungry actor, I really love it when my directors push me out of my comfort zone. Kenneth Branagh (who's directed Ali in the upcoming Death on the Nile) has managed to do that. Stephen Frears did that (with Victoria & Abdul). Gurmmeet has also done that in certain scenes in Mirzapur... I am almost dreading watching some scenes in Season 2.
In Season 2, there are certain ways in which Guddu could have been played... I have gone in a certain direction. How will a person react when half his family has been wiped out in front of his eyes? That's what's happened to Guddu. He chooses a path that turns him into something else. You have to wait and see what I have done... I have tried to make some sense of it (laughs). Shweta's (Tripathi, who plays Golu) part has come out beautifully this season... we were the two closest people who survived the carnage at the end of Season 1, so did Guddu's sister (played by Harshita Gaur). There's been an interesting fleshing-out of characters... you will see different dynamics to every character now.
What do you think makes Mirzapur so popular?
That's because we are a country that loves championing underdogs. We have so many stories. When someone rises from the bottom, we feel ki yeh toh apna hain. I feel that these two brothers (Guddu and Bablu, played by Vikrant Massey) had that. Of course, the layout is very different... it's a story of gangsters, but in essence, it's about the underdog. These kind of stories, with such high-intensity drama, also bring a certain closure to the viewer. I think that's why the hype is so much... everyone on the Internet is always asking, 'What will Guddu do now?' And I am like, 'Will people be okay if Guddu just walked out saying he's done because he's lost his brother and wife?' I don't know. That won't tell a good story, would it?
It's interesting you mentioned the word 'underdog'. Would you call yourself an underdog, given the career trajectory you've built so far?
All through the pandemic, we've heard the term 'migrant labourers'. In a way, woh toh hum hi hain na? We've just given them a glamorous term and distanced them from us. I've done a short film called Tasveer that talks about this. All of us are these people, we travel and we try and build our lives and careers brick by brick. We all belong to middle-class families, we've all grown up dal roti pe. Now I don't really travel in public buses, but even now, when I am standing, my hand automatically goes to my pocket every five minutes... I just keep tapping it and no one understands why... that's because I feel pickpocket ho jayega (laughs). It's happened to me in a bus when I first came to Bombay. So yes, you can call it underdog, you can call it middle-class. Dogs are good ya... they are so zen with their frequencies... they sleep the whole day! (Laughs)
Congratulations for the big announcement of the lead role in Codename: Johnny Walker. So your Hollywood career is now in full throttle...
I keep thinking about this all the time because my time is divided between here and there. I am not moving or anything. At least that's not something that I want... this is my home. It's one world now... you can just do anything anywhere. Every time I have to shoot there, I can fly out. I am always looking to bridge that gap. I think we are making great cinema here. For me, the canvas just got bigger, that's all.

Does the industry see past, 'Oh, we've lost him to Hollywood!'
(Laughs) I don't know... I hope they see past that. Main yahan ka hoon, main kahin nahin jaa raha hoon. I like working here. We have so many industries, we have so many kinds of stories. Indian film industry is not Hindi... it's endless. I want to do thousands of films here... baaki toh waqt ka khel hain. Of course I am not looking for validation from a select few who say 'Arre, yeh toh Hollywood ka ho gaya hain'. I am always looking for good directors and great stories. Language is something I have to fit into... that doesn't have to fit into me.
What's interesting about Death on the Nile is that it's your first case of colour-blind casting in Hollywood. You play a British man called Andrew Katchadourian. Given the fact that so many actors of colour are making inroads in the West, do you see more varied parts being written other than the stereotypical doctor, cab driver or techie?
That's what the image was. I am glad that it's changed and I am so happy that I could be part of a cast like this and actually fit into a role that was essentially played by George Kennedy (in the 1978 film Death on the Nile)... he was 60 at that time and the part was called 'Uncle Andrew'. Now I am 'cousin Andrew'... they've made the cast younger this time, they've changed the character for me.
I think the West has realised we have good actors and great cinema. I just called Arjun Mathur, who has been nominated for an (International) Emmy (for Made in Heaven). It's beautiful... I think we have to pave the way for ourselves and for the next ones who come in. I think it's a good time for a lot of us. We have to stop stepping on each other... the only way forward is to champion each other.