In conversation with Maanvi Gagroo
The web and film artist chats with us on why she relates — and yet does not — with her character Siddhi in 'Four More Shots Please!'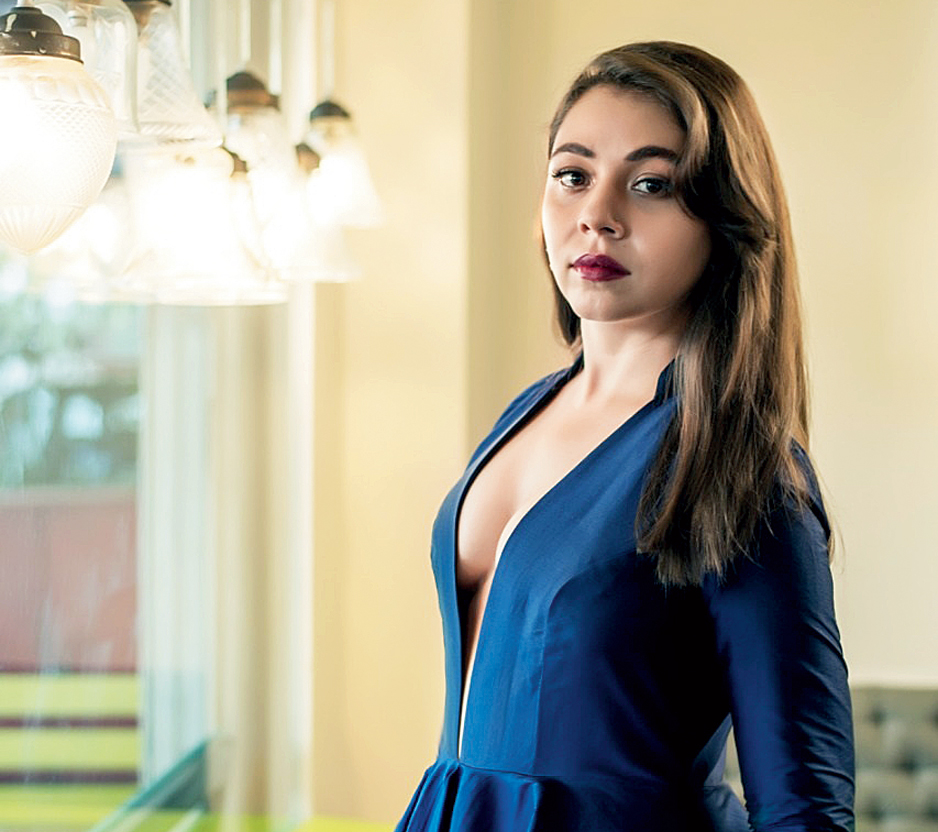 Maanvi Gagroo
Sourced by The Telegraph
---
Published 20.04.20, 12:54 PM
|
---
With iconic shows like TVF's Pitchers and Tripling to her name, Maanvi Gagroo is no stranger to the audience that sustains itself on a steady diet of web shows. Maanvi plays Siddhi, one of the four protagonists of Four More Shots Please!, Season 2 of which is now streaming on Amazon Prime Video. 
When the first season of a show is successful and finds its loyal audience, do the nerves ease up for Season 2 or is the pressure more to deliver a season as entertaining as the first?
There's more pressure, for sure. When you put out something for the first time, people come in with a blank slate... they don't have any expectations or preconceived notions. They may have some expectations based on the trailer, but it's very little. But when Season 1 does well, as it has been in the case of Four More Shots Please!, then you know that people are coming in with very high expectations. And more often than not, it's a human tendency to expect a storyline to go in the way that we have seen it unfold earlier, or at least along the same lines. And it may or may not go according to what we have in mind, which, depending on the viewer, may either turn out to be disappointing or exciting. So I do feel that with Season 2 we are dealing with managing a lot more expectations.
In hindsight, why do you think the show became so popular?
I knew we had a very good script, which is why I did it in the first place. But before Season 1 dropped, I had thought that the show would cater to a slightly older audience… like women between the ages of 25 and 35, because that's also the age group of our protagonists. I thought that the issues that they deal with and the conflicts that they face would resonate more with this age bracket. But surprisingly, for me, a lot of younger people also came in and they loved the show. The fact that they responded so favourably to it is something I hadn't expected at all and I was like, 'Okay! Great!'
Another unanticipated response was how much guys got hooked to the show. It has so much for women to identify with and root for, but a lot of the guys loved it. That really caught me by surprise.
Dealing with everything from body image issues to parental pressure, your character Siddhi comes across as the most real and relatable among the four girls…
Actually, on the surface, I don't relate to Siddhi because a lot of the issues she faces are things that I haven't ever had to deal with in my life. So her response to some of these issues is something that I didn't really understand in the beginning... I would keep asking, 'But why would she do that?' I was seeing things from my point of view and I had to be constantly told, 'This is not you. So please don't think of solutions from your perspective' (laughs).
But while playing her over some time, there were certain aspects and emotions that I related to. Like that scene in Season 1 where Siddhi speaks to Mihir (played by Rajeev Siddhartha) after he proposes to her and she turns him down for the moment, saying that she has just realised she wants more out of life. I related to that emotion because I am someone who will not walk a certain path or do something just because I am supposed to. I don't believe in 'shoulds' in my life.
Do you have close girlfriends like Siddhi does?
Yes. You know when guys suspect that their girlfriends are chatting with other men and start scouring their phones, they should look at the messages that she shares with her girlfriends because that's where all the juice is! (Laughs) It's your girlfriends you pour your heart out to and that holds true for most women. I have two-three girlfriends from school who I am very close to. There is another bunch that I am also close to and they are literally the first people I think of when I have to share either good news or bad news. I am a big believer in girl gangs! (Laughs)
You have done some stellar work across mediums, but you are essentially a product of the web. How do you think the medium has evolved over the years?
Of course there's been a big change. We were the first batch of actors to start off on the web. The change, most visibly, has been in the sheer volume of shows that's now being churned out on the web. I think every TV channel and every production house on this planet has its own OTT platform! What happens in such situations is that quantity takes over quality and you may find a lot of shows available but not all of them will be good. But after a point of time, there will be some kind of filtration and only the steady and quality-driven OTT platforms will remain. It's similar to what happened with satellite television... there was a huge boom when it initially launched and then only four-five big networks remained.
I do feel that the consumption on the web will only go up in the next few years. Especially in these times of quarantine, the value of the web has gone up even more. There are so many plus points to the web as a medium. I also think a lot of the responsibility rests with the viewers to direct the quality of the content in future.
You've had a good run at the movies lately, first with Ujda Chaman and then with your rip-roaring character Goggle in Shubh Mangal Zyada Saavdhan. How do you pick your projects when it comes to films as opposed to a web show?
In terms of acting approach, the medium doesn't matter. But yes, there is a difference when it comes to selection of projects. Since the web is a relatively newer medium, the kind of stories that are told are far more contemporary and relatable compared to films... at least the ones that have come my way. So it's easier for me to pick projects on the web.
Films, because they cater to the masses also, sometimes feel the need to dumb it down or be formulaic. So when it comes to films, I look at the character that I am specifically being offered. On the web, it's more about the overall project, while in films, it's more of the contribution of my character to the script. In films, if you play a supporting character, a lot of the times the character isn't well etched out. They are loosely written and don't occupy any significant space in the story. So I look at it in terms of whether my character is important enough that the story can't move forward without her. That's when I want to do it.