In Badhai Ho, the entire family is the hero, not just me: Ayushmann Khurrana
Ayushmann Khurrana on his favourite performances and what a personal crisis has taught him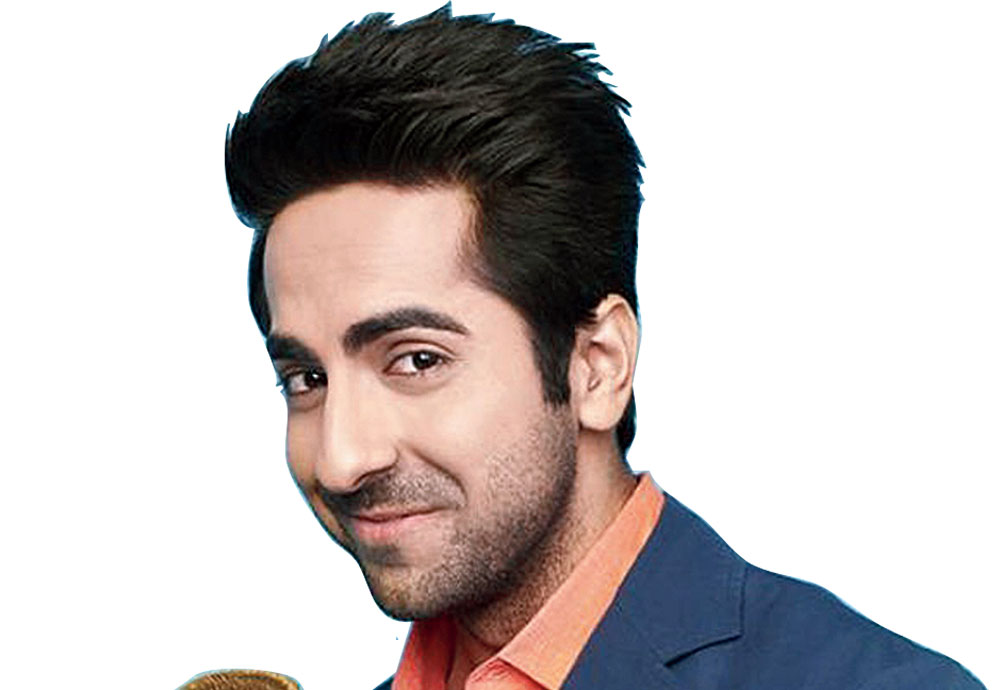 Ayushmann is on a box-office high with four hit films on the trot
Sourced by The Telegraph
---
Published 27.10.18, 02:49 PM
|
---
Living for the family
Since Vicky Donor, Ayushmann has also made a mark as a fairly successful musician, singing chartbusting romantic songs, and authored the book Cracking The Code, a cheat sheet for anyone with Bollywood dreams.
Trying many things and excelling is a trait that he shares with his father. "He was the eldest of five brothers. At a very young age, he was the only earning member of the family. He joined a government job at the age of 19. He didn't have an opportunity to pursue his passions. He plays the flute and can compose songs in a snap. He is also an astrologer and has studied law," says Ayushmann.
When he saw the same spark in his son, Khurrana Sr. nurtured it. "He's always been more ambitious for me. I was quite laid-back. I was a theatre actor, just chilled, happy with my chai and samosa. He was ambitious about his son. I think, everything I do is for my father; to make him proud," Ayushmann adds, with a smile.
Everything he does is also for a few others closest to his heart. Like wife Tahira Kashyap, a filmmaker with whom he has son Virajveer and daughter Varushka. A few days before the release of Andhadhun, Tahira revealed she had undergone a mastectomy procedure after being diagnosed with Stage 0 breast cancer.
"Life is a great leveller. I'm on a career high right now, but at the same time we're dealing with this, and she's keeping a very brave front. It's amazing and gives me strength in a way. I'm very lucky to have her in my life and at the same time, I've accepted that life will always have a void; it'll never be perfect. We have to accept that, and be happy," says Ayushmann.
"When my film was getting the best opening of my life, Tahira was going through her first chemo — I was right next to her on the bed. I was facing varied emotions but eventually it's your love and your family that's going to last forever, more than anything else. You live for them, and while you live for your professional success also, you have to prioritise. It gives you more happiness when your near and dear ones are healthy… hale and hearty."
We are done, it's almost 9pm, but Ayushmann's day is nowhere close to being over. Yet another mark of success.
Listening to his heart
Ayushmann has always thought of himself as someone who treads the middle path. "I never get too ecstatic or too depressed if something doesn't work." But the success of his last two films has left him overwhelmed. "It's great that my choices have worked, and that, too, in such a big way. I always thought that Andhadhun, especially, was a very radical film; we never expected this kind of commerce. I thought we'd get decent business but critical acclaim… and that cinema lovers would really appreciate it… the masses too have lapped it up, which is amazing." Of the two films, he was always confident about Badhaai Ho. "It's a unique subject and it felt like a sure-shot success because this is my genre."
Of all the reactions and feedback he has got, the one that he is not going to forget in a hurry came from Varun Dhawan. "He called after watching Badhaai Ho to tell me that I should increase my price," Ayushmann says, laughing. "He said he's glad to see I'm making brave choices, and now that I have a film with a big opening, I should increase my price. Honestly, that thought hadn't even crossed my mind until then! But we had a great conversation and I am happy that Varun made the effort to call and congratulate."
What makes this success sweeter is that Ayushmann has stuck to his guns and done the films he has wanted to do. "There was a time when I was following people's advice and opinions, and those films didn't do well. When I listened to my heart with conviction, only those films have done well. I have this self-belief now. Vicky Donor created a certain benchmark, and I wasn't getting those kinds of scripts. Eventually, when Dum Laga Ke Haisha came my way, I got back on track."
When he was asked to choose between Bewakoofiyaan and Dum Laga Ke Haisha, Ayushmann told producer Aditya Chopra that he was more excited about the latter. "He was shocked. He asked why I'd be excited about a small film like Dum Laga Ke Haisha, and I told him it was a 'big' idea and it would do really well. He was surprised but started respecting me after that. The film wasn't promoted at all but it became a commercial success because the idea was so big, the story was so great. It is a very unusual Yash Raj film without foreign locations; it was the first time they did such an earthy, lower middle-class film," Ayushmann recounts.
When a film comes his way, all that he is interested in is the script. "The script should work at a macro level. You cannot be selfish and only think about your character. If the entire script works, it'll always work for the leading character. And I've learnt this from Aamir Sir (Khan). He's a curator of content and I've just followed his unique way of just curating great content. Take Dangal for instance. Even though it's his own production, the story is actually focused on the two sisters and not his character. That selfless attitude of picking a great story over everything else is inspiring." 
A look at Ayushmann's filmography shows that he's walking the talk indeed. "When I heard of Badhaai Ho, I fell in love with the script and I could see the entire family was the hero, not just me. I think Surekha Sikri (plays the grandmother) is the star of the film; she's just brilliant. Instead of focusing on how many funny lines my character has or what profile is being shot, the approach should be to just give the best content to the audience. If an actor isn't self-obsessed, he'll be more successful. This is what I learnt in theatre and when applied to films it seems to work."

Chandigarh to Mumbai, via Delhi
Even before he knew what acting was, Ayushmann had decided it would be something fun to do, thanks to his grandmother. "She used to mimic Dev saab (Anand), Raj Kapoor and Dilip Kumar. I must have been about five years old and I had never seen a lady doing that," said the Chandigarh boy. When he told her he wanted to become an actor, she responded with a slap. "She was furious. Coming from a middle-class family, you get insecure... your child should not be into arts when you can't afford to be an artiste."
In school, he got to dabble in theatre. His first play was The Merchant of Venice where he played Shylock. "Then I did this musical called Joseph and the Amazing Technicolor Dreamcoat, where I played one of the brothers and sang two songs. There were mostly actor-singers on stage because it was a musical.... In college, I did mostly historical and mythological plays in Hindi. I was always active in theatre and music."
The support and encouragement to follow his passion, surprisingly, came from his father (P. Khurrana). "My father's only condition to let me do theatre was that my attendance in college had to be 100 per cent."
After he finished college, Khurrana Sr. gave him the push he needed. "I had thought I'd take a year or two to do more theatre, learn horse riding and martial arts, and bulk myself up and then go to Bombay as complete 'star material'. But I found my bags packed, my tickets booked, and my father threw me out of the house saying: 'You have to go to Bombay now.' He would always say, 'There's no wrong time to do the right thing'.... When I came to Bombay for the first time, they were looking for radio presenters. I auditioned and was sent to Delhi to host a morning show."
At 22, Ayushmann became one of the youngest and highly-paid RJs in the country. His face was on the billboards around Delhi. That's when his father, once again, gave him another nudge, reminding him that films were his ultimate goal.
Television happened next. "My boss from radio days, Tarun Katial, helped me get into a daily soap called Kayamath, which I did for three-four months. I was the second lead but had no dialogues. Then came Ek Thi Rajkumari on a channel called Zee Next. I played a negative lead in that one. Thankfully, nobody even watched that channel and it shut down in a few months."
It was when he got selected as a VJ for MTV in 2008 that he knew that films were just around the corner. "I had tears of joy when I got picked. Every VJ gets a chance in films; it had happened with Nikhil (Chinapa) and Rannvijay (Singha). This was when I could finally see myself getting closer to my goal."
After that, it was about waiting for the right launch pad. He rejected four films before Vicky Donor came his way. "I knew at the back of my mind that as an outsider, I wouldn't get a second chance if my first film was a shitty one. When I met Shoojit Sircar, read the script and took a narration, I knew this was it."
There's a scene in Badhaai Ho where 20-something Nakul has an outburst in front of his uber-rich girlfriend's mother. He is talking to her in polished, urban Hindi but slips up in the heat of the moment, lapsing into a gruff Haryanvi-mixed Hindi that he uses only around his family and childhood friends. In that moment, the dichotomy of Nakul's life is most apparent — lower middle-class background but upwardly mobile, suave at work and around his girlfriend but a galli da munda at heart whose regular haunt is a rickety wooden bench at a paanwala's.
The hallmark of Ayushmann Khurrana's performances has been the effortlessness and lightness with which he embodies his characters. There are no over-the-top look-at-me moments. Since his Bollywood debut with Vicky Donor in 2012, Ayushmann has played many versions of this galli da munda. A smart-alecky Lajpat Nagar boy who donates sperm in Vicky Donor; a good-for-nothing cassette store-owner from Haridwar in Dum Laga Ke Haisha; a Gurgaon guy with a "gents wali problem" in Shubh Mangal Saavdhan; a printing press owner and heartbroken author in Bareilly Ki Barfi; and now, a north Delhiite struggling to come to terms with his mother's pregnancy in Badhaai Ho. That these characters haven't felt repetitive is a testament to the 34-year-old's acting chops.
While he is on a box-office high with Badhaai Ho as an Everyman trapped in a situation not of his making, it's important to remember Sriram Raghavan's noir thriller Andhadhun where Ayushmann has changed tracks to play a morally ambiguous blind musician, turning out a measured, nuanced act. The experiment has paid off and Andhadhun is playing to packed houses across the country. With these two films, Ayushmann has delivered his fourth hit on the trot, Bareilly Ki Barfi and Shubh Mangal Saavdhan being the other two.
When we meet the actor on a late evening in a make-up room at Yash Raj Studio, Andheri, he has just wrapped the shoot for his maiden appearance on Koffee With Karan — probably another testament to the fact that he has made it to the big league.
There's no mistake that Khurrana is in a celebratory mood. The smile doesn't leave his face even as he looks for something to eat while we settle down. One bite into that banana and the smile gets bigger. "The joy of eating that perfectly ripe banana is just something else," he says.