On November 12, 2008 Slumdog Millionaire had a limited theatrical release. The Danny Boyle film plucked Freida Pinto out of absolute obscurity and catapulted her overnight on to the world stage. The Mumbai native has since gone on to work with Hollywood heavyweights like Terrence Mallick and Michael Winterbottom. Her latest film Mowgli: Legend of the Jungle has Andy Serkis, her The Rise of the Planet of the Apes co-star, in the director's chair. On the sidelines of the film's premiere in Mumbai, t2 sat down with the actress — who plays Messua — to talk about the significance of speaking in Hindi in a big-budget Hollywood film, her memories of Slumdog Millionaire and Idris Elba's 'Sexiest Man Alive' tag.
What got you interested in Mowgli?
I think it was definitely the desire to be a part of a Jungle Book film. I grew up watching the Doordarshan version and Jungle Book itself is such a loved story for all of us. I also went to Kanha National Park where (Rudyard) Kipling wrote the original story. For me, there were already so many personal memories attached to the story and when I found out that my good friend, Andy (Serkis) was directing his version, I called my agent and said I'd like to be a part of this film. I told him I had to be a part of this film — there was no Indian in the Disney version and you have to have an Indian in this version, and he found the perfect role for me.
Andy said he wanted me to read it and sent me the script, and said he wasn't sure I'd be willing to play such a small role. But it's a very important role for Mowgli's character and would be a huge help for me to come on board and be that for Mowgli. It was a no-brainer and it was a 'Yes'.
Unlike the previous adaptations, this one has a very strong India connect…
Yes, like it should always have had.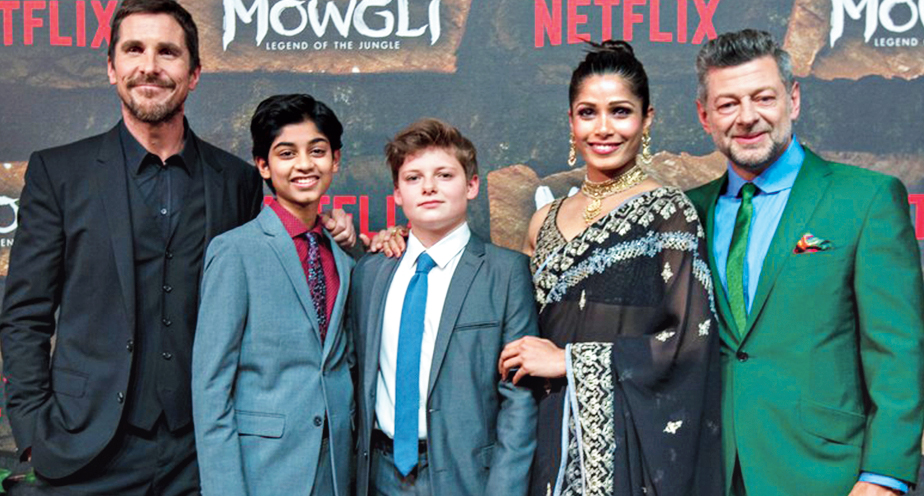 Freida Pinto with (l-r) Christian Bale, Rohan Chand, Louis Ashbourne Serkis and Andy Serkis at the Mumbai premiere of Mowgli Agency picture
Did you have any inputs?
To be really honest, this is why Andy is such an amazing, thoughtful person as a director because he thought about all these things. He thought about why it's important to give India its due platform in this film, because this is where the story was born. My parts were originally written in English and he came up to me and asked if I'd consider doing them in Hindi because he'd love to hear the sound of Hindi in this movie.
He also had Nitin Sawhney compose a lullaby in Hindi which he let me sing in my croaky voice. He wouldn't take 'no' for an answer and there was no recording or audio tuning, nothing; I just had to do it by myself. And so I felt he kept it very real in that sense. None of that was my input at all, he just went with the flow and I went with his flow. It actually made me feel a little more comfortable. I talk in English most of the time, but in films I have a tiny bit of a problem when certain characters, who are meant to be authentically Indian, speak in English. Or when they speak in heavily accented English; I can't do that because it puts me off. So, I'm glad he just let me speak in my country's language.
There's so much talk about inclusion in Hollywood right now. This seems like an important step in that direction. Do you see it like that?
Absolutely, yes. I feel like so many things need to be included, not just colour, language and race, but also sexuality, identity and what someone even feels. You can't take what someone's feeling and say it's stupid and not relevant, so we're not even going to represent it. In that sense, I feel like this one does its part well. Obviously, you have to entertain people, and you have to be universal for people to receive the film. So, we can't have the whole film in Hindi but we can have that moment in the film where there's due respect given to what the writer actually wrote about. And we can educate them through these press conferences and interviews, that 'akela' actually means 'Lonely' and the reason why he's called Akela is because he was a lone wolf. Or that Baloo actually means 'Bhaloo'. I feel inclusion is so much richer than just the colour of your skin and this, for me, feels like one step in the big-budget world.
Almost exactly 10 years ago, Slumdog Millionaire got a theatrical release in America...
I am Slumdog's child. It just kind of feels like it's attached to me and is a part of me. In a way, I don't leave Slumdog at home ever. It's the same way with people. When you've moved on from someone or someone has passed away, they still somehow carry on living somewhere in you. And not in a way that's clingy, but in a way that's just natural. So, when someone says Slumdog, I'm like 'Oh yeah, that. My best friend'. It was such a monumental moment in my life — I wouldn't be doing a Mowgli if Slumdog hadn't happened. Agency picture
Andy (Serkis) was directing his version, I called my agent and said I'd like to be part of this film. I told him I had to be part of this film — there was no Indian in the Disney version and you have to have an Indian in this version, and he found the perfect role for me
Is there a memory from that film that stands out?
The memory that always stands out the most is the Oscars. We were winning every award before that, and there was no assurance that it would continue. What was beautiful and what the producers of the film did then was getting everybody on stage, from the casting director to all the kids and technicians (when the film won the Best Film Oscar). That was what opened doors: teamwork. So, for me, that moment will always stand as one of the most meaningful moments in my life and understanding that it's never one person, it's always a team.
Why haven't you done a Bollywood film yet?
I have an answer to that which isn't meant to be harsh, but I know my sensibilities. And I don't like setting myself up for failure, or doing something to please someone else. If I can't be confident in what I do and without being fake, it doesn't serve the audience. I don't want to subject anybody to it. I think I know where I fit in, and I will do Indian language movies like I've done Love Sonia. I'll continue doing more of those, but I'm not cut out for the typical song and dance scenario and I don't feel apologetic about it.
You recently worked with Idris Elba in Guerilla, the fantastic British mini-series. Is Idris Elba deserving of the 'Sexiest Man Alive' tag that he recently received?
(Laughs) Well, he definitely deserves it, but not just for the way he looks and carries himself. I think that title is befitting for someone who is dynamic in life, and I call him the renaissance man. To be capable of doing so many beautiful things in life, to be a DJ one day, an actor the next, or a producer or director or a humanitarian, and to do it with such ease and without the stress or making a big noise about it. To be someone who just does it and lets his work speak for itself, that's Idris for me. And for that he's sexy.
And I know a few other people who do that with a lot of ease, and they're the kind of people who don't talk about it; I prefer that so much more. Christian Bale's one of them as well — he does so much but you won't even know what he's doing.