Hush Hush wants to be too many things at the same time, and ends up doing justice to none
Set in glitzy high-rises where the dark underbelly of intent and action is hidden beneath layers of blingy outfits and diamonds, the series is powered by an all-women cast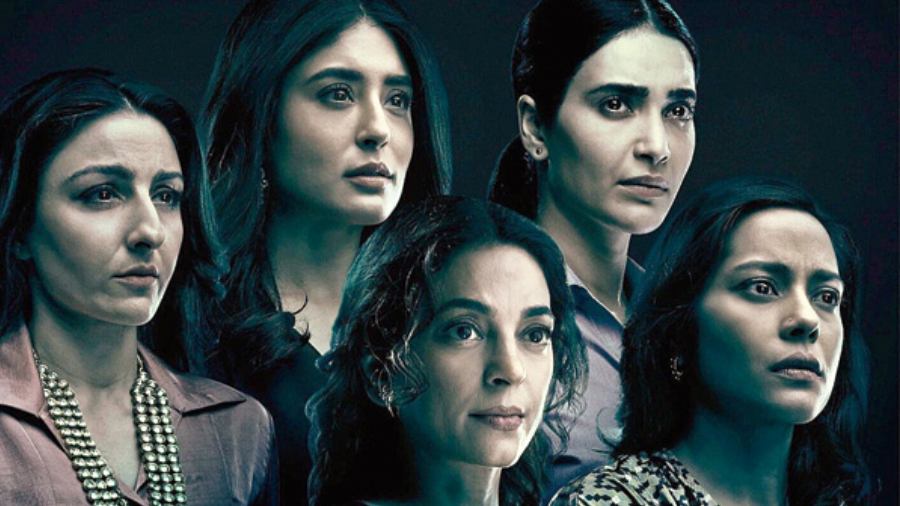 ---
Published 26.09.22, 02:18 AM
|
---
If there was a case study of how to take a perfectly intriguing premise and then mutilate it over the course of seven episodes to the point of leaving it almost unrecognisable, Hush Hush would probably have no competition.
Set in glitzy high-rises where the dark underbelly of intent and action is hidden beneath layers of blingy outfits and diamonds, this latest series is powered by an all-women cast, with a largely female crew, including director Tanuja Chandra.
If the trailer of Hush Hush, now streaming on Amazon Prime Video, gave you Big Little Liars feels, then you are not far from the truth, at least as far as its initial episodes are concerned. Monterey becomes Gurgaon here, with the series focusing on the individual and collective lives of four women living as neighbours in a luxurious condominium, which is strangely, and rather ostentatiously named, La Opulenza.
Hush Hush opens in Baranagar, close to Calcutta, in 1978. Two orphans grow up in dire circumstances, clinging to each other for support. One of them climbs the ladder quickly to become a powerful political lobbyist whose expose on national television, showing her helping businessman and politicians broker illegal deals, lands her in major trouble. That night, Ishi Sanghamitra (a woefully miscast Juhi Chawla, with a perpetually beatific smile plastered on her face) is found arguing with a man in the dark lawns of the condo, where her three pals — Saiba (Soha Ali Khan), Zaira (Shahana Goswami) and Dolly (Kritika Kamra) — are attending the wedding anniversary of Dolly's in-laws. The three rush to the aid of Ishi, end up killing the man, dispose off his body and must now keep it a secret between themselves. The next morning, they wake up to another death, which completely changes the course of their lives.
The primary problem with Hush Hush is that it wants to be too many things at the same time, and ends up doing justice to none. It's pretty much a thriller without teeth, a suspense with too many unnecessary red herrings which contribute little to the plot and a friendship story that seems superficial from the get-go because, save for a get-together of the friends that takes place five years before present events, and which is played on a loop through the series, there is nothing that makes you invest in their equation. Even at the cost of bringing up Big Little Liars again, that show worked because the interpersonal relationships were lived-in and rooted. Here, we feel nothing for Ishi or her friends.
Making 'inclusive' content in these times means that Indian creators somehow feel it's imperative for them to tick off some done-to-death boxes. So Hush Hush has some talk about the upper class vs middle class divide, which is disposed off as quickly as it's brought in. A lesbian angle is thrust in, with no attempt to scratch below the surface. Threads and characters are touched upon and never referred to again. A poor attempt at exploring mental health — with one player even faking a serious condition to work her way to the top — is also something that Hush Hush is guilty of.
Chandra and her co-writers Shikha Sharma and Ashish Mehta (with Juhi Chaturvedi being credited for dialogues), come up with a convoluted plot that completely undoes the relatively interesting foundation that Hush Hush had laid, at least in its first few episodes. In fact, till the third episode, one is still keen to know what happens to these people who are tormented by a secret, what caused the unfortunate demise of a key character, how the case will develop in the hands of cop Geeta Tehlan (played by Karishma Tanna with an infuriatingly inconsistent Haryanvi accent).... The fourth episode onwards, things start unravelling so drastically — a child trafficking subplot becomes the prime focus, coupled with an angle on infertility — that you stop asking questions. And you don't even care about getting the answers to the ones thrown up earlier.
Hush Hush is set in a world of 'self-actualised women', as a character puts it, but none of these women are written compellingly. Only Soha Ali Khan, with Saiba layered as friend, wife and mother, gets some sort of a decent character. She sinks her teeth into it and does the best she can. The rest of the women are mere cardboard cutouts, with Shahana Goswami, a fine actor, being saddled with a half-backed part that does her no justice.
Juhi Chawla and Ayesha Jhulka make their web debuts with Hush Hush, but neither leaves an impact, with Juhi struggling to essay a part that needed a stronger, more confident actor. The big reveal — which most will be able to spot a mile away — sets the tone for Season 2, and we hope that it turns out better in every department.
A novelty till a few years ago, an all-women universe has now become so common that it's quickly becoming mainstream. But just banding some women together is simply not enough. Sometimes you need a good story too.