'Hotel Mumbai' review: A gritty and gripping story
The movie combines tension and terror, fearlessness and fortitude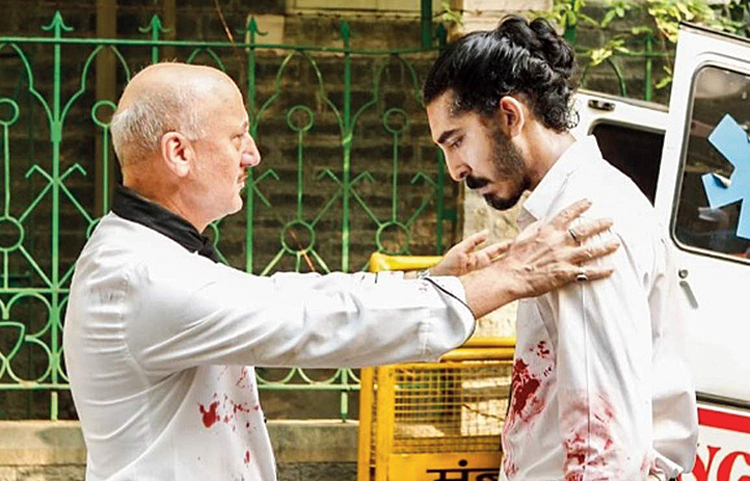 ---
---
We all have our 26/11 stories. Even if none of us were in the middle of it. But those three days — horrific, gut wrenching and gradually uncomfortably numb — when Mumbai came under a gruesome attack, are etched indelibly on our minds. Lives were lost, some lives changed forever… and India became a country divided into pre-26/11 and post-26/11. The images — indiscriminate spraying of bullets, pools of blood, ghastly screams and the flaming facade of the Taj Mahal Palace — became the leitmotifs of the Mumbai attacks.
Days later, what emerged beyond the grisly statistics of deaths and injuries, were the human stories. Of strangers helping strangers, of brave-heart cops sacrificing their lives, of hotel staff going beyond the call of duty to protect guests….
It's the human side of this unspeakable tragedy that forms the focus of Hotel Mumbai. Over 125 minutes, Australian filmmaker Anthony Maras — working with an Indian and international cast and crew — scripts a story that relays the carnage as it unfolded… Kasab and Co. making their way in on a boat, infiltrating the chaotic calm of Mumbai on a busy weekend and changing the history of the city — and country — forever.
Through a combination of real-life footage and dramatised shots, the initial moments of the film depict the shootout at Leopold Cafe (inexplicably referred to as 'Lilopal Cafe') and CST Station, but Maras quickly shifts the spotlight to the 'Hotel' in 'Hotel Mumbai' — the towering Taj Mahal Palace.
Trained to believe that 'Guest is God', it's the staff of the hotel — one of the primary targets of the bloodbath that claimed more than 150 lives — that rose to the occasion, displaying exemplary grit, and more importantly, selflessness. Their courage under fire saved many lives, even as they lost many of their own.
With a template that combines tension and terror, fearlessness and fortitude, Hotel Mumbai is dominated by moments that will make you want to look away. That a band of indoctrinated youths massacred indiscriminately, spurred blindly by the instructions of a handler barking orders to them over the phone, is a fact we are all aware of, but the horror well and truly comes alive in Hotel Mumbai. You have your heart in your mouth when a nanny (an excellent Tilda Cobham-Hervey) hides with an infant in a wardrobe, with a terrorist brandishing a Kalashnikov just a few steps away from the door. You gasp in horror when the handler instructs the terrorists to line up the ambushed guests in front of the hotel windows overlooking the main road so that the world can watch their brains being blown out. You scream silently when a group of unsuspecting guests escape, thinking that the worst is behind them, only to be felled by a stream of bullets aimed at their backs. Hotel Mumbai is unsparing in its portrayal of what went down at the Taj, but its immersive depiction is essential to the story it wants to tell.
It's the humane side of the horror story that stays on with you. Even as the terrorists strut from wing to wing and from room to room and execute in cold blood, sometimes upfront and often by tricking their unsuspecting victims, it's the daring, nail-biting escape of a lucky few that forms the crux of the film. Hemant Oberoi, the executive chef of the hotel, was the man responsible for saving many lives, guiding them fearlessly to the relatively safe Chambers Lounge, and then out of it when the security forces stormed in several hours later. Anupam Kher plays Oberoi with a combination of calmness and courage and sometimes even charm. This is a part that could have easily gone over the top, but Kher reins it in expertly, trading emotion for endurance, and capping it off with a heartwarming hug with Dev Patel's Arjun at the end of the film.
It's Arjun — in a pretty solid turn from Patel — who is the real hero of Hotel Mumbai, his altruism even when staring at the barrel of a gun propelling much of the action and emotion in the film. There are cliches all right — a brown man wearing a turban still has to prove to a white woman that he isn't one of the terrorists and Maras's depiction of how religion drives different people differently is a tad problematic and even manipulative — but Hotel Mumbai has its heart in the right place.
Even in its sticky bits — a Muslim woman (played by Nazanin Boniadi) breaking out into a prayer that mentally maims her attacker hailing from the same faith may reinforce certain stereotypes — but at no point does Hotel Mumbai feel exploitative.
For a film that could have easily trespassed into chest-thumping territory, Hotel Mumbai keeps its politics aside, a move that lends the film a lot of its humane touches. Most of the characters may lack depth and the film may operate within very narrow tracks, but Hotel Mumbai is a well-made film, particularly in its most uncomfortable moments. But sometimes, uncomfortable is imperative.