Honey Irani on her journey from being a child star of the '60s to one of Bollywood's foremost screenwriters
The mother of Farhan and Zoya Akhtar is the writer of films like Lamhe, Darr, Kaho Naa…Pyaar Hai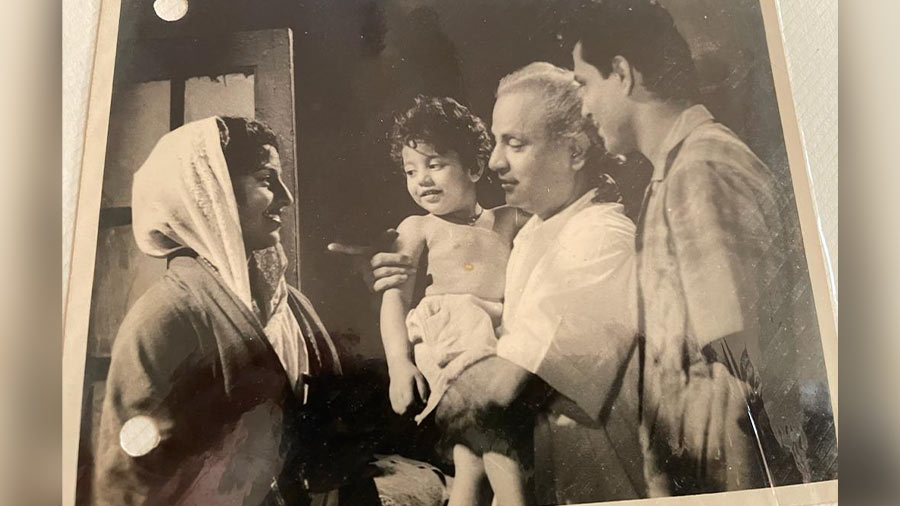 Honey Irani with director Mahesh Kaul, Rajendra Kumar and Kamini Kadam on the set of Talaq.
---
Calcutta
|
Published 26.01.23, 08:46 AM
|
---
Today, people might know her more as the mother of Farhan and Zoya Akhtar. There was, however, a time in the 1960s when she was as big a star as the biggest stars of the era. Honey Irani and her sister Daisy Irani — interestingly, both were often cast as curly-haired boys — were marquee names, with films starring them fetching the biggest openings. They were so much in demand that scripts were rewritten to accommodate one or both the sisters and they featured prominently on the films' posters and promotions. 
Honey Irani landed her first role after director Dulal Guha was impressed by the two-and-a-half-year-old motormouth who had called him 'takla' (bald). Daisy was already a huge star and the director had come to meet their mother to cast her, only to go back having signed Honey. There was no looking back after this as Honey became an integral part of most social and family melodramas of the time, working multiple shifts and earning a fee comparable to the stars. 
One of her most memorable roles came in Devendra Goel's Chirag Kahan Roshni Kahan (1959), where she plays a boy, Raju. Though the film starred Meena Kumari and Rajendra Kumar, it is Honey whose performance is crucial to the film's landscape. Such is the virtuosity of her act that the film credits announced her as 'wonder child Honey Irani'.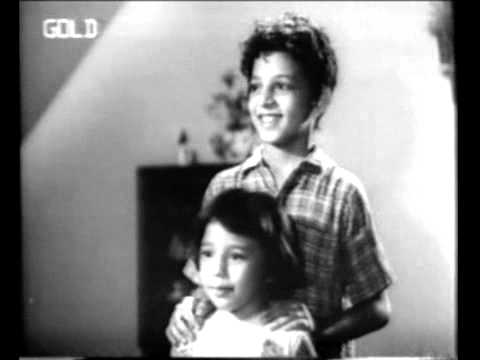 Marrying Javed Akhtar soon after Seeta Aur Geeta (1971), Honey receded into the background for close to two decades before reinventing herself as one of Hindi cinema's foremost screenwriters. Lamhe made waves for its 'bold' subject, while Aaina was a rare film that, with its fraught tale of two sisters fighting it out for the love of a man, upended the traditional saccharine-coated sibling relationships Hindi films churned out.
In 1993 came Darr, rewriting the image of the 'hero' in Hindi cinema. Insiders also speak of her contribution to Dilwale Dulhania Le Jayenge. Though the film surprisingly did not credit her for her work, it goes without saying that it was Honey Irani who, with these two films, gave Bollywood its biggest star of the new millennium. She also wrote the blockbuster debut of another superstar, Hrithik Roshan, Kaho Na … Pyaar Hai, following it up with the 'Krrish' series of films.
A self-confessed lover of international classics – 'I was a great collector of movies and I still am… I have 500-600 classics on home video. I did a short course in the Pune institute and have watched all the classics from Godard, Roberto Rossellini to Akira Kurosawa,' she says – she is now excited about a novel she is writing and a web series that should be aired later this year. Close on the heels of the publication of her first work for children – a pair of picture books dedicated to her grandchildren – she talks of her journey in cinema.
How did films happen?
Honey Irani: I wasn't even aware that my older sister Daisy was such a big star. I was just two-and-a-half years old. Daisy was four years older. One day a well-known producer and the director Dulal Guha came to sign Daisy for a film. My mother was talking to them. While talking, the director removed his hat to wipe his head. I looked at him and squealed, 'Mumma, yeh toh takla hai' (Mother, he is bald). I got one tight slap from my mother. She asked me to apologise. The director asked my mother, 'Can she talk?' My mother said, 'She talks a lot.' He said, 'Mrs Irani, if you don't mind, actually I was looking for a kid younger than Daisy who can speak. Honey's pronunciation is very clear. Is it okay if I take her instead of Daisy?' My mother said yes. This film was Ek Gaon Ki Kahani.
Though I don't have any memories of the film, I definitely remember that I hated going on the sets. The moment I entered the studio gate, I started howling. But once I was inside, the actors and director were very nice. I started playing with them.
Both of you were very big stars. Did your school life get affected?
Honey Irani: We hardly went to school. We had private tutors at home. We were working night and day and had to do two-three shifts a day. I still remember we had to travel from Bombay to Khandala on one shoot, return the next afternoon to shoot in Bombay and then go back to Khandala. We hardly got any time to study with the tutor. I must tell you something really funny. There was a school near our house in which I was enrolled. The school had around 15 students in each class. I was thrilled that I came third in my exam and my parents were very happy. My elder sister Menaka said, 'How many students are there in the class?' I said three. (Laughs) Daisy was a bigger star. Was there any sibling rivalry?
Honey Irani: Never! We did so many films together. Strangely enough, we used to play brothers! Most directors asked us to play boys. We were paid very well like any other star. At that time Rs 50,000 was a lot of money. We had a house and fancy cars. My mother wanted us to be in films. I think it was her ambition more than ours. However, I started liking my profession.
What is the earliest memory you have of working with the stars?
Honey Irani: Actors like Rajendra Kumarji, Sunil Dutt saab, Nutanji were really caring and loving towards me. I enjoyed being with them. I was very friendly with Meena Kumari. She was more like a mother to me. After the shoot, she would take me home, bathe me and feed me. She would put me in her own bed, lie down, sing something to me and put me to sleep. It was such a comfort for me.
When we were shooting Chirag Kahan Roshni Kahan, there was a scene that required me to cry and I was just not in the mood. Meenaji was carrying me in her arms. Suddenly, she pinched me. I started howling. It was such a shock for me. How could she do this to me? Later on, she had tears in her eyes and she said to me, 'I'm so sorry, bachcha…' I kept on asking, 'Why did you do it?' She said, 'Aap shot nahin de rahey the. You weren't crying.' She was wonderful.
What was it like when the child actor phase passed?
Honey Irani: I stopped acting after I got married. I worked till about the age of 10 or 11. My last film was Purnima with Meenaji. After that I did stage shows. I had learned Kathak. I used to dance in several film songs. I travelled with Dutt Saab and Nargisji, Kishore Kumar, (Mohammed) Rafi saab for shows. That was my training on stage.
In the 1960s, I did a few films which fortunately never released. When I was doing Seeta Aur Geeta, I met Javed [Akhtar] and we fell in love. I was never keen to become a top heroine. I always wanted to be behind the scenes. I used to observe what the cameraman was doing, what the director was saying, and what was happening on the set. That kind of intrigued me more than being in front of the camera. After I married Javed, I worked as an assistant to Ramesh Talwar for a few years.
On Lamhe (1991) and Aaina (1993)
Honey Irani: I used to write short stories, which Javed had seen. He encouraged me to keep on writing. I loved comics and MAD magazine. I read James Hadley Chase. I could never read serious books. There were certain things I didn't understand. Even today when I don't understand things, I look it up and I note the meaning down in the notebook. I was very meticulous that way and was a self-learner. I narrated a short story to him. It was called 'Aaina'. He said, 'Why don't you try and do a screenplay?' I remember being bored with the way relationships between sisters were portrayed on screen. My idea was, if you truly love somebody you will fight for the person. It doesn't matter if you are a sister or a friend. Why are we always trying to sacrifice? That's how the story came to my mind.
There was some talk of turning it into a serial. However, when Yashji [Yash Chopra] heard it, he decided to make a film and asked me to do a screenplay accordingly. It was while working on Aaina that he broached the subject of Lamhe. He gave me the following brief: 'There is a man and a woman. The man is madly in love with her. But he can't marry her and she gets married to somebody else. He's very dejected. Her husband dies, she also dies leaving a child behind. Now the child and the guy meet.' (Laughs)
I made Sridevi's character a little older in the first half so that Anil's character is not that old when the kid is born. There is an age difference of 17-18 years. After we showed the film to our friends, they said that the film's ending was not going to work with the Indian audience. They asked us to change it. They loved the film but were apprehensive that the ending was going to kill it. Yashji was not willing to compromise with the story. He said that two people of disparate ages coming together was the whole point of the film. When it was released, it did not work. But it went on to gather a huge following subsequently. I feel the audience understood it later.
On Darr (1993)
Honey Irani: It was Aditya Chopra who had given Yashji and me the basic idea. Yashji told me his assistant wanted to direct a film and I must write it. When Yashji heard the script, he said, 'Sorry, I'm directing it. You take another script.'
Darr, if you reflect closely, is a male version of Aaina. I was walking on thin ice. I was scared of the audience going back thinking of the Shah Rukh Khan character as someone to emulate. As it is, Hindi cinema is full of instances where the line between stalking and love is blurred. I did not want people to think that this is the right thing to do. I made it clear that love doesn't mean you haunt the woman and stalk her.
On Kya Kehna (2000)
Honey Irani: In the early 1980s, I had read a news item. It left a mark on me. In some village, a 14-year-old girl was raped by a 34-year-old man. He was caught and taken to the police but her parents got the kid married to him. It was shocking. That was the genesis of Kya Kehna. Of course I changed the milieu and altered the basic premise. In the film, I made a college-going kid fall in love with a playboy. She sleeps with him and gets pregnant. All hell breaks loose when he refuses to marry her. It was my way of addressing a subject people were not comfortable talking about. It clicked with viewers.
Collaborating with Rakesh Roshan
Honey Irani: The commercial and critical successes of Aaina, Darr and Lamhe were immensely satisfying and I was aware they would be a tough act to follow. Then there came a period when films became crass. Dialogues and songs with double meaning and obscene dance moves ruled. The portrayal of women, always problematic in Hindi cinema, became abysmal. I had written one or two films where these things were added later without my permission. That offended me. People also came to me saying, 'Yeh book padh lijiye aur bana dijiye' (Read the book and write something). I did not want to work like that, so I took a break for about two or three years.
Fortunately, Rakeshji (Rakesh Roshan) came to me with Kaho Na… Pyaar Hai. I heard the idea and I was very interested. It was wonderful to write a typical Hindi film with all its ingredients without pandering to the lowest common denominator. There was also the responsibility of it being Hrithik's (Roshan) debut. It was a blockbuster. And the beginning of a wonderful working relationship. Rakeshji came up with the idea for Koi Mil Gaya. We worked on the screenplay. It was great fun creating a character like that. I had never done science fiction before. I was interacting with a team of writers, and I loved the process of collaborating.
On directing Armaan (2003)
Honey Irani: As a child, my only ambition in life was to become a doctor. Unfortunately, with no education that was never going to happen. I imagine that's what made me direct Armaan. It involved major research. I met doctors, neurosurgeons, and I had a team working on it.
As a writer, you are not really worried about the logistics of filmmaking. You hand over the story/screenplay and can only hope that the director will do justice to your vision. As a director, you have control over what you have written. But a director's work never stops, you have to think on your feet constantly. We expected the film to do well but though it didn't flop, it did not work in the way we thought. When I analysed it, I felt it had too much detailing. The film became boring. It could have been better, crisper. I would love to go back to directing.
On Zoya and Farhan – two superstar directors
Honey Irani: God has been very kind. The best thing about them is that I never ever told them what to do! If they come for advice, I am there. I never force anything upon them. I never ask them to follow any religious rituals. We celebrate all kinds of religious festivals, Parsi New year, Eid and Christmas.
I knew Zoya would be a writer; she had the temperament for it from the outset. She did a filmmaking course and also assisted Mira Nair. She is one of the best writers we have now. She makes a fabulous team with Reema Kagti. I love the way she conceives her films and the variety she brings to her subjects.
With Farhan, I was totally surprised. He hated going to school. If we forced him to go to school, after a point of time we would invariably get a call that he had fainted. We would hasten to the school and get him back. No sooner than we had put him in the car, he would be jumping around. Quite a dramebaaz he was. When he dropped out of college, I told him, 'What are you doing with your life? I'm going to throw you out of the house.' Then one day he came saying, 'I've some news for you, Mamma. I've narrated a script to Aamir [Khan] and he has said yes.' Out of the blue. I did not know whether to believe him. Then we heard Dil Chahta Hai. I was blown away.
Do Zoya and Farhan come to you for advice on films?
Honey Irani: Yes, they do. When they write something, they ask me to read it. We try to convince each other why we feel our take is correct. It's a very healthy give and take. They keep me tuned into how young people think. Hopefully, I am able to give them the benefit of my experience.
(Shantanu Ray Chaudhuri is a film and music buff, editor, publisher, film critic and writer)