Susmita on playing Hiya in 'Maradonar Juto'
The actress on being a football fan and how her life changed after Prem Tame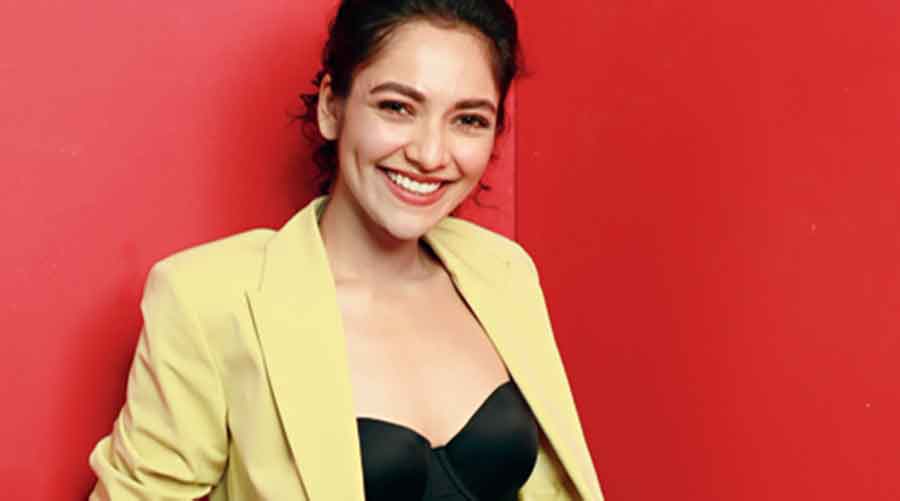 ---
Published 30.04.21, 03:54 AM
|
---
"We all love him," says Susmita Chatterjee, her voice turning soft and her words brimming with emotion and devotion. The actress is talking about football legend Diego Maradona and a broad smile lights up her face. "I remember when he had made his second visit to Calcutta. I was in Kulti, my hometown, and the craze I saw among the people of Calcutta was unmatchable. Bengal loves football," says Susmita, who stars in a romantic comedy with a football connect —Maradonar Juto, directed by Mainak Bhaumik. Streaming on Hoichoi from today, Maradonar Juto is about the generational feud between two north Calcutta families over a pair of shoes that apparently belonged to Maradona! A t2 chat with Susmita...
Let's start with your film Prem Tame. How has life changed after Prem Tame?
First of all I must say, my name changed from Susmita to Raaji. Wherever I go, the love I receive on social media, it's all 'Raaji, Raaji and Raaji'. My family and loved ones are proud of me. People look up to me as an inspiration... how a small-town girl can make it big. From an electronics engineer to an actor, this journey has been tough and it has changed my life a lot. I am thankful to each and everyone related to Prem Tame and definitely huge thanks to the audience who showered so much love.
We are sure that you are constantly asked what happened to Raaji in the end. Do you have an answer for that?
This question comes to me regularly on social media and they want to know what happened to her. My answer will be, "A bird can never be caged, so is Raaji."  
How will you remember Prem Tame?
As a dream-come-true moment of my life, as a new me, as a journey which can never be replaced. I have inked the paw tattoo permanently and it has my whole heart. Prem Tame gave me the wings to become a butterfly from a caterpillar.
Did your responsibilities as an actress increase after this film? In terms of the kind of projects you'd be a part of next or what roles you'd do next?
Since Day One, I am very particular about the scripts but yeah definitely responsibilities have increased... but I think I have my own way of choosing things and I hope not to disappoint my audience.
Tell us about your character?
Hiya Dutta is a social media influencer. She is witty, strong yet vulnerable. She is very relatable to this generation, she can hate like crazy but also can love back wild.
Raaji was seen playing badminton. Have you played football? Are you a football fan?
Aaah I am a sportsperson since my childhood. My dad is amazing in football. I have seen his injuries, strength and happiness. I learned watching him. I used to play football with the boys every time. Yes I am a fan of football, a fan of Maradona, Messi, Pele, Ronaldinho, Ronaldo and more. I feel that life is somewhat related to football. The stamina you need to stay in the ground is kind of similar to the stamina we need to live our lives.
Once again you are playing  a spunky, sassy, stylish character. Does Hiya and Raaji have a connection?
No, both are totally different characters. Raaji is a tomboy, Hiya is definitely opposite... Raaji lives in her own dreamy world, Hiya lives in her present.
Do you feel you run the risk of getting typecast now if you continue to play similar characters in the future?
I believe it's too early to say this because every character is different in its own way and definitely I have trust in directors and producers who can bring out the best in me through any kind of challenging roles.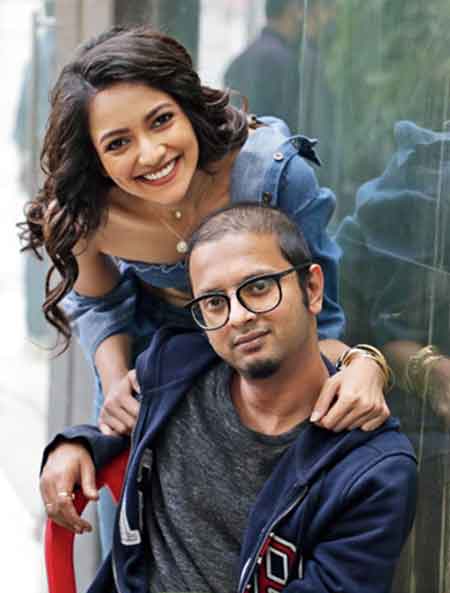 There are a lot of kissing scenes in the series. Was it a challenge to shoot them?
Very much. On the first day I was literally scared... seeing this the director told me, "Hiya is not the way you are behaving right now and you can't lie to the camera, trust the smartness of the script and rock it".
These words from him gave me the courage... so honestly, the more attractive it looks the more complicated it is to shoot.
These scenes are always shot very technically. So what happened in Maradonar Juto is during all these intimate scenes shoot, the director kept on giving instructions one after another and we just followed it and did the exact, it was so funny that every time we used to laugh out loud hearing his way of delivery and ruin the 'romance'. It was almost like being a robot who follows what the master commands. Haha!
Actors often tend to project a certain image through the roles they play. Do you want to do that?
Yes, of course. I want to say a lot of things through the roles I play. I want to tell all the women out there, "Stand strong girls, it's your time to rule."
Have senior actors complimented you on your performance? Do you see them willing to reach out and guide you?
Yes... this industry is very helpful and they actually encourage and motivate... I have got compliments from senior actors/directors and they really appreciated me a lot.
I am very thankful to each one of them because without their love and support I wouldn't have that courage to do more.
How was it like working with Mainak?
He is such a cool buddy. Always with a coffee in hand and never worried. It was very comfortable working with him. He told me, "Play Hiya as the way you want it, I will correct you in between." I liked the way he was confident with me.
How is his working style different from Anindya Chattopadhyay?
Both have different mindsets... I loved working with both of them. The only difference I noticed is Mainak Bhaumik always carries a bag with him whereas Anindya Chattopadhyay always had his hands empty!
Are you missing Raaji's hairstyle?!
A big yes... the short and Afro hair is my personal favourite because in real life I have really, really straight hair. So yeah I miss Raaji's hair a lot since it was there with me for a year.
Like the 'juto', what would happen if your favourite pair of shoes went missing?
I would just take the whole world on my head and look for it. I am very possessive about my loved ones/things. So anything happens to them/those, I am just gonna go crazy!