Karan Tacker — a popular face on television for many years who has now made a seamless transition to the web — is being singled out for praise for his turn as RAW agent Farooq Ali in Neeraj Pandey's high-octane web series Special Ops, that's now streaming on Disney+Hotstar. The Telegraph chatted with the 33-year-old looker on being Farooq, riding the web wave and life in quarantine.
Congratulations for the stellar act in Special Ops. In the sea of feedback that's come your way as Farooq Ali, is there anything that's been a little more special?
A week prior to the show's launch, I went into this state of frenzy where I was like, 'Shit, people are now going to be watching it!' (Laughs) While shooting it, I was completely consumed by the process, but in the days leading up to launch, I had sleepless nights. I was constantly in and out of Neeraj Sir's (Neeraj Pandey, the show's creator and director) office and I expressed my apprehensions to him then.
After the release of the show, there was a lot of positive feedback going around and I had a long chat with him again. He was like, 'Are you happy now?' with that typical Neeraj Pandey smile (laughs). I slept peacefully only two nights after the show dropped.
I think I was so stressed out because nothing went our way in terms of marketing because of the pandemic. So that phone call from Neeraj Sir meant the world to me. That's one thing that will stay with me… my director validating my work. That was very special (smiles).
While you were making it, given the scale, story and the names backing it, I am sure you knew you were putting up a good show…
I'll be very honest, you don't get to know, ya (laughs). There is never any time while making a product, at least for me, to understand whether this will work with the audience holistically. Of course, you are always putting your best foot forward so that people enjoy it, but the response has been just overwhelming, to put it simply.
Also, the shoots were so hectic… 4am call time, not sleeping at all, travelling and shooting outdoors for days together…. There was really never any time to think that, 'Hey, we are making a good product'. We actors look at our directors for constant validation after every take.
I remember when I was shooting the climax and also all my scenes with Hafiz (played by Sajjad Delafrooz), for three days I constantly kept asking Neeraj Sir if I was doing things right. The job is such that it constantly puts you in a state of mind of not knowing, because you may feel you have done something amazing but it may not get communicated that seamlessly. It's up to the actor to do half the job… the rest of it is done when the audience receives it.
This must have been a very tough series to shoot…
Absolutely! We were shooting at barren locations and not on a studio floor. My total shoot was completely outside the studios. We were putting up a set-up every morning and bringing it down at the end of the day and we had very few hours to shoot in between.
Unfortunately, our schedule got shifted and we ended up shooting in the winter months. There was very little sunlight and we had to make the most of it. It was terribly cold… we were shooting summer scenes in the winter. So when the wind blew, I couldn't open my mouth to say my dialogues… my teeth would start chattering! This shoot was really challenging.
It's expensive to shoot outdoors abroad and we couldn't have too many rolling days, as opposed to shooting in a studio which has controlled environment. So we all had to be sharp and put forward our best game… everybody had to be sure that they knew their lines and come fully prepared on set because we had no time to waste.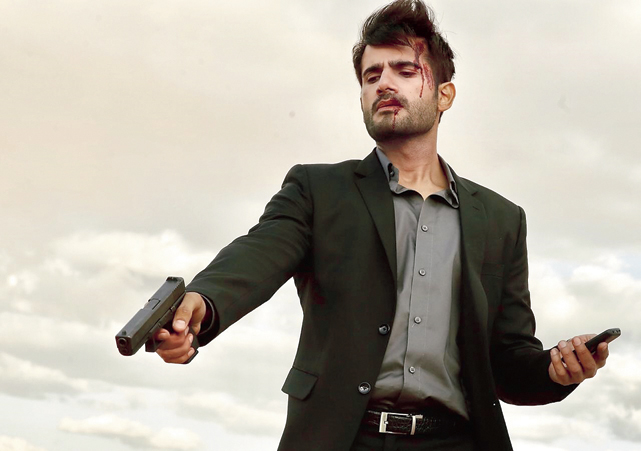 Karan Tacker as Farooq Ali in Special Ops, streaming on Disney+Hotstar (Source: The web series)
What did you have to do to get into the mind space of Farooq who is quite a cool customer?
Quite frankly, I treat the script as my bible… that's where the life of my character starts and ends. Since Neeraj Sir has written the script himself, he had all the answers to my questions. I had a whole bunch of chats with him about being a RAW agent because he knows that world really well.
I created a small chalkboard for myself because Farooq's journey in the show is over a period of nine-10 years. From the moment Himmat Singh (played by Kay Kay Menon) sees him as a college student at the zebra crossing for the first time to when he's on the terrace attempting to jump off it and then cutting to Farooq being on the field for his first mission to the climax of the show… it's such a long journey. So, I created a whole chart for what my look should be every year… it's really an external to internal process… what you look like starts resonating with your mind as well. I had to drop a lot of weight for the scenes where I was shown as a college student. I made these small notes at every step where I would devise a narrative of my understanding of the psychology of this character. Every time I went on set, I would read those notes. These small processes really helped me.
Neeraj Sir described Farooq to me in one word — uncluttered. That word stayed with me. So there's no second-guessing when it comes to Farooq, but there's definitely a vulnerable side to him, and that comes out every time he speaks to Himmat, especially in that one scene where he just escaped his cover being blown and Farooq tells Himmat, 'Aaj thoda darr laga'. That's one of my favourite scenes because it's only there where you get to see the humane side of Farooq.
Do you follow this kind of a process for every character you play?
For the character that I am playing in my next project, I actually went back to the chalkboard. I realised that each project has its own dynamic and you have to figure what works for each character. I haven't found my process for the one I am supposed to do next (laughs), but I am at it. The whole idea is to put flesh on to these lines and create a human and distinguish him as much as possible from the last character that you played.
You've earned your stripes and popularity on television. How do you view the web space in which you are a relatively new entrant?
It's a great medium. The target audience that we are hitting at is the one that is most receptive to new and experimental content. The job opportunities for everyone have opened up and it's a very empowering time for content creators in general.
As an actor, it's an exciting medium for me and gives me so much more to do. For example, a story like Special Ops couldn't have been compressed into a two-hour film. The story is essentially a two-decade-long manhunt and it's nice to have an elongated medium where one can tell these stories over eight to 10 hours.
Every script chooses its own medium. There was a time when I really relished working on television and right now, I am excited about the web space purely on the strength of the content I am working on. For me, the criteria always has been: what's the script, what am I doing in the script and who's making it. Every content also finds its own audience.
What's the break been like?
My family and I actually went into self-isolation much earlier… on March 10. And I was like, 'Fantastic! I am going to watch one film a day, read….' I had this whole plan, but surprisingly, I haven't done any of it! (Laughs) In these days of elongated Sundays, being productive has become extremely difficult. Actors don't really have a desk job or an organisation or an authority to report to (laughs). Here I have to create a constant movement of my own every single day and so it's quite tough to be productive.
But then when I watch a film, I not only do it for entertainment, but also to learn the craft, and I have been doing quite a bit of that. The whole idea is to keep myself occupied through the day. I don't like sleeping, I don't do afternoon naps, I am an early morning person and I have been trying to maintain a timetable of sorts. On weekends, I do group chats with friends to maintain some level of normalcy. I exercise, I read… it's been kind of each day as it comes.