Harsh Varrdhan Kapoor gets candid
Maybe the kind of work that I am looking to do is not really out there, says the actor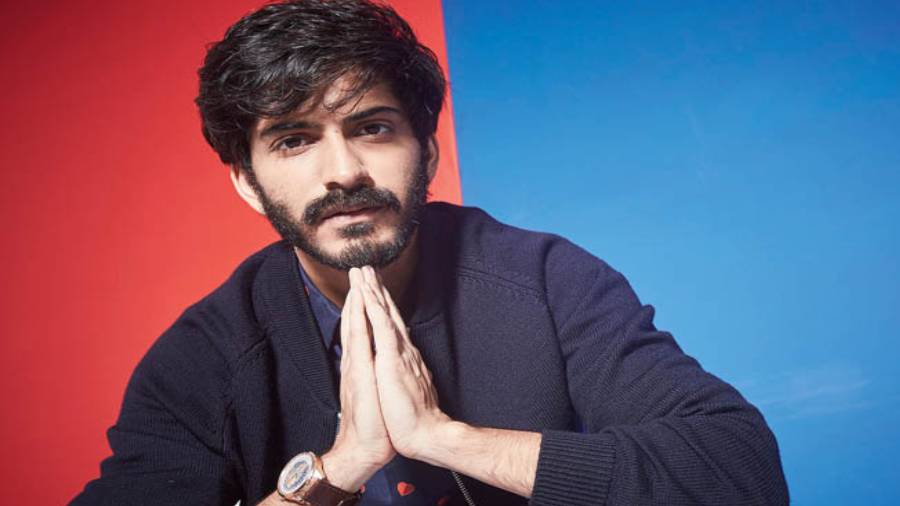 ---
Published 26.04.22, 06:25 AM
|
---
Harsh Varrdhan Kapoor debuts as producer with Thar, a gritty Western noir set in Rajasthan, in which he plays the lead and which also stars his father Anil Kapoor. Streaming on Netflix from May 6, Thar boasts of an eclectic cast comprising Fatima Sana Shaikh, Satish Kaushik, Mukti Mohan and Jitendra Joshi. The Telegraph caught up with Harsh for a chat on Thar and more.
Since you are the one who first put your weight behind this script, what is it about Thar that spoke to you?
It's very rare to find a piece of writing that's so detailed and well written and subversive, but not indulgent and really has a unique perspective. Sometimes, when you read something you kind of get that feeling like, 'Man, there is no visual reference for this, and there is very little that I have seen which is like this'. And you just kind of become obsessed with the idea of putting it out there into the universe, you know.
I think Thar is unique not just in terms of its world-building but also in its narrative. The narrative doesn't underline to you who is the good guy and who is the bad guy, who to root for... it's very open-ended. The audience has a choice when it comes to every character where you can decide who is good and who is bad. Thar is a combination of a lot of things that you don't see in traditional Bollywood films.
You have described working on this film as being an 'educational experience'. One would expect that every creative experience is educative. What is it about the Thar experience that made you underline that specially?
A couple of things, actually. I also produced the film and I had no idea what it was going to be like. There was a lot of learning there. As an actor, it's a very challenging part and very different from the stuff that I have done in the past. There was a lot of responsibility on my shoulders and I wasn't really sure how to navigate.... Every situation was new for me, let me just put it that way. Whether it was dealing with Netflix and taking their ideas on board, my dad's ideas, and also trying to keep the film true to what it was.
Sometimes, you read something and you like it, and along the way, it changes because of external influences. So it was very important for me as a producer to stand my ground and say, 'You know, I like this idea, but I don't like that idea.' In order to do that, you have to be very aware and in tune with what movie you want to make.
Also, when I watched the first cut, I had to be objective about not only the film in totality, but also my performance as an actor. We had to look at redoing some edits, look at the beats that we had missed.... I really can't talk much about my character, but he is someone who basically doesn't reveal who he is, and is a bit cold and disconnected. When you are playing a character who isn't really forthcoming but has a lot to say, you need to understand how to make him magnetic and have that kind of intensity that even if it's a very minimalistic scene, you need to engage the viewer. The characters I played in AK vs AK and Ray are desperate for attention, they are loud and extroverts. In AK vs AK, my character is almost putting up a performance in every moment. The man I play in Thar, conversely, doesn't really care about anybody... he doesn't care about how he looks or how he's perceived. He's reached a point where he's passed the judgment of society. There were certain specific techniques that I worked on with my acting coaches to make sure I got all that right. We built a really detailed backstory about who this guy was before he came to this place, what his pattern of thoughts would be like.... I couldn't just pretend to be intense, my constant chain of thoughts had to make me so.
You just mentioned AK vs AK and Ray, both of which had you in scene-stealing parts. How much does the current creative atmosphere, catalysed by the presence of digital platforms, help you as an actor, in terms of opportunity and diversity of roles offered?
Well, I barely get offered any work, so I wouldn't really know....
You are joking, right?
No, no I am serious! I get offered very few things. If I was offered three-four good parts in a year, I would do all of them. I don't have a rule that I only want to do one thing a year. I don't have those hang-ups. Thar is only my fifth acting credit and the opportunities out there are not really coming to me. Honestly, I don't know what's going on. I got Thar in 2018 and persevered to do it for two years before it happened. And then I worked on it for two years after that to ensure that the film turns out in the way that it has.
Within that time, AK vs AK was a cameo and Ray happened because Vasan (Bala, director) just called me out of the blue.
So I don't really know. Maybe the kind of work that I am looking to do is not really out there that much. I just need to be more patient.
Does the fact that your choices are off-centre more often than not, keep most film-makers away from offering you parts?
I wish I had the answer to this. I was supposed to do a romantic comedy, but I am not doing that anymore. If that would have happened, it would have been very unexpected of me to do something like that. It's not happening for various reasons, but I had actually liked what was on page. I wanted to personalise it a bit, which didn't really work out in the end.
In terms of genres, I am very, very open. I have done a romantic musical (Mirzya), an action drama (Bhavesh Joshi Superhero), a meta comedy (AK vs AK), an anthology (Ray) and now a Western noir (Thar). I don't limit myself in terms of genres... it's just that the treatment of it can't be too larger-than-life.
Given that you have such a good eye for scripts, is there a film-maker in you somewhere?
I think so! That's definitely the dream at some point. I didn't plan to produce so early, but it just happened. And so the directing thing will probably happen in a few years. That is 100 per cent sure. That's the ultimate goal.
Coming back to Thar, it's a dark gritty drama, a Western noir set in the hinterlands. This is a genre which, though popular, is facing the risk of overkill. Would you agree?
I don't think so. Thar is very different. To be honest, I am actually very scared by how different it is. It wasn't easy to make it... there were no takers for it for a very long time. With films in this genre, you know exactly who the protagonist and antagonist is, you know, within the first 10 minutes what their motivations are. Then there is a song thrown in for good measure. Thar doesn't really have all of that. Plus, in our cinema, we don't see too many Westerns.
What was it like sharing screen space with your dad?
I am often expected to give a lofty answer to this question, but it's nothing that's out of the box. Actors are very self-involved people on set and you won't really be focused on how someone else is delivering their performance because you are so worried about your own.
I know my dad for 31 years (laughs) and there haven't been any huge revelations on set, I haven't had an epiphany with respect to working with him.
Besides cinema, what are your shared passions?
We are very different. I like clothes, and I think he does too (smiles). He's a foodie and I am not so much into food as he is. I like late nights, he likes early mornings. I think he's a little more affable, I am more reclusive.
Speaking of passions, can you put a number to how many sneakers you own?
If I told you, I would have to kill you. And I have really enjoyed this interview, so... (laughs)