Hany Abu-Assad on films being a tool of political resistance and his Academy Award moments
'Without my politics, my art is useless… it will have no edge'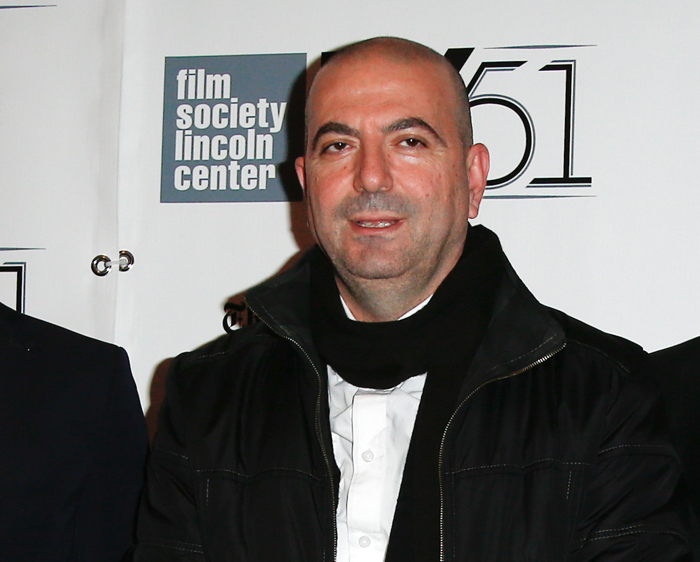 "When I told my parents I wanted to make movies, their world crashed… my mother even started crying. They wanted me to become an engineer. So I studied aeronautical engineering to make my parents happy," Hany Abu-Assad says
Shutterstock
---
Published 18.01.20, 01:45 PM
|
---
Hany Abu-Assad has a credible voice that the politics of hate and oppression hasn't been able to drown. Growing up in a Palestine where he and those of his ethnicity were told their country didn't belong to them, the engineer-turned-filmmaker has managed to tell stories rooted in Palestinian politics and ethos that have not only made him one of the foremost politically-driven filmmakers in the world, but has also earned him two Academy Award nominations — for Paradise Now (2005) and Omar (2013).
In 2017, Hany, 58, made the transition to big Holly. The Mountain Between Us, starring Kate Winslet and Idris Elba, was about two people pulling out all the stops to survive in harsh conditions in the aftermath of a plane crash and opened to mixed reviews. But it's a move that Hany says he doesn't regret, though he insists he won't ever cross over to Hollywood completely and will continue "to tell stories that define him". t2oS chatted with Hany on his identity as a filmmaker, his voice as an artiste and the Indian influence on his filmmaking.
What was it that spurred your journey as a filmmaker and did you look at cinema as a means to resist political oppression as a Palestinian or was it solely a way of expression for you?
There are two versions to this story. Do you want to know the fake one or the real one? (Laughs) I fell in love with my neighbour, but she didn't fancy me. I knew she loved the movies and I thought that if I became a famous director, I could win her over. Now I have kind of become a famous director, but she's still telling the neighbours: 'You know, this guy was after me, but I rejected him.' (Laughs)
The real story? Well, in the '60s, in Palestine, there were no TVs. The first time I saw a moving image was in a theatre, on the big screen. I think I was five then. The whole idea of going to the cinema at that time was a ceremony. There were 400 seats and about 4,000 children trying to get in! If you were lucky, you got a chair. And then the images flickered on screen and it became all real and yet make-believe at the same time. I loved all that I saw, though I had no idea what was on screen. I remember during one of my earliest films as a kid, there were horses in a scene and after the film, I went behind the screen to look for them! (Laughs) This was my first experience with cinema.
After a few years, I was exposed to Hollywood cinema and it was again a whole new world. The movie that made the most impression on my young mind was One Flew over the Cuckoo's Nest (1975). I was 14 and I was struggling with what I wanted to become. I grew up facing oppression and constantly being told I didn't belong to my land even though I was born there and had grown up there. I grew up quite angry but this film made me realise that one can fight without spilling blood… that one can resist without violence. That's when I wanted to become a film director, to resist by making movies and not by shooting bullets.
When I told my parents I wanted to make movies, their world crashed… my mother even started crying. They wanted me to become an engineer. A filmmaker, for them, was a loser… even till today, by the way! (Laughs) So I studied aeronautical engineering to make my parents happy. But then I worked as an engineer for two years and made myself unhappy! (Laughs) By chance, I met the Palestinian director Rashid Masharawi and I quit my job and became his personal assistant. I worked with him for a long time and learnt the ropes of filmmaking and very soon, I was making my own movies. And the rest is history.
Your early filmography is peppered with documentaries and in the later years, you started telling all kinds of stories. Do you think it was the art and the seduction of telling a story that overtook the resistance?
The Zionist Project (a nationalist movement of the Jewish people) took away the land that belonged to us… they wanted us to forget who we are. They forced most of us to leave. But you can't give up the idea that you have to fight this injustice. Intellectually, no one can justify the ethnic cleansing of Palestinians from Palestine. Mythically, maybe you can, but that's bullshit. As an artiste, I came to the conclusion that whatever I do — a comedy film, a drama, anything — the title of a Palestinian filmmaker is already a form of resistance. My very being — a Palestine in this world — is my resistance.
Do you feel burdened by this expectation to make a statement all the time and not just make art for art's sake?
There are films that are just for entertainment, and there are others that aim to engage. Art for art's sake was initially coined as a form of protest… it's only now that it's meaning has changed. The true mission of art is to make you think, I feel. If it doesn't, then it's nonsense. It's something that makes people think through emotions. And no, I don't feel burdened. It's a part of who I am. 
In 2017, you made your Hollywood debut with The Mountain Between Us, which starred Kate Winslet and Idris Elba. Was that a natural progression and do you feel you lost your voice with it?
I think we are all greedy human beings! (Laughs) I struggled a lot initially as I told you, and many years later, I suddenly became a global face with Paradise Now (2005, which earned him his first Academy Award nomination). I thought it was a story — in a post-9/11 world, it followed the last few hours in the life of a suicide bomber — that would get a small audience in perhaps Holland, where I was based, and maybe France. I never knew it would make it to the biggest film festivals like The Berlin International Film Festival. That was primarily because global sentiment against Muslims was so high. But, Warner Bros bought the film for half a million dollars and showed it in America. It won a Golden Globe and was nominated for an Oscar. It exceeded all my expectations. My maximum goal was Cannes (Film Festival), but here I was in Hollywood! (Laughs)
After that film, a big agency from Hollywood named CAA (Creative Artists Agency) called to represent me, but over the phone, I misheard it as CIA! (Laughs) I was in Nazareth (in Israel) and I was like, 'What?! CIA?! Noooo!' They said they wanted to sign me on and I spoke to them for five minutes thinking the CIA was trying to recruit me! (Laughs) Finally, they signed me on. Till then, in my whole career, I had probably earned $200,000 and now they were offering me $400,000 just to supervise a script! (Laughs) I was like: 'Is this for real?' I landed up in a chic hotel in Hollywood, but I had nothing to say… I was supervising someone else's script. I was a big-time failure (smiles). I lost the very freedom and the voice I was known for.
Omar (2013) came out of this frustration. One night, I woke up after a nightmare and said: 'What did I do with myself?!' I spent six years in Hollywood doing nothing important, though I earned a lot of money. I wrote Omar — which again took me back to my Palestinian roots — and it got me another Academy Award nomination. It was only much, much later — two years ago — that I ventured back into Hollywood. And this time, I didn't regret it.
You've said that you watched quite a bit of Indian cinema in your learning years. Did the Indian aesthetic inform your storytelling in any way?
Yes it did. Indian movies have strong emotions and warm colours… that's what you will find in my films as well. I have watched a lot of Indian films. Through those films, I felt I knew you well… after coming here, I feel I know you better. Movies are like windows that open you up to other cultures and cities. I love being in India. When I watched your films, I saw the colours, the images… what I am experiencing now are the smells… the spices, the food, the people, the streets…. When I now watch an Indian movie, I will associate it with the smells.
Does it inspire you to come and make a film in India?
You know, I almost did it once, but I didn't have enough courage. Indian cinema has so much originality… I didn't know how I could contribute to it. I feel my perspective will be that of a foreigner's and that's why I don't want to do it. American cinema doesn't have the originality of an Indian film. You look at an Indian film and you know immediately that it's from India.
Iranian filmmaker Majid Majidi came in last year and made a film called Beyond the Clouds that was very authentically India and yet had his unique stamp. A foreign eye or a foreign gaze could translate into a new perspective…
Now that you say it, I think I should give it a go (smiles).
Any recent Indian films that made an impression on you?
I am very bad with names! I really liked this recent Bollywood movie where a young girl is raped and her mother takes revenge. I think it was called Mom (2017, starring Sridevi). Such a powerful film.
You've spoken about how making a film in Hollywood expanded the economics of your filmmaking. Did it also change the grammar of your filmmaking?
Yes it did. In their favour, Hollywood is a master when it comes to expressing emotions on screen. No one can come close to doing it as much as the Americans. This is something I am trying to master. This ensures a wider audience, for sure.
Do you think you can ever separate your politics from your art?
No. I don't even want to try. I feel that will reduce me to a clown. Without my politics, my art is useless… it will have no edge, I will no longer be an artiste. It has, of course, posed a problem for me but as an artiste, if you aren't fearless, honest or authentic, then I think that you are fake. Being bold was never an option for me… it was always something that I had to do.