Guilty Minds is a binge-worthy watch that is both entertaining and thought provoking
Set in Delhi —  the hotbed of judiciary, politics and media — the film packs in a whole lot of drama but packages it in realism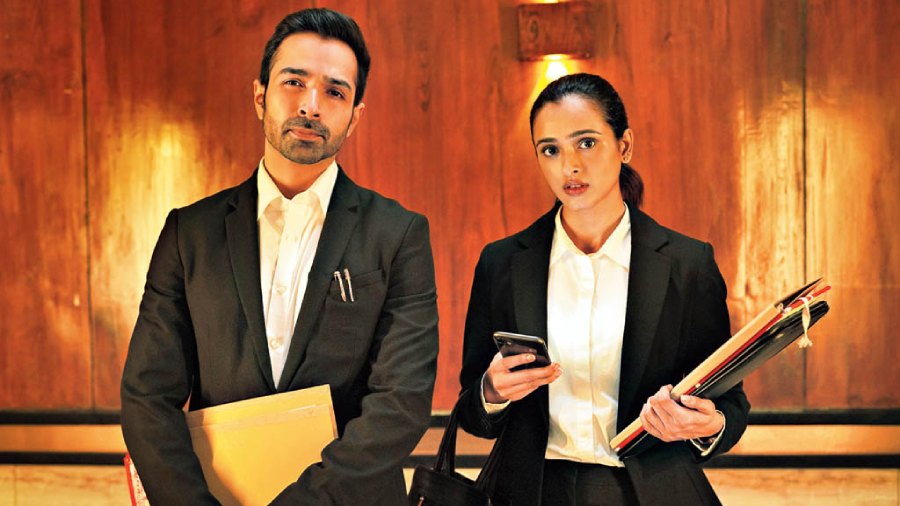 ---
Published 25.04.22, 04:31 AM
|
---
Based on the ABC — authenticity, binge-ability, character-building — parameters of streaming alone, Guilty Minds ranks high. Pretty, pretty high. This 10-episode series  that's now playing on Amazon Prime Video, takes the stereotype of the Hindi legal drama and smashes it to pulp, building a show that is as informative as it is engaging, as realistic as it is engaging.
Set in Delhi —  the hotbed of judiciary, politics and media — Guilty Minds packs in a whole lot of drama but packages it in realism. From stripping courtroom arguments of the melodramatic tenor that many a Bollywood film has been guilty of to taking a peek into the workings of the country's legal system, there is a lot that Guilty Minds gets right enough for you to keep tapping on the 'next episode' button.
For Guilty Minds is binge-able entertainment at its best. Each of its 10 episodes focuses on one case — and sometimes, more than one — even as the politics within a law firm (in the same vein as Suits) and the interpersonal relationships between opposing lawyers (in a mould familiar from The Practice) contributes to keeping the drama interesting even outside the courtroom.
Taking the lead in this ensemble drama are Shriya Pilgaonkar and Varun Mitra, both actors blessed with immense screen presence and a certain relatability that makes you warm to them instantly. Shriya's Kashaf Quaze, a principled-to-a-fault lawyer, operates from the heart. Kashaf partners with her college mate Vandana (Sugandha Garg) to always fight for the truth. From the tricky area of consent in a sexual encounter to fighting corporate sharks, from contesting the unlawful termination of an employee to dealing with plagiarism, Kashaf and her modest firm always side with what they believe is right, even if it comes at a cost. Their batchmate Deepak Rana (Varun) is the hotshot partner in the city's top law firm, and is often described as one who doesn't shy away from "shady" cases. Deepak has a sharp mind, is a smooth operator and knows how to get the job done, even though he often operates in the morally grey areas. The professional dilemmas and personal demons that Kashaf and Deepak face on a daily basis form the spine of Guilty Minds. Along the way, the series also touches upon a host of issues — through the medium of the cases fought or even otherwise — to make for a thought-provoking watch.
That Guilty Minds is well-researched, largely authentic and affords a refreshing peek into the world of the law and lawless comes as no surprise given that it's the brainchild of Shefali Bhushan. Shefali belongs to a family of prolific lawyers --- her father Shanti Bhushan is a former law minister and her brother Prashant Bhushan is a Supreme Court lawyer.  And the show focuses as much on family — the Khannas and the Quazes both comprising lawyers across generations — as it has a touch of the personal as well as biographical.
Guilty Minds is taken a notch higher by its spot-on casting with all its actors delivering the goods. Shriya Pilgaonkar fully inhabits the part of Kashaf and makes her a flesh-and-blood character who is both relatable and inspirational. Varun Mitra's lazy, almost sexy drawl goes a long way in building Deepak as a ladies' man who comes off as compelling both inside court and outside it. Sugandha Garg and Namrata Sheth (as Shubhangi Khanna) both have fleshed-out parts and do full justice to them, while Calcutta girl Chitrangada Satarupa features in a role that adds both meat and meaning to the narrative.
Guilty Minds ends on a note that sets it up for what we hope is an equally engaging Season 2. After all, this a limitless world of blacks and whites, and a whole lot of greys.