Grey shades of Malang
It promised to be a great thriller, but Mohit Suri's latest falls short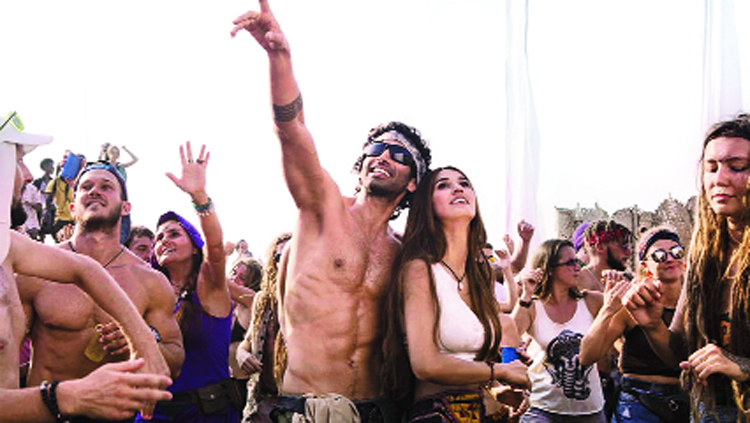 Aditya Roy Kapur and Disha Patani in a still from Malang
(Picture sourced by The Telegraph)
---
Published 10.02.20, 12:28 PM
|
---
Mohit Suri's revenge thriller Malang, starring Aditya Roy Kapur, Disha Patani, Anil Kapoor and Kunal Kemmu, has opened to a mixed response (Rs 15.6 crore in two days). The stylish trailer had created a buzz but does the film live up to the hype? The Woods lays down what worked and what didn't.
Anil Kapoor: The unhinged cop, inspector Anjaney Agashe, doesn't think twice before killing. And every time he croons Asha Bhosle's Aaj Ki Raat Koi Aane Ko Hai from Anamika (1973) in his own inimitable style. Anil at 63 years old — does this man never age! — adds a new flavour to the role with a distinct maniacal laughter. Yet there's a certain vulnerability to the character. Anil's Agashe is a treat to watch on screen, especially with dialogues like, "Yeh journalist log bhi na, ajkal Savdhaan India bohot dekhte hai."
Whodunit thriller: This is a typical Mohit Suri film, so if you like his genre of filmmaking, you'd probably enjoy Malang. The second half keeps you guessing.
The laughs: It's not all serial killers. In one of the scenes, an apparent Nigerian drug dealer claims to not understand Hindi but breaks down in Marathi in front of Agashe, after the inspector scares him into a confession. "Tu Marathi boltoy?" exclaims Agashe, equal part perplexed and ecstatic. In another, Sara (Disha) asks Advait (Aditya): "Kaun kaun hai ghar pe?" He replies: "Hai na, iPad hai, iMac hai..."
Kunal Kemmu: He looks dapper and fits the role like a glove. If someone could stand beside Anil with his acting chops in this ensemble film, it's Kunal.
WHAT DIDN'T 

The first half: This is an exceptional scenario but Malang's second half is actually better than the first. While the beginning is hotchpotch and tends to get boring, the story picks up pace later and gets racier.

The music: Mohit Suri is from the Bhatt camp but this film isn't produced by them. And it shows in the music. Bhatt camp films are known for their tracks like Chal Chale (Woh Lamhe), Awaarapan Banjarapan (Jism) or Bheegey Hont Tere (Murder). But not a single track here stays with you, except possibly Chal Ghar Chalen, composed by Mithoon and sung by Arijit Singh.
Disha Patani: She is the film's weakest link — Disha looks pretty as a picture in bikinis and hot pants and flashes a million dollar smile, but that's about all.