Golmaal for kids
Rohit Shetty on the animation avatar of Golmaal and expanding his cop universe in films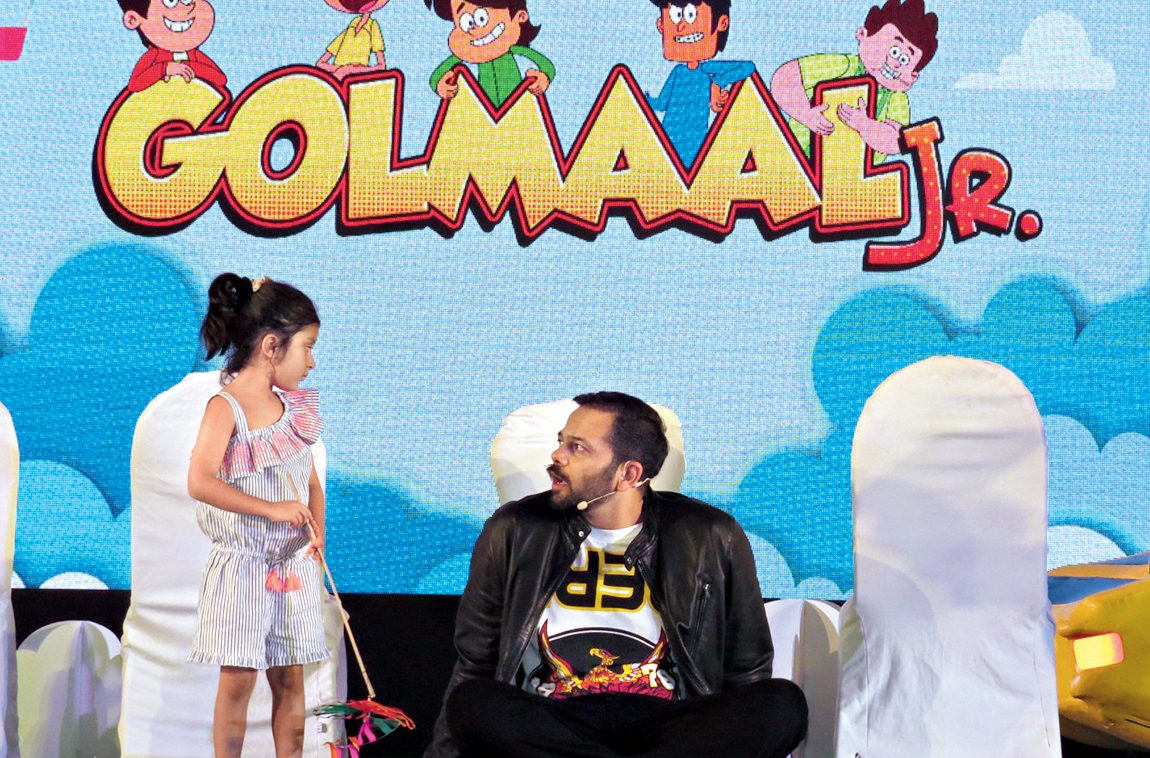 Rohit Shetty at the launch of Golmaal Jr in Mumbai.
Picture: Sudeshna Banerjee
---
Published 15.05.19, 02:50 PM
|
---
Rohit Shetty is back with a new instalment of his laugh riot Golmaal, but it's screening not in theatres but on the telly. On the sidelines of the launch of the Sonic Nickelodeon show (Golmaal Jr airs at 1.30pm daily) at ITC Maratha in Mumbai last Friday, the hitmaker spoke to t2 about his animation venture in which the mischief-makers create havoc as children in Golden View High School.
It must be a compliment having a cartoon series inspired by your film franchise Golmaal?
When we started the film in 2005, we did not even think of a second film. That was 14 years ago. Now it has become a household brand. It belongs to the audience. We just do the work and serve them. Reliance (Entertainment) came up with this idea of doing it in animation.
You started this trend with Singham (which was made into Little Singham last year for Discovery Kids)…
I never thought kids liked these films so much, especially Singham, till parents started telling me 'hamara bachcha aisa karta hai' (shows sparring moves). For us, it was an action film. Perhaps the popularity increased because of the combined reach of film and television. By the time we were making Golmaal, we knew that it would be for the family and kids would be coming to watch it.
What was your son's reaction?
Ishaan was very excited when I made Singham. He used to make cars crash into each other with his toy cars. Now he is 13. On hearing Singham was being animated, he told me that children would like it. I said: 'Achha, tu bahut bada ho gaya hai!' (Laughs)
How did this trend of animating your films start?
When we merged with Reliance, they had an animation company. They said: 'Why don't you take over the company and start work on it?' They came up with the idea of turning Singham into animation. I said: 'Chalo, let's try". When I saw the edit, I really liked it. It worked wonders for the channel. I hope the same happens with Golmaal Jr also.
How different will the animation series be from the film in terms of the concept?
Everyone knows Gopal, Lucky, Laxman and Madhav. Their character traits are same — masti khor hai. So we show what happens when they are young. Golmaal was a two-and-half hour film. This is
10-hour footage that will be shown over a month's time. Gradually, the story will grow and expand with every character. And where kids are concerned, the whole take has to be different. In films, you cater to everyone, all ages. Here it is only kids. They are not that much worried about where it will go but how it goes is important for them.
What is your contribution to the show?
The final draft of each episode comes to me. If I feel like, I tweak something. The animation team is really good. They understand kids.
Any thoughts of 'Little Simmba?'
We have not even thought about it (laughs). We just made the film (Simmba). It has done so well. We are the only company which has two franchises in animation. As it is, it's a big responsibility and requires a lot of focus. We cannot let anything go wrong as it would hurt the franchise and make us lose our kid audience. We thought of Golmaal Jr only after a year of Little Singham.
That's why you have not announced 'Golmaal 5' yet.
No, it has not been announced. Shreyas (Talpade) just said uss pe kaam chal raha hai. It will take a lot of time.
Will there be Golmaal toys and video games?
Kids are not so much into toys now. It will take time to build on the franchise. For now, we are concentrating only on animation.
Do you see yourself making an animation film for theatrical release?
The journey of television is going very well. I think we need to establish ourselves more in TV animation. We are a young company in animation. We have just started with Little Singham last year and now we are launching Golmaal Jr. We will wait for a year or two and see how it goes.
Do you have a favourite cartoon?
We didn't have Indian animation characters then, Chacha Chaudhury type. In comics, Tintin was my favourite. I get nostalgic when I see Tintin in animation.
You directed Singham and Simmba, and now Sooryavanshi is happening. Are you trying to create an Avengers-like universe?
Avengers is too big a brand to compare us with. We are trying to create a universe and we are open about it. We were worried whether people would understand Simmba but it worked in a big way for us. So we are going ahead and expanding that universe.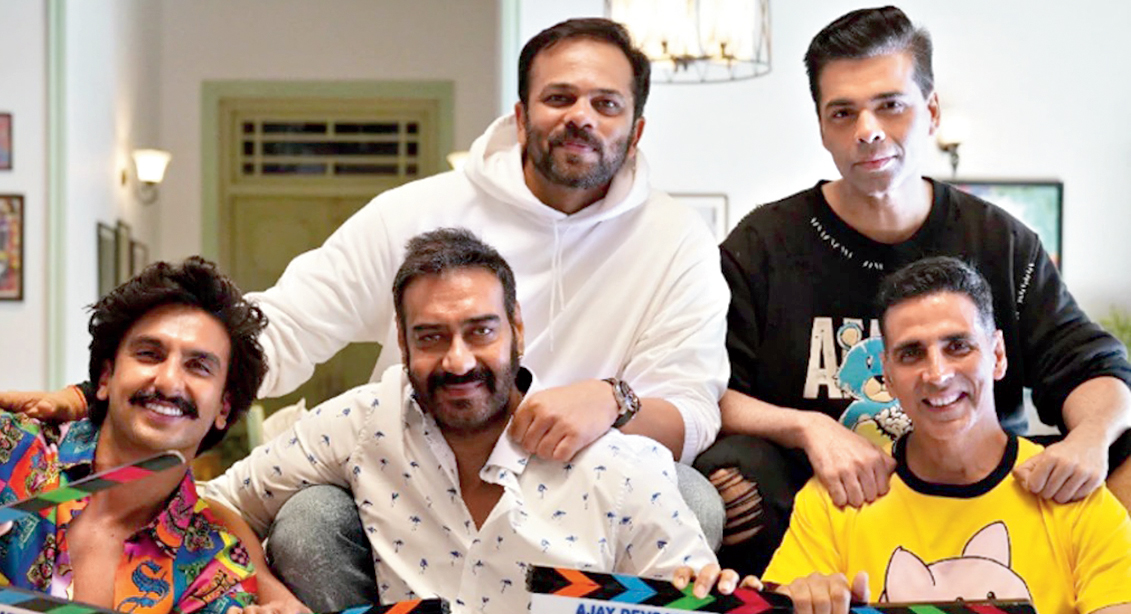 In your world of male cops…
Female cops bhi aayegi. Time lagega. Main kuchh nahin chhupata.
Who do you see in the role of a female cop?
Yeh main bolne waala nahin! (Laughs) Kal subah ka headline ho jaayega. Ek toh main Twitter-witter pe hoon nahin. Mujhe bahut tension ho jaati hai.
Did you like action films as a child?
My father was an action director. So my background was in films. Just like my son says he wants to be in films. For me, too, it was a set career path — be it as director or action director. By the time I was 16, I was an assistant director. By 17, I was first assistant director in Phool aur Kaante. My father expired when I was eight years old. My mother brought us up as a single parent. She was a stuntwoman. That's how my parents met.
I am 45 now. My mom stays with me. My work ethic comes from her and Ajay (Devgn). He is such a big star, yet such is his sincerity that he has never missed a flight in his life, though I may have missed one or two. I am lucky to have been surrounded by such people early on in life.
You have had a film every year, except after Dilwale.
I took a year's break after Dilwale as I was setting up my own production company. Since then, I have produced all my films. I love going to work. We were shooting for Sooryavanshi (starring Akshay Kumar) today. It was so dusty that I got an infection in my throat. We packed up at 7.30pm and I came here. This will continue till past midnight. I will have to be back tomorrow morning for the next shift. But I am happy.
What news of Sooryavanshi?
We started on May 6. This schedule is till June 30. We will go to Bangkok now and to Hyderabad after that. The next schedule will be in November-December.
One hears you are quite a prankster on the sets.
The team which works with me is like a family. Someone was 16 when he joined and is now an adult. Someone got married while working. We are the only team that makes films every six months or three months, for that matter. Simmba abhi tak satellite pe aayi nahin hai, Sooryavanshi shuru ho chuki hai. They are together round the year. As a team, we are a happy team. Obviously there is pressure, but we see to it that we are happy. It's a question of one Friday whether audiences like a film or not but the journey of a year or two to make the film should be good.